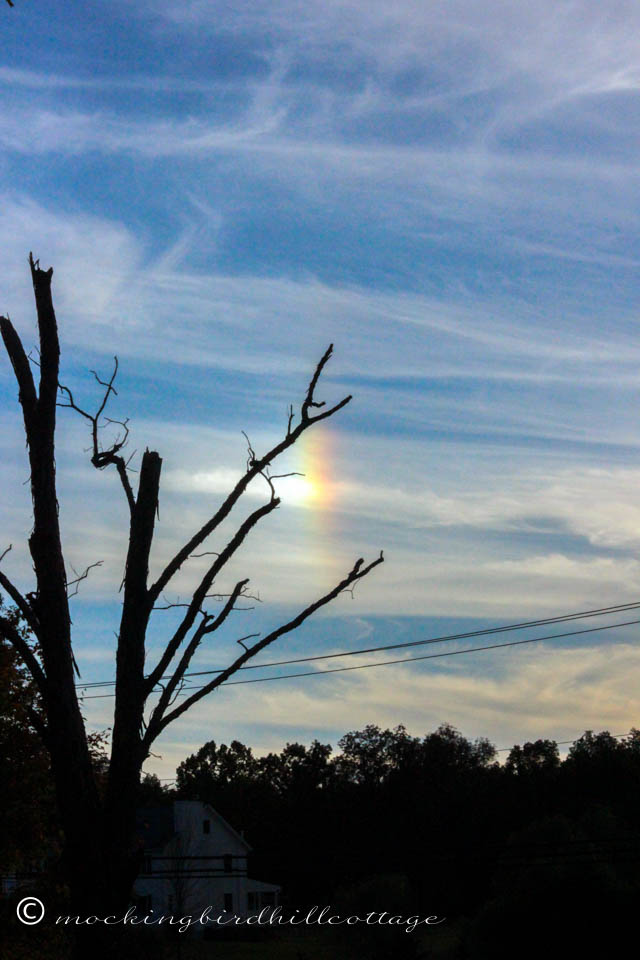 •  Early yesterday evening I was outside with Scout. I looked up and saw this.
The sun was to the right (out of picture range) and was it the moon glowing under that cloud? I'm not sure, but that little rainbow-like slash of light appeared. Since my eyes are very sensitive to light, I thought maybe I was seeing something that wasn't there.
But the camera saw it, too.
A lovely little moment in time.
•  We bit the bullet yesterday and ordered heating oil. Gas prices are pretty low at the moment, so we thought this would be a good time to do it and sure enough, our oil guy told us that now was the time because prices were soon going up. High or low, heating oil is expensive.
The heavy gold quilt is covering the bed once again. I'm wearing my flannel pajamas.
I'm pretty sure it's Autumn.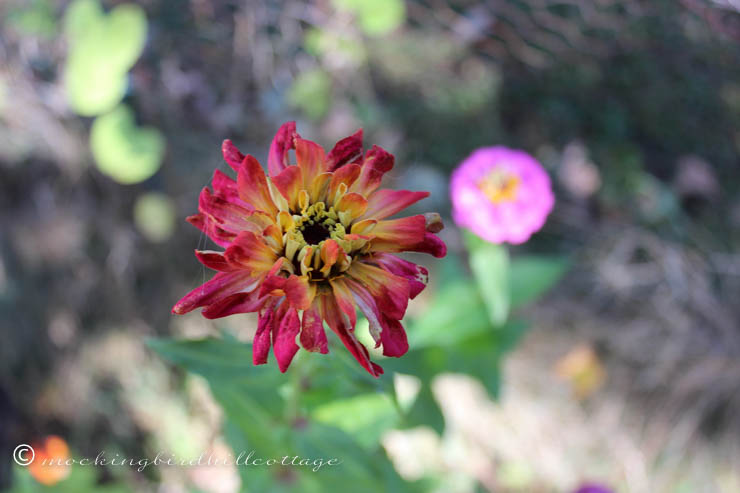 Meanwhile, the zinnias just keep on blooming.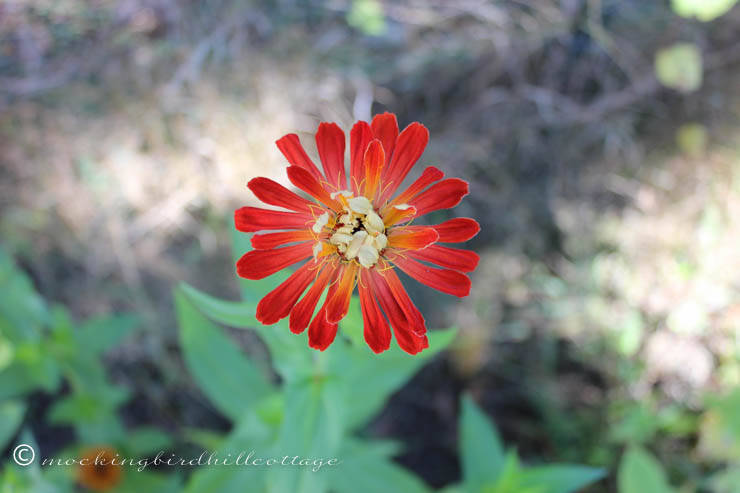 •  Design Sponge, one of my favorite sites, did a Guide to Ulster County, NY yesterday. That's where we live. You might find it interesting. Grace Bonney, the founder of Design Sponge, recently moved up here – she's not all that far from us – and has fallen in love with this beautiful area, just as we have.
We've got it all here. And this time of the year? Simply glorious.
•  Housekeeping: If you've noticed the Cookie pop-up at the bottom of the blog, let me explain why it's there. The European Union has a law that requires websites to indicate if cookies are being used on their site. Cookies, in case you're not familiar with that term, are:
'small pieces of data sent by a website and stored in the user's web browser while the user is browsing that website…Cookies were designed to be a reliable mechanism for websites to remember information (such as items in a shopping cart) or to record the user's browsing activity (including clicking particular buttons, logging in, or recording which pages were visited by the user as far back as months or years ago." Wikipedia.
Every website uses cookies. Ads use cookies. The EU thinks anyone viewing a website should be alerted to that fact. And Google is now enforcing that law. So, any of us who have potential visitors from the EU have to have a 'cookie warning.'
Blogger blogs already have one. The rest of us have to take care of it ourselves, hence the plug-in I added yesterday (on both my blogs.)
Oy. It's a bit of a pain in the tush, since anyone who goes on the web for even a minute encounters cookies. You can set your web browser to not allow cookies, if it's of any great concern to you.
But we do what we have to do, right? I've tried to make it as unobtrusive as possible. So, there you go.
I spent a chunk of time yesterday diddling around with all of this and it's time I'll never get back. Sigh.
•  Book review of X  by Sue Grafton on Just Let Me Finish This Page today. Click here.
•  Whoops! Forgot to add that The Poisoner's Handbook (starring Don Sparks) is now showing on Netflix! We saw it listed last night and Genevieve, one of my readers, also wrote me to let me know about it.
Happy Wednesday.