We will not say anything about the hard freeze and the death of my plants. Or the fact that it will be close to 70 degrees this week. Yes, I know it happens. It just shouldn't happen in mid-October. I also watched the catalpa drop every one of its leaves yesterday. All  of them. I'm wearing black today.
Don was away in Massachusetts and didn't arrive home until the wee hours, so I consoled myself with a little creative work on the Top Secret Project.
Don: Stop here.
I've had this project bookmarked for a long time. I just had to gather all the supplies I needed. It's a tutorial from Kris at 1 Inch Minis – a great site, by the way, full of incredible tutorials that Kris generously shares with her readers. I saw the project and thought it would be perfect for Don's Studio. After having read the post, it turns out Kris is using it for the same HBS 'Denise's City Cottage' project.
It was too perfect not to try. I needed mat board, card stock, a 3/4″ dowel and glue. I'm getting a bit better at these things, but I admit that I curse like a sailor when doing them.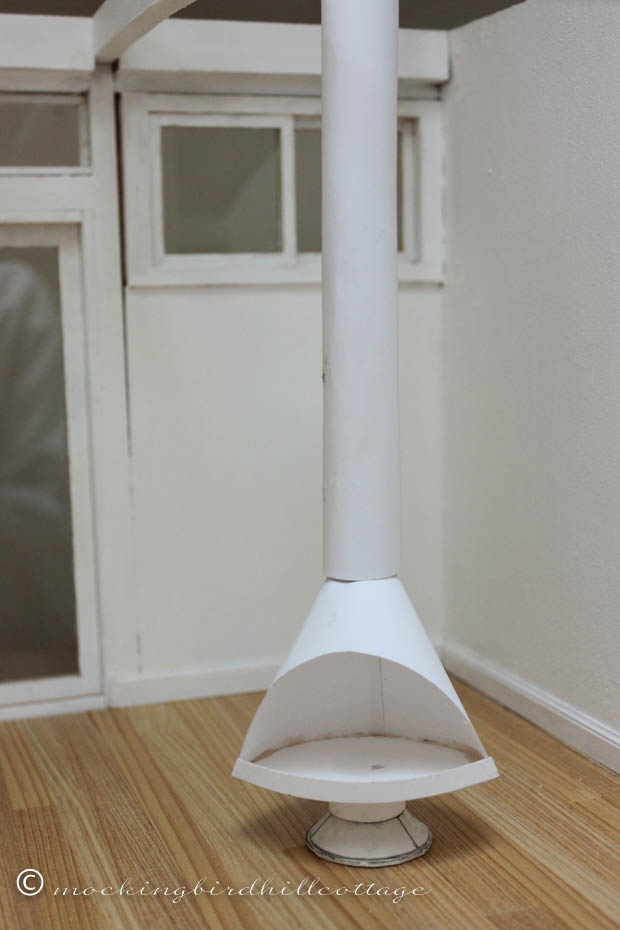 This is the fireplace I'm going to place in the corner of the room. I love these retro fireplaces that remind me of the A-Frame houses that sprung up in the sixties. They were often a bright orange, and I've obviously not painted it yet and there are some tweaks I want to make, but here it is in its unadorned state. (Paint color to be determined later – maybe a metallic black? Should I use spray paint? So many questions.)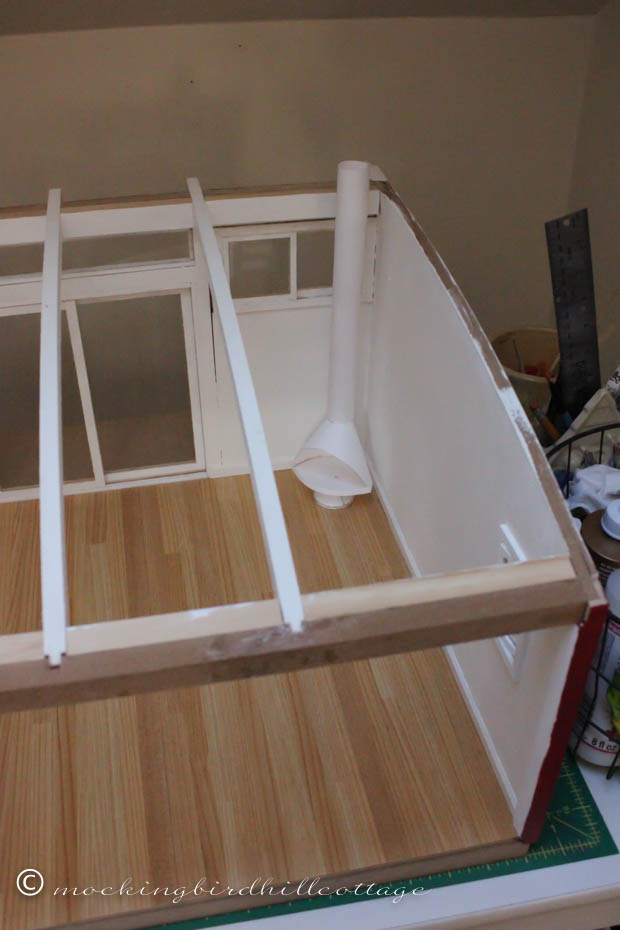 I think it will sit in this corner. I will determine the exact height of the stove pipe when I put the roof on, so I've left it the way it is until then.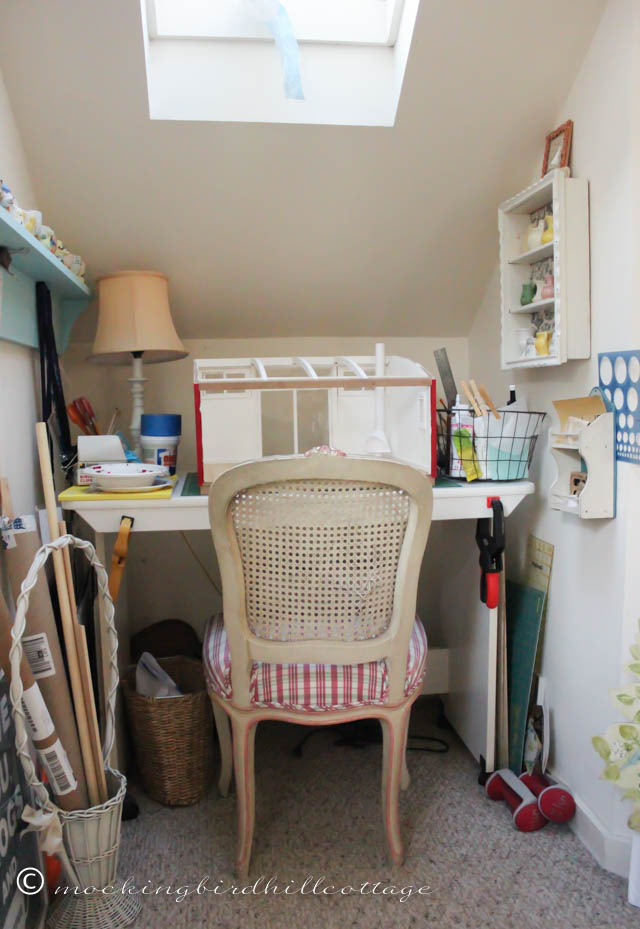 My creative space at the top of our stairs has been altered for mini work. The sewing machine has been put in the closet since I'm not doing any sewing at the moment.
As you can see, there's not a lot of space available, and truth be told, when I'm working on this stuff, I'm often using the kitchen table or the top of the kitchen island (which was the case yesterday.) I did all the painting and trim on the TSP right here in this little niche. Just depends on the project. I have supplies stashed in bins which are stashed in closets, in a soda crate under the table where my dollhouse is perched, in shoe boxes, in cupboards…everywhere. I've tried to corral together the things I need for this project here in this space.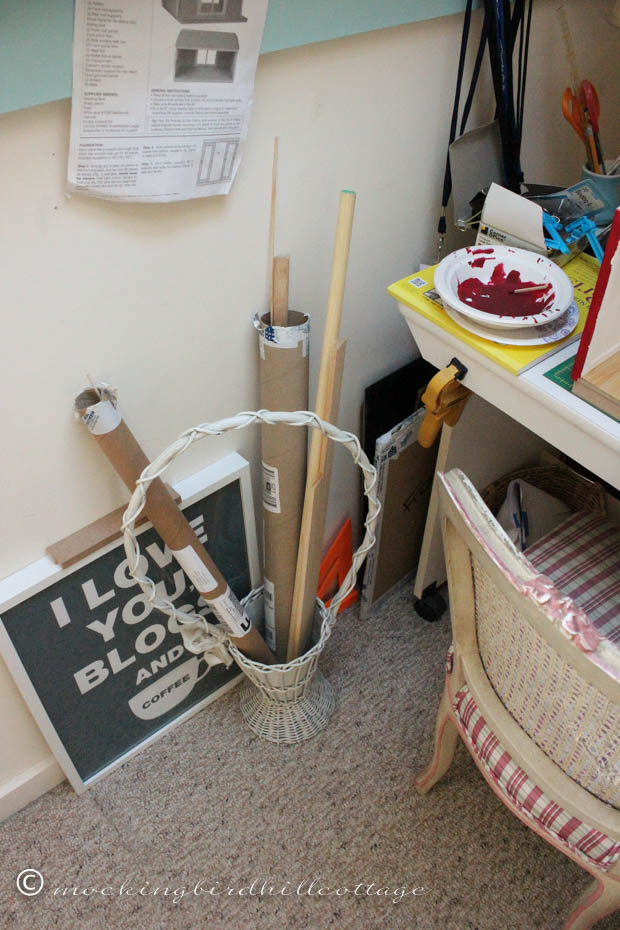 Wood, trim, dowels – all of it in tubes stashed in this wicker flower basket. Card stock and mat board stored in a cardboard 'file' next to the table.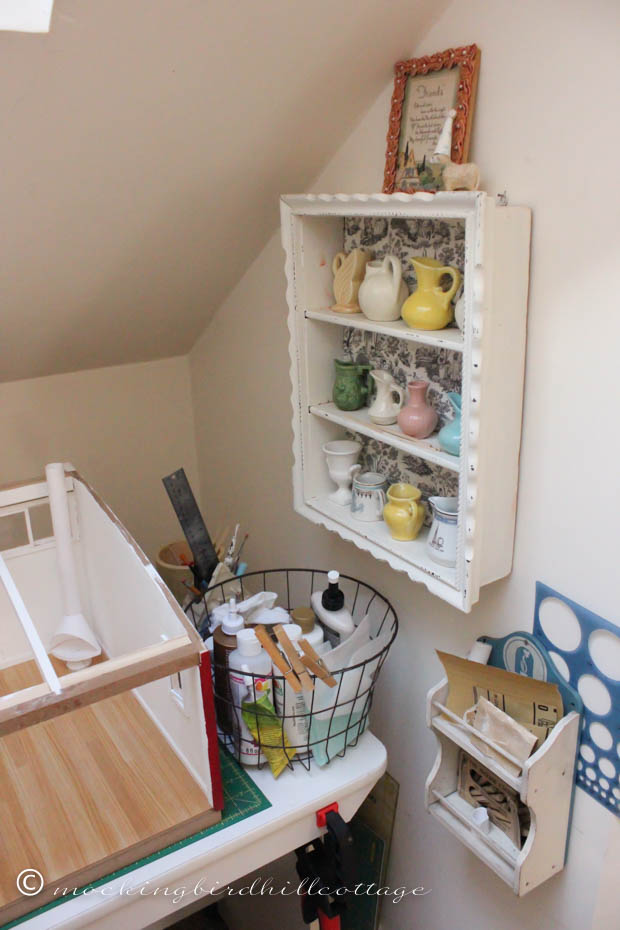 Paints and glue in a vintage egg basket. Bits of sandpaper stuffed in the little shelf. Ruler, pens, pencils and bits of wood trim are in a piece of McCoy and a vintage wall pocket. My cutting mat is stashed between the table and the wall. Clamps are on either side of the table. (The shelf of mini pottery moved upstairs when we moved the dollhouse back into the den.)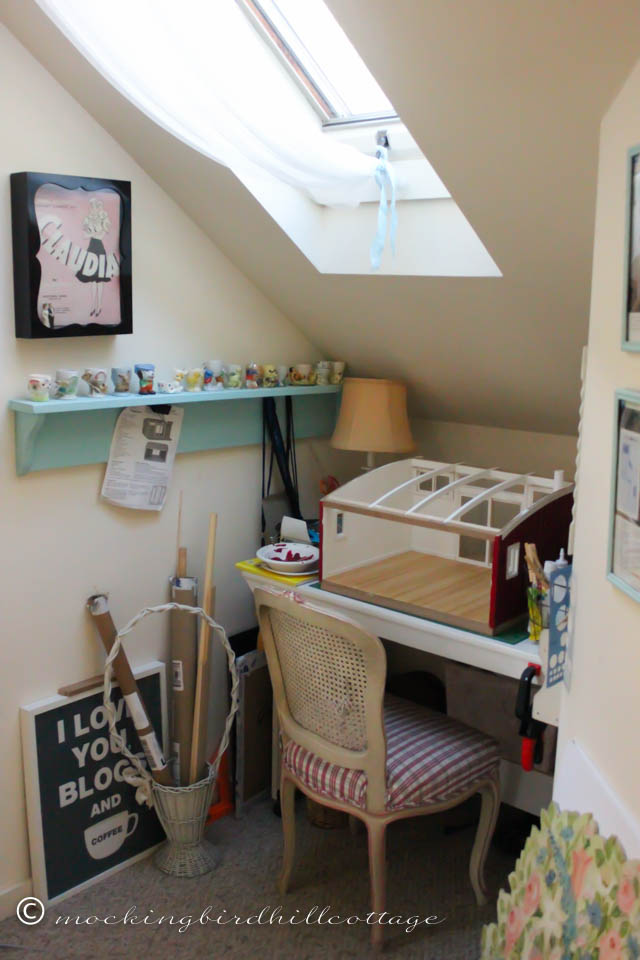 Foam board stashed against the wall behind the vintage flowered fireplace screen.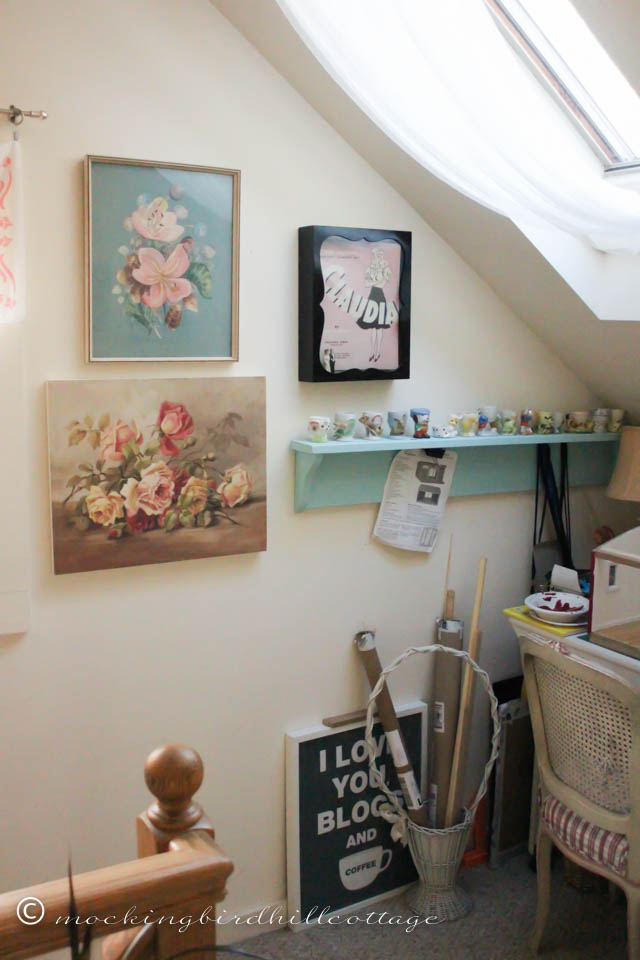 This space was highlighted in an article in Studios magazine a few years back. That particular issue concentrated on creating in small spaces. This, my friends, is a very  small space. We simply don't have the room for an entire studio/office for yours truly, though I can't help but dream of one off on the horizon, somewhere, someday. So, like so many others, I make do with what I have.
It's sunny up there, I'll grant you that. So sunny that taking photos is problematic! I do love my little creative space at the top of the stairs.
We often wish we could get rid of the bed in the guest room and then Don and I could share that space. We've had a couple of overnight guests lately, but months and months will go by where no one is using that bed and in a two bedroom house, that matters. Meredith tells me we should get a futon and she's right. It's not in the budget now. Even so, we have Don's dresser in there and a cupboard that serves as a linen closet, along with chairs, a desk, file cabinets and my grandmother's trunk….Oy. It seems impossible, or at the very least, overwhelming.
I've rattled on long enough.
Happy Monday.