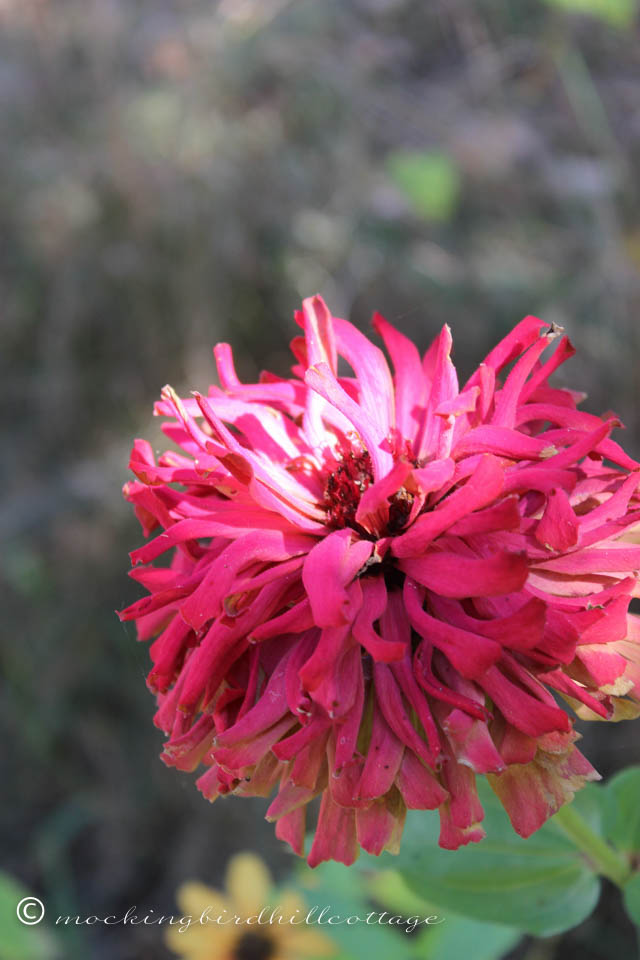 Do you remember that old Four Seasons song?
Let's hang on to what we got
Don't let go, girl, we got a lot
Got a lot of love between us
Hang on, hang on, hang on to what we got.
That's what I'm singing to my plants today and tomorrow. Yes, the dreaded hard freeze will be here for two  nights, not one. Crap. I followed Janet's advice and watered everything at dusk yesterday. I'll have to cover everything with sheets around 5:30 pm, as I have to get to the CD Release Party by 6 or so. Earlier than planned, but better to be safe. And I have to bring in all the plants from the porch and there are a lot of them.
And then I'll have to do it again tomorrow, if all goes well tonight.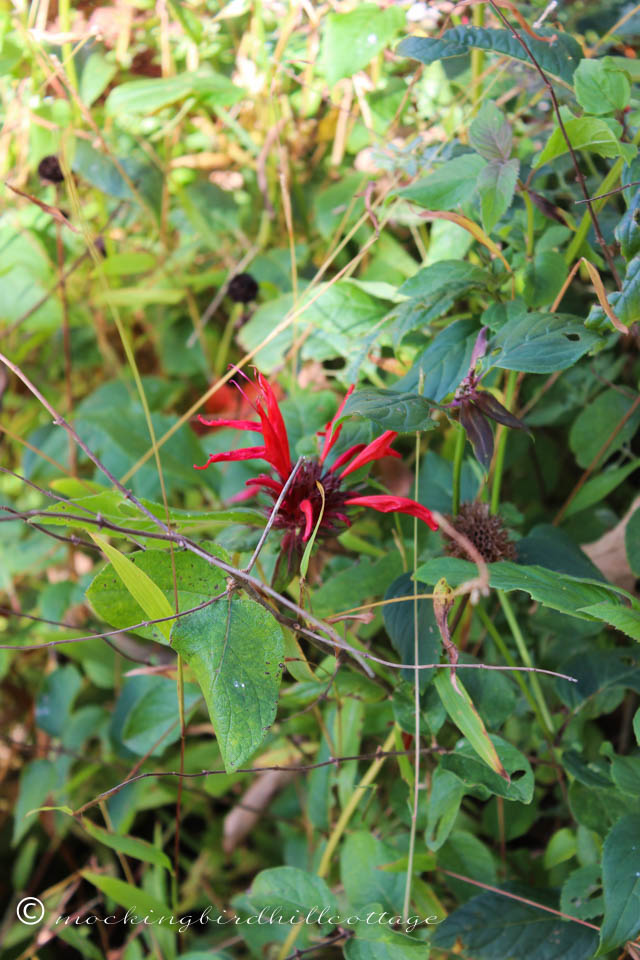 The only bee balm blossom that's still going strong – the others are long gone. Will he make it through the freeze?
Don and Dan (who stayed the night with us) are on their way to the radio station, which is in the Catskills. They'll be on live from 11 -12 this morning – if you're interested in listening to them you can catch the program streaming live here.
Tonight is the CD Release Party, with lots of friends coming to celebrate. Some of them will also be performing along with Don and Dan. I wish you all could be here, too! I know we'd have a lot of fun.
Quandary: what does one do when one has a stack of books from the library, among them All the Light We Cannot See, which said person knows she should  read but for some reason isn't very excited about, and an email arrives informing that person that after weeks of waiting in a long queue, Make Me by Lee Child is finally sitting on a shelf reserved under said person's name at the local library?
(Quite a long and awkward sentence but you get the picture.)
Answer: One drops everything in her own personal 'queue' and runs to the library to check it out, which she will be doing as soon as the radio show is over.
I mean, come on, it's Lee Child. It's Jack Reacher. End of story.
Dad is being transferred to rehab today and it is the one we wanted him to be in all along. He had a rocky day yesterday. We finally figured out that he'd been given a sleeping pill in the middle of the night and he was out of it for most of the day. By the time I spoke to him a second time later in the day, he sounded better.
We're grateful that everything has worked out in the end. Now to rehab and, hopefully, back home in a couple of weeks. Fingers crossed.
Okay. To those of you battling the hard freeze, I wish you luck! Wish me luck, too.
Happy Saturday.