One of things I like about having the dollhouse back in the den is the view I get from my blogging chair. There is a window behind and to the left of it, so soft light spills into the rooms.
Just as in my city living days, when I would walk for hours, catching glimpses of the interiors of the homes I was passing, wondering about the owners, about the pictures I saw hanging on the wall, the paint color, the lamp in the window – I get that same sense when I look up and see flashes of the interior of Hummingbird Cottage.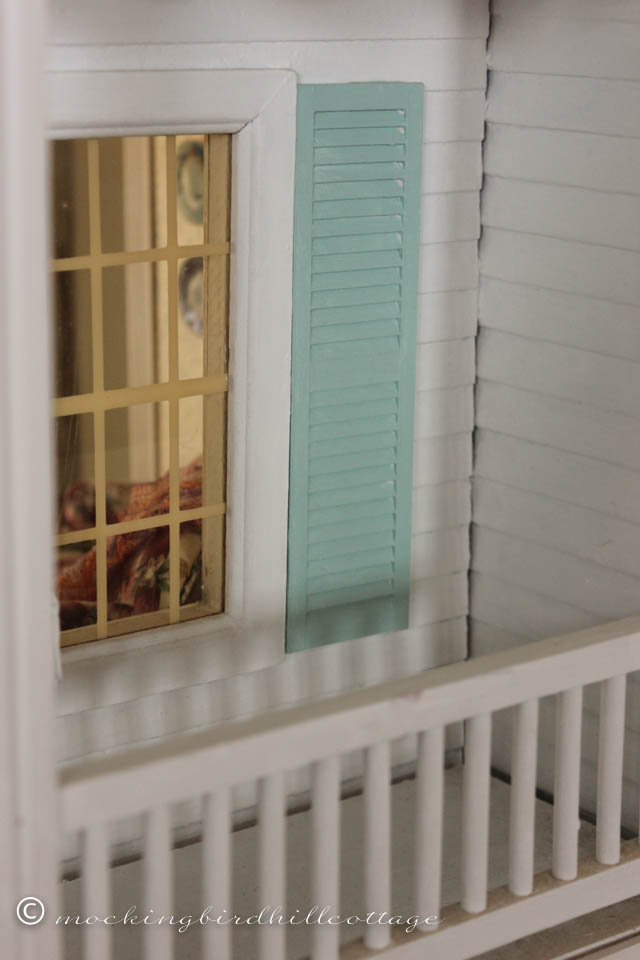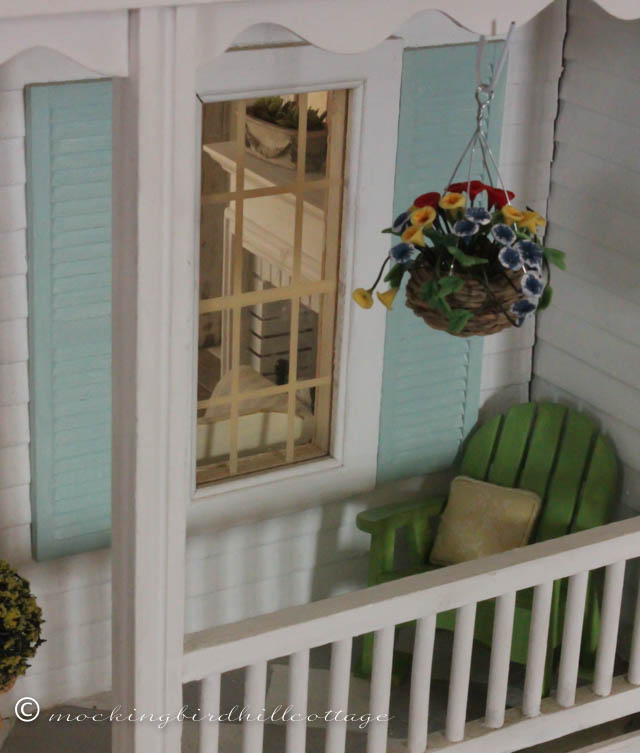 It looks cozy, doesn't it?
The situation with my dad isn't good. I spent the day yesterday by the phone, either talking to Meredith directly or texting back and forth. We don't know what is going on. One minute he was fine. Then, in an instant, he wasn't. And it's gone downhill since that moment.
He was in ICU yesterday, then they moved him to another room, and now, since midnight, he's back in ICU. He's bleeding rectally. He's completely out of it. He looks terrible, according to my sister and also to the Pastor from his church, who I spoke to on the phone yesterday. He isn't very responsive, though when Meredith holds his hand and asks if he knows her, he nods. Last night, she sat with him for hours. He was agitated and restless and they didn't want to give him a pain pill  for some reason, so his back is hurting, he's bleeding, he's in pain and I also think he's sundowning. He would wake up, open his eyes, and say "Help me. Help me." Then Meredith would speak to him and he would calm down. But, eventually, she had to go home. She'd had only three hours of sleep.
I called the hospital last night for an update. He was still agitated and the nurse was just about to give him another sedative. He has soft restraints right now because he tries to pull his IV out, which is the same thing he did several years ago when he had surgery and we were introduced to the concept of sundowning for the first time as we watched our father change into a stranger overnight and had no idea what was happening. It's very frightening. I just keep trying to remind Mer that some of what she's seeing is due to that.
Some of it.
I hate that he is in pain, that he's scared, that he's so incredibly vulnerable. We just had a great conversation on Sunday, and now? Everything has changed for my father.
Meredith, once again, has the lion's share of the responsibility. It's unfair, but once Mom and Dad decided to move to Florida, that's the way things turned out. I feel inadequate, of course, powerless, and all I can do is pray and be there for her when it all becomes too much and she needs  to cry it out. And thank God for her, which I do every moment of the day.
I refuse to be one of those bloggers that constantly cries "Poor me." So I'll just say this once. Between money worries, Scout's increasing frailty, and my dad's sudden and very serious illness, I feel completely overwhelmed. I remind myself that all of us have cares and worries and I am not special in that regard. Everyone is, whether I know about it or not, carrying some sort of burden. It's important to keep things in perspective, that I know.
But oh my friends, I have to work hard to remember that.
I'm forgetful. I can't remember the word for something or other. I can't retain information for very long. I thought I paid a bill online the other day, but I didn't. What?? That's not me.
Don tells me it's stress and, deep down, I know he's right.
Breathe in, breath out, give thanks, and know that I have the strength needed to deal with all of this. Trust. Ask for the gift of grace. Think of my father and pray for his healing.
That's the order for this day.
Update: I'm flying down there today. It doesn't look good.
Happy Wednesday.