I'm home.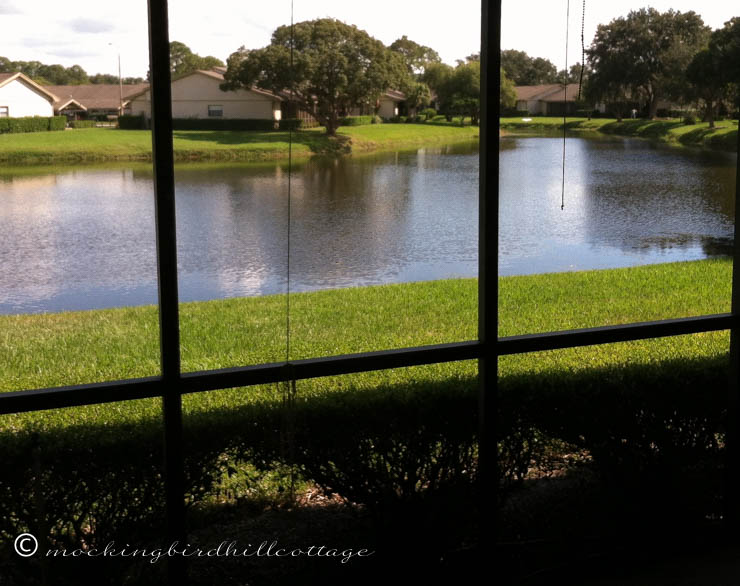 (My dad's favorite view from his chair.)
Walking through my parents' condo yesterday, for presumably the last time, was far more devastating emotionally than I was prepared for. It left me shaken and sobbing.
I've come home to my husband, to quiet, to the realization that I'm an orphan. To the realization that my birthday, which is in 13 days, will my first without both my parents. To the realization that I will never hear my dad's voice again.
I've come home to a landscape in which every tree that had autumn-colored leaves when I left is now bare. I've come home to a dog who is frailer than she was when I left, which worries me.
I'm not comfortable writing an entire 'poor me' post. So, I'll make this short. I almost didn't post today and the regularity of my posting might be a bit erratic this week. I'm taking time for the enormity of this to sink in. I need to allow myself the time and space in which to grieve.
My Little Z and my furry nephew Max helped to distract me by the sheer amount of love and joy emanating from their beings. For that I am forever grateful.
Yesterday, Z hid behind a wall in the kitchen and, as I passed by, wheeled his walker out and 'scared' me. He said "ROAR!" He was a dinosaur. (Pardon the blurry iPhone photo, but that kid was in constant motion.) He made me smile and laugh. I love that boy.
I love my Maxie, too. When he sensed I was leaving, he followed me everywhere, even into the bathroom when I took a shower.
And I love my sister and brother-in-law and my other nephews. My sister and I have shared something that is profound and deeply sad. I don't know if I could have done it without her. It was hard leaving them yesterday but I was ready to come home.
Don is also an orphan. He understands.
Anyway, I'm rambling a bit here. Thank you all for your support and compassion.
I'm hanging in there.
Happy Sunday.