I've often written about my years in Cambridge, MA, when I was on the faculty of Boston University. I lucked into a rent-controlled apartment on Harvard Street, just a few blocks from Harvard's campus. The source of that luck was my colleague Judith (who just retired this year) who taught dance and movement in the theater program and who had an apartment in the building. I stayed there for a few days when I was looking for a place to live, but still living in Philadelphia. Her apartment was charming and I thought longingly of it the whole first year I was in Boston, living in the smallest studio in the world. Even then, Boston rents were high and I was earning very little money.
So when Judith called me one day during the summer after my first year of teaching and told me an apartment had opened up and, if I wanted it, I had to call the landlady right away, I dialed that phone so quickly your head would spin. It was exactly the same as Judith's apartment, but on the third floor rather than the first. I spent several days painting it white and then I moved in. Much, much less rent and a tree-lined street and Cambridge, for heaven's sake! I was so happy.
I thought I didn't have any photos of that apartment, but in my parents' things (they saved every photo ever taken) I found some that I had mailed to them. I thought it would be fun to share them with you. We might subtitle this post: Living on an extreme budget in a very expensive city. Or: I'm still doing the same thing, just in the country.
You might recognize some pieces. I tend to keep things around for a long time. (I've scanned these photos, so they aren't the best quality. I've also had to resize them several times to get them looking somewhat decent.)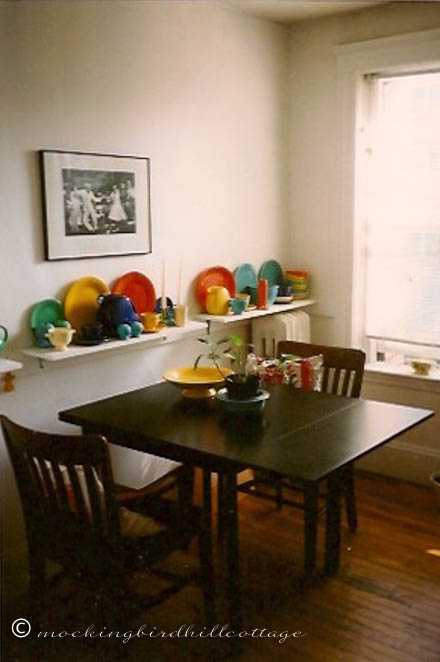 In the kitchen: my Fiesta collection. Sigh. I sold it many years ago. What was I thinking? Recognize those chairs? I found them in a used furniture store in Cambridge and I'm still using them today.
I gathered that Fiesta bit by bit, on a very small budget. All vintage. No 'newer' Fiesta.
The kitchen was bright and sunny. It had very little cupboard space, but I added a wooden cabinet, and there was a great pantry. There were two big windows facing Harvard Street. I saved up for that table, it was made of black ash.
The Fiesta. It's breaking my heart.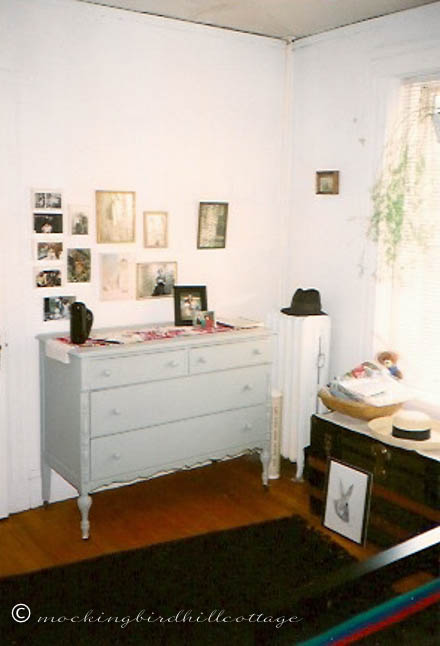 In the bedroom. Recognize the dresser? I found it on the street in Cambridge and my friend and I carried it several blocks and then up three flights of stairs. It's been painted three times and is currently aqua and cream. The trunk was my grandmother's and is in our office now. This must have been about 1991 or 1992 because that's my brother's hat on the radiator and he died in 1991.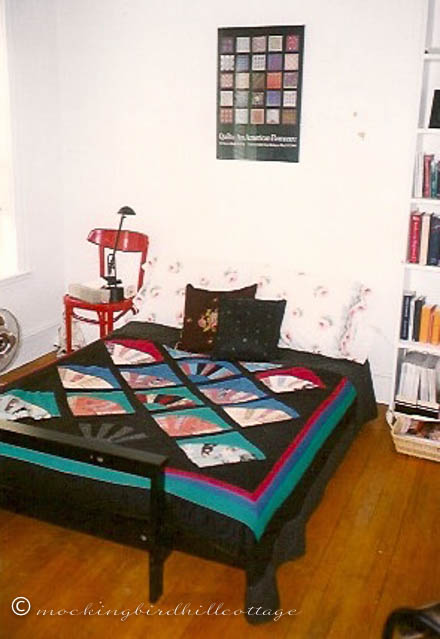 My bed. Or rather, my futon sofa/bed. In my studio apartment this was a sofa most of the day. Here, I didn't need to close it up by day and open it up and remake the bed every night and that was a big treat, let me tell you. The quilt was made by my friend Jan. This was several years before I started quilting. Those red chairs were in an apartment I lived in in Philadelphia. I think they were Thonet. I painted them glossy red and brought them with me to Boston.
I'm pretty sure I left them in Cambridge when I moved to San Diego. The guy who took over the apartment was on the faculty at BU and I left him a dresser and those chairs. Now I would like them back, please.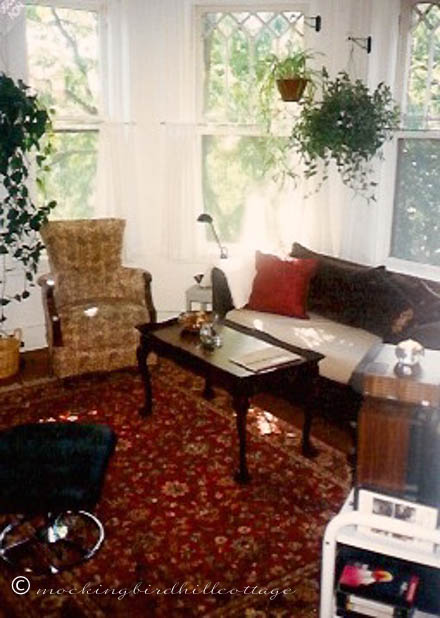 You can see why I loved this apartment. It was on a corner and there was a bay window on one side of the living room and double windows on the adjoining wall. It was filled with light. Plants thrived there and I had them hanging everywhere.
Recognize the chair? Yep. Still have it. The sofa belonged to my friend Judith. I eventually replaced it with the loveseat I still have to this day.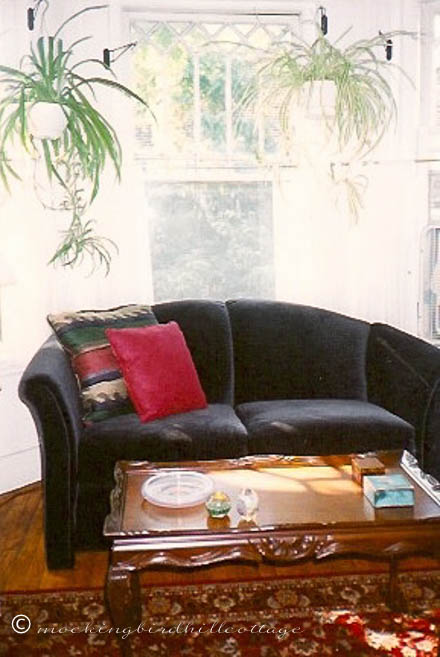 And there it is. It has a slipcover these days. I loved that table, which I found in some antique shop and carried all the way home. And I mean carried. Many, many city blocks. I didn't have a car.
Diamond-paned windows, lots of hanging plants, wood floors….and Cambridge, with bookstores everywhere.
I miss Cambridge.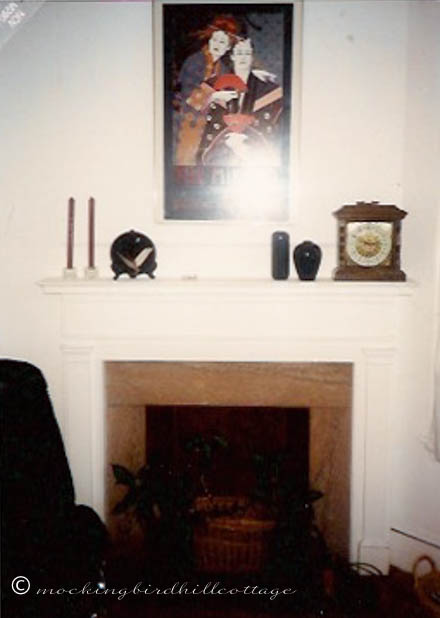 Dark and blurry, but there was a beautiful, non-working fireplace as well.
I mean…what single girl wouldn't love this apartment?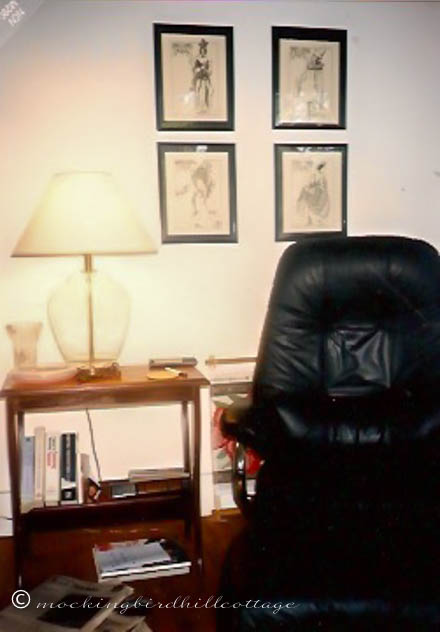 Black leather chair and ottoman. The table? Found in the prop room at BU, used in my office for a year or so, then moved to this apartment. I still  use it. It's painted a creamy color now and Mabel (my Featherweight) lives there. The lamp was found when I was in my early twenties at the now-defunct J.L.Hudson's annual warehouse sale in Detroit. It worked like a charm up until a year or so ago. That's a LONG time.
I was clearly working on some needlepoint – where the heck did that piece go?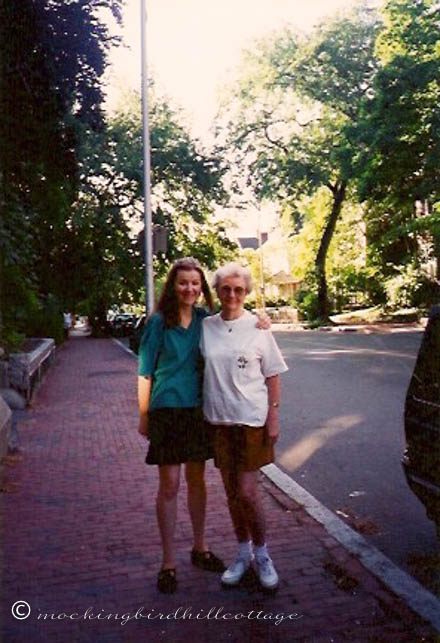 Me and my mom outside the apartment building. She came to visit me during my last summer there. It was horribly hot and humid while she was there, but we were determined to see everything and we did.
Same legs and bony knees. I'm definitely my mom's daughter.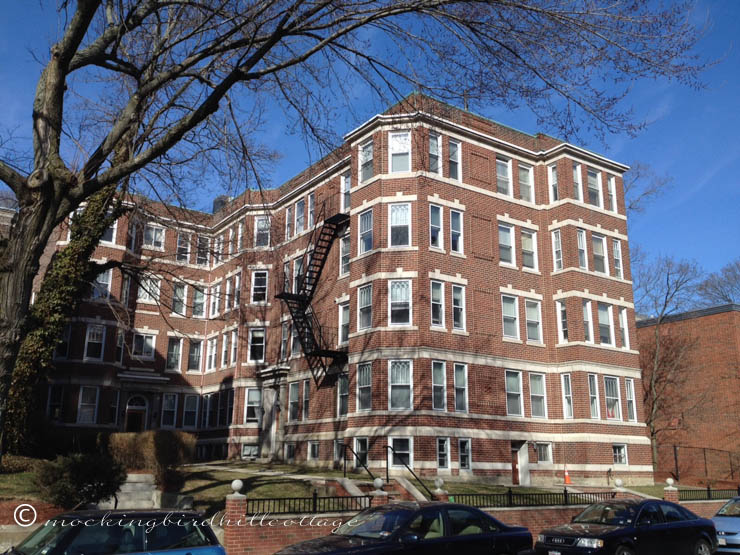 There's the building I lived in. I took this a few years back when I was working in Boston on a coaching job. Count up three floors on the corner and you'll see my apartment.
I probably could have lived there happily for many more years, but I was terribly underpaid and I needed to move on. It was only because of that, because I LOVED my job at Boston University. Loved my students. That apartment went on to be lived in by the gentleman I spoke of earlier in the post and then by my dear friend Eve. Eventually, Eve had to move because the landlady died and the building was sold and turned into condos.
Sob.
So I moved to San Diego. And met Don.
So there's that.
Happy Sunday.