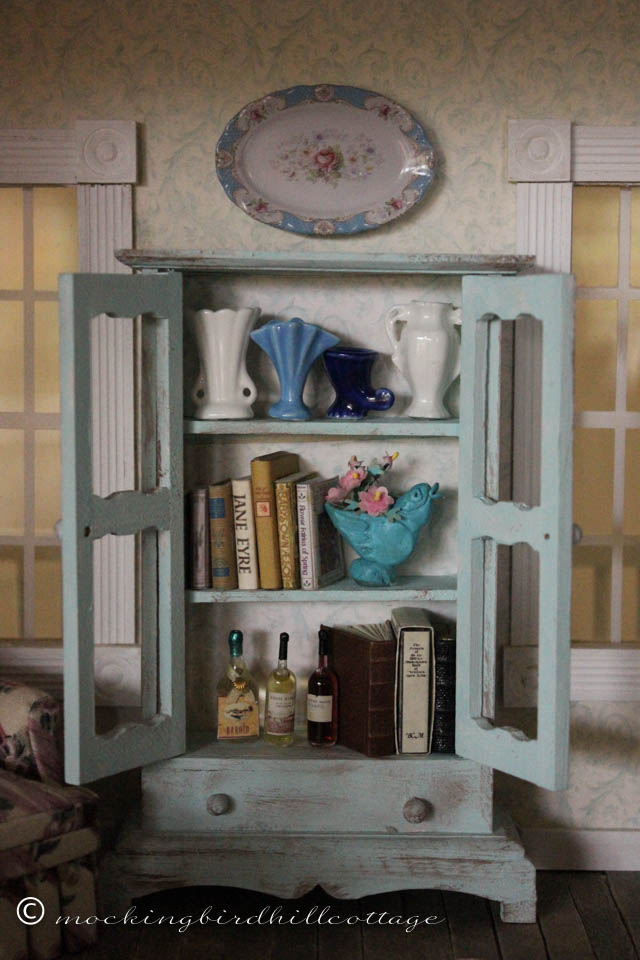 I'm resorting to already-seen photos of the dollhouse. There isn't much time in my days here in which to take pictures and I've only got my iPhone with me.
I had so wanted to drive down to the big miniatures show in Philadelphia this coming weekend. It's called Philadelphia Miniaturia. I've never been to a miniature show and I've always wanted to attend one. Now that I have a reliable car, I was all set to go. But life intervenes and I just can't do it. Maybe next year?
I see so many wonderful posts from my fellow dollhouse lovers that chronicle the amazing mini treasures they find at these shows. I, in fact, have been the lucky recipient of several miniature show treasures – gifts from my blog readers.
Waaah.
Patience is a virtue, Claudia. Patience.
I've been canceling accounts, finding out what bills my Dad had on Auto-Pay, making all sorts of inquiries and sorting pictures and memories into three piles for my brother's children. We found a lot of pictures of my brother when he was a little boy, along with letters and cards he sent to my mom and dad, and we thought they would like them. My brother died in 1991, when his eldest child was 16. They've been without a dad for a long, long time.
We'll be doing more work at my dad's condo this afternoon. It's very hard being there – it's very hard seeing the cats waiting for him. It's very hard seeing my dad's oil paintings hanging on the wall. Let's face it, it's just plain hard being in a place that, not all that long ago, was a haven for both of my parents.
Life continues on, but I find I have very little desire to read blogs right now. I'm trying, and I do read some posts, but I have no interest in the latest fall mantels, if you know what I mean. I'm reading some blogs but I haven't left any comments. I'll get back in the swing of things, but it will take a while.
You know how it is; you're aware that life is going on around you, but you can't quite partake in it. That's how it is right now.
I had a little boy sitting on my lap this morning and that sure helps.
Happy Thursday.