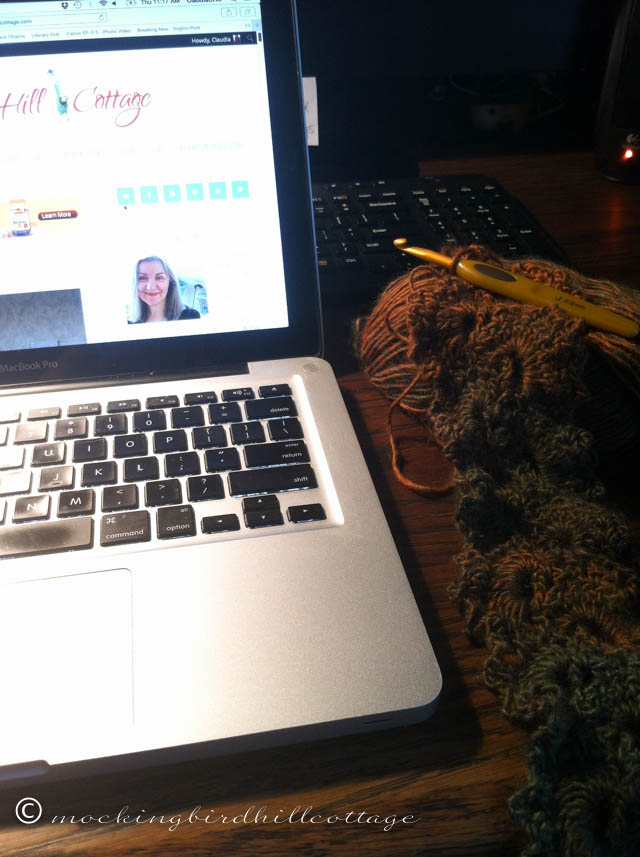 While I've been here at my sister's house and have had to make a lot of phone calls and do a lot of paperwork, I've been setting up my computer in her office/studio. An office/studio that I encouraged her to set up, by the way. She did a beautiful job and it's lovely. She has space for all of her yarn and a work table for looms and sewing machines, bookcases, and, of course, this desk space.
If you remember, we had a little discussion in my comments section recently about my lack of any sort of usable work space. The fact is, I have a little desk downstairs that isn't at all practical; try though I might, it's too small and I never use it except to store paperwork. I have my sewing table upstairs in my little studio niche, but again – very small and not practical.
Our guest room/studio/office at home has a large bed that is used approximately 3 times a year. If that. So I took my plight to Don and asked if we can finally get rid of the bed and change the room into a joint office space. We have an Aero bed that is fine for one person (but not so comfortable for two). We have a sofa in the den that is very comfortable.
He's on board. We just have to get rid of the bed and then I can save up my pennies for a desk. I'd move my hall cupboard in there and move the linen cupboard out into the hall. My grandmother's trunk – which takes up a large chunk of space – would be moved into the niche in the hallway or downstairs where the little white desk is. The sewing table would be an extension of my desk, making it an L shape. And I could work on my minis there, as well.
The fact is, I have a lot of paperwork that needs to be filed and available in one place – receipts for work out of town, files for my coaching work, blog receipts, dialect sheets – and it's spread out all over the house.
Frankly, I'm sick of it.
I'm a girl without an office. I'm a nomad.
Don and I will share that space, so it will include several guitars, speakers and amps. Hopefully, I'll find a way to make that work.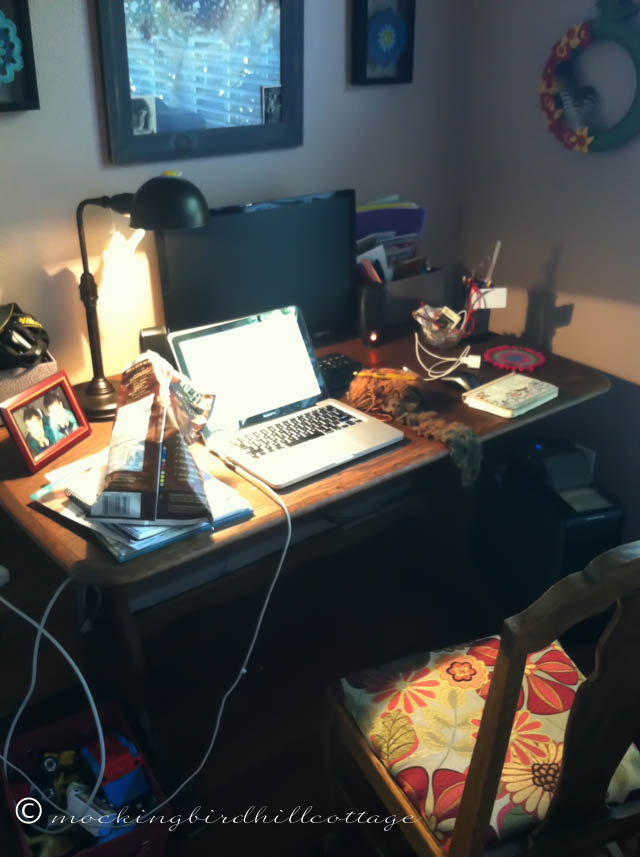 Working in this little office has only confirmed the fact that it's time to make a change. (Yes, I was munching on some chips.) And since Don and I will rarely be in that space at the same time, it should all work out beautifully.
Today, more phone calls and paperwork. I can't believe it's already been one week since my father died. It doesn't seem real to me yet.
You do know, don't you, that I write in this space because it's important to me? Because it can be cathartic? Because the routine of it is comforting? Trust me, if I just can't post one day, I won't. Okay? When I wrote about blogging yesterday, I was speaking of reading other  blogs. Just as it's hard for me to concentrate on a novel at the moment, it's hard for me to concentrate on blogs.
Happy Friday.