Because they make me smile: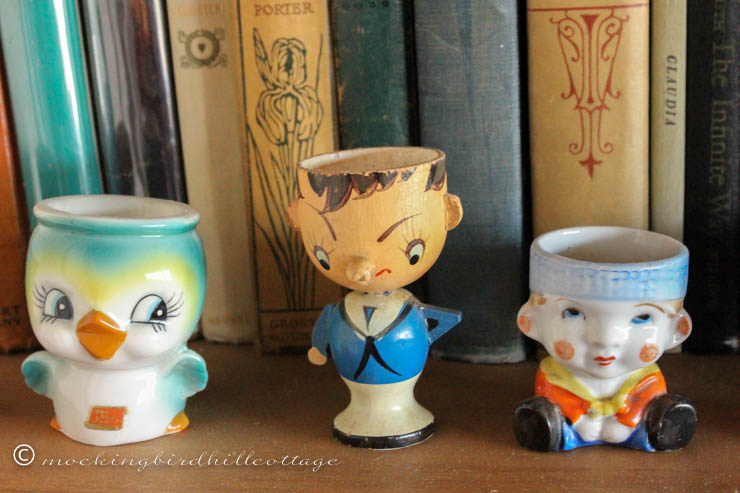 And smiles have been in short supply recently.
Under the topic of Things that Irritate Me: Any headline or blog post that says something like "10 Essentials You Should Have in Your Home." Or on the Huffington Post today, "10 Books at Garage Sales You Should Never Pass Up."
Really? According to who (or is it whom)?
Stop with the 'shoulds.' I am stubborn. If you tell me I 'should' do anything, which is really just a way to write what you think is a catchy, can't-fail post or article title, I will not read it. In fact, if I'm feeling a little surly, I will look at your list and do the opposite.
And I'll add, though I've said this before, the list trend in blog post titles irritates me, as well. Also on the Huffington Post today: "18 Annoying Things I Don't Want to Hear About Your Child." Stop it. Or I will counter with "18 Annoying Things I Don't Want to See or Hear From You."
If there's a list, I won't read it. I know many readers are drawn to that kind of post and more power to you. That's just fine. This is just my opinion. I think it irritates me for a couple of reasons. Writers have clearly been told this is a good way to get readers. So EVERYONE is now doing it. My eyes glaze over. Who knows? Maybe stats show that this is indeed a sure-fire way to get people to read a post. Since I'm not in this for the stats, and – again – since I'm stubborn, I will not go there.
Another reason? The tendency for everyone to assume the title of 'expert' simply because they have a little writing space on the web. Just because I love decorating my home doesn't make me an expert on the subject. I know what I like, but surely that's not what everyone likes. I wrote a series of posts on living in a small space a few years back. I was never entirely comfortable coming up with 'rules' for small spaces. Again, I know what works for us here in this cottage, but making a list of rules for others to follow is not me. I'm not an expert. I just know what works here.
I often consider deleting those posts from my navigation bar. Maybe today…
Just because I've worked with coding and designed this blog and my other blog doesn't make me qualified to be a blog consultant. I almost started a little side thing to help others with blogging questions a few years back, but it never felt right and I'm glad I didn't follow through. I don't know enough about graphics and design. I know what I need to know for my purposes but not nearly enough to qualify as an expert.
Humility can be a good thing.
Okay. Enough of that. It just feels good to talk about something other than grief.
I asked Don to make breakfast for me yesterday and he did. French Toast = comfort food. Oh, was it good! He's been great; checking in with me to see how I'm doing, listening to me when I need to talk, holding me when I need to cry. I've been a little testy at times. I admit it, I don't have a lot of patience at the moment. I'm working on that. But he understands and for that I am truly grateful.
I hope you're all well on this Monday morning. Thanks for being there on the other end of these posts. Thanks for reading my words, awkward as they may be at times.
Happy Monday.