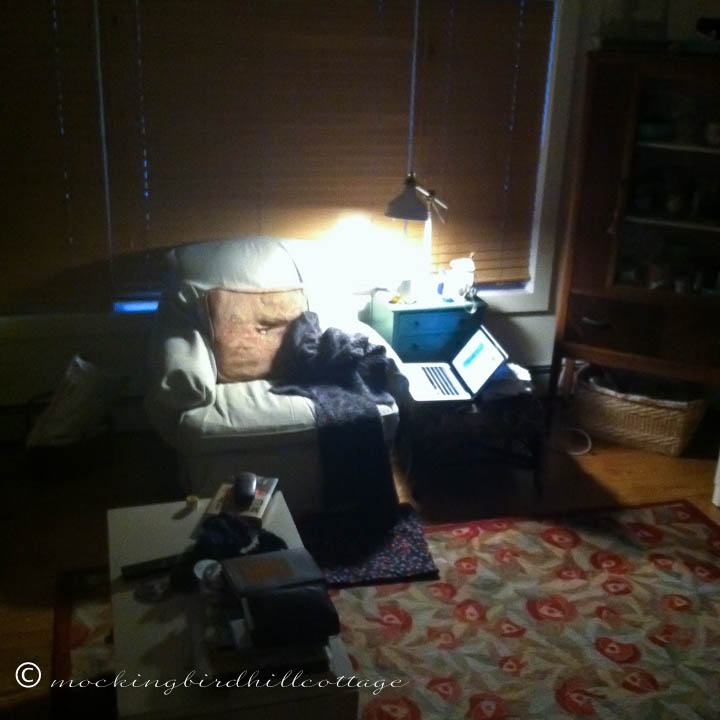 I'm stealing this photo from my Instagram post this morning.
We woke up at an ungodly hour this morning. 4:30 am. What the heck??
Back story: Scout, as an almost 17 year old dog, has issues with her 'elimination' processes. So we now use the pretty chalkboard in the kitchen to write things like 'Pee 6:59 pm' and 'Poop 10 am.' Since she pees less often, usually about twice a day, and sometimes leaks a bit, we are vigilant about chronicling her daily schedule, which is never the same. This involves remembering when she last peed, thinking ahead 11 or 12 hours, and making sure we get her outside in time. A good night is when she pees at around 7:30. We smile and relax, knowing we can sleep normally and still be up in good time for Scoutie.
There are, however, many times that one of us has to get up at 3 in the morning and hustle her outside. You do what you have to do.
Last night, for some reason, she peed at 5:30. So I figured we could probably get up around 6 am and we'd be okay. It was too warm in our bedroom last night and both of us woke up at various points in the night. At some point later, I woke up and figured it was close to 6 am. Still dark out, but about to be light. Don was also awake and we chatted back and forth about whether we should get up. I kept thinking about Scout and knew I had to get downstairs very soon to let her outside. When I start worrying about letting her out, forget it – I can't get back to sleep. So I got up. And Don got up.
I went downstairs and looked at the clock (for some reason we don't have a working clock in our bedroom.) It was 4:55 am. Hence…we were awake at 4:30, yammering on to each other, deluded in our belief that it was 6 am or so.
Crap.
And to add insult to injury, Dame Scout continued to snooze for the next two and a half hours. I finally woke her up to let her out at 7:30.
What's wrong with this picture?
Don is now napping on the sofa in the den. Scout is sleeping in the tunnel.
I'm wide awake.
Happy Thursday.