I drove around yesterday looking for a strand of clear lights on a white cord. (First time I've driven since the ankle injury!) No lights anywhere. No little inexpensive pre-lit trees, either. I definitely want low-key this year, but I found myself balking at the possibility of no tree lights.
So I came home to my $20 Michael's pre-lit tree and proceeded to pry off every one of the lights, which had been clamped to the branches in a rather intricate pattern. The clamps were sort of like the plastic closures that come on a loaf of bread and they were very hard to remove.
Two hours and a couple of broken fingernails later, I had finished. In the meantime, Don went out to the shed and brought the Christmas light bin inside and I found one unused strand of lights. I hadn't planned on opening any bins this year, but we had no choice. Lights were strung on the tree, some little ornaments I had upstairs were hung, and then to fill it out, I added some faux berries that were in the light bin.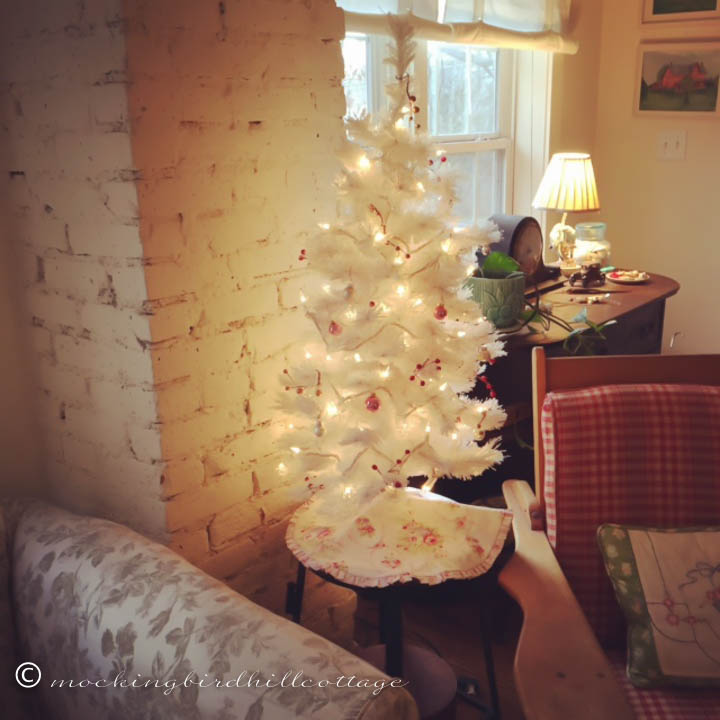 And we're done.
Just enough for us this year.
And it's fairly well protected where it is, so Scout won't fall into it – another reason we didn't want a real tree this year.
I'm close to finishing my book and I'm in a little bit of a panic because I don't have another book by Susan Hill ready and waiting. And I'm so into this series that I don't want to start something else. If all else fails I can get it on the Kindle, though I'd prefer a real book I can hold in my hands. But I've got a plan. Tomorrow I have to go into the city in the evening to watch a performance – something I have been involved with off and on. I'm going to go in early, take the subway to the stop closest to The Mysterious Bookshop and I'm going to spend an hour or so in that lovely shop, where I know they will have Susan Hill's books on the shelf.
I'm going to treat myself to the next three in the series. Hey, if I have to haul myself into the city this close to Christmas, I should have some sort of reward, don't you think?
Happy Sunday.