Goodness. A perfect Christmas. As Don said late in the day, 'on our terms' – which is to say we did it with some modifications that seemed right to us this year for any number of reasons. And it felt relaxed and easy and peaceful and…right.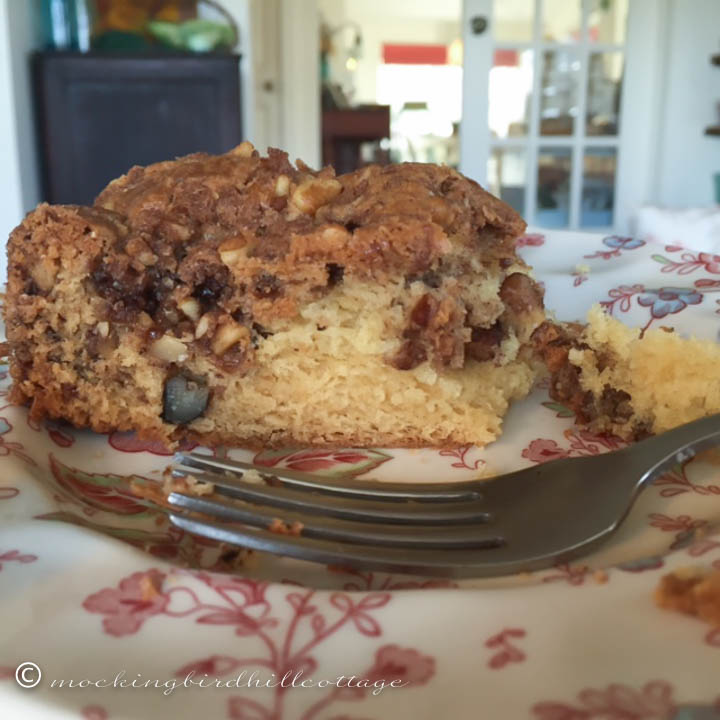 We started with some quiet time. Then Christmas Coffee Cake (and coffee, of course.) Oh heavens, it was yummy. And lucky for us, there's some left over for today and tomorrow!
I mentioned before that we knew what we were giving each other. We purchased it about a week or so ago.
Back story: A long time ago, I had hundreds of vinyl records. I had a turntable and a receiver and great speakers. Then CDs came along and I went over to 'the other side.' Years of moves and not enough space for all the albums and storage in not very good conditions has resulted in warped and damaged records to my eternal regret. When we moved to the cottage, we gave away the turntable – which wasn't working all that well – and the rest of the audio equipment.
What were we thinking?
There is a vinyl resurgence going on, which I find incredibly heartening. New vinyl records are being manufactured (though they're pretty pricey) and vintage vinyl is very popular. We live near a college town that has two used record shops.
One day, when I was out and about, I saw a turntable and speakers for sale at a good price – at Barnes & Noble, in fact – and an idea came to me. I knew Don missed playing LPs as well, so when I suggested that might be our present to each other, he jumped on it.
The surprises were in the albums we chose for each other. The assignment was to find four albums that we thought our mate would love (I cheated and found five.)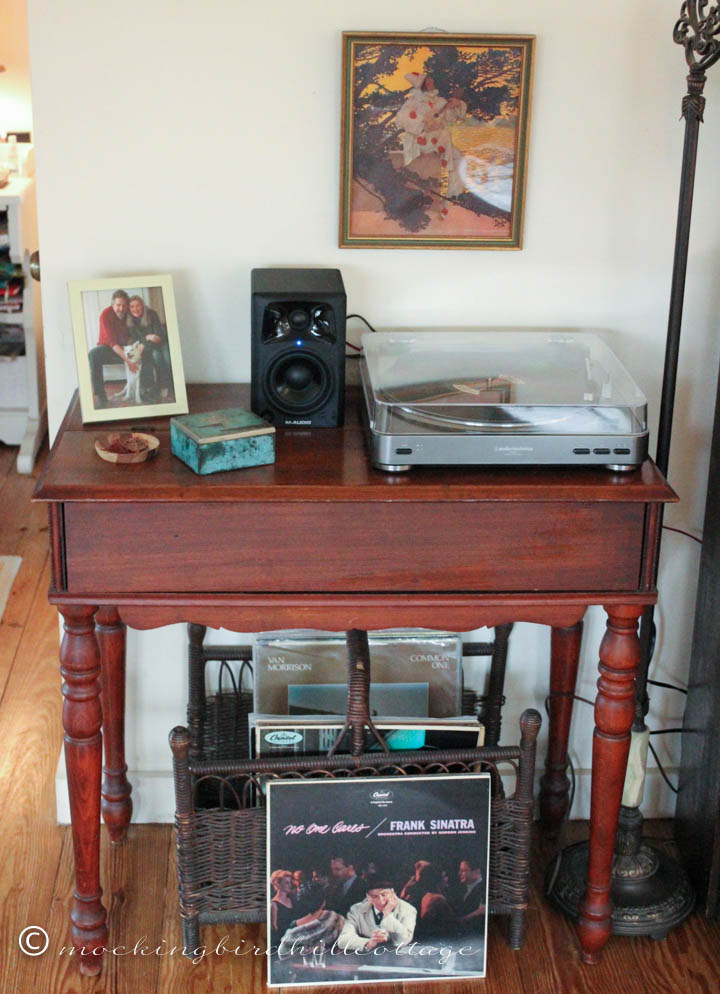 The other speaker is on the piano. The speakers are wonderful – such great sound quality! We already had quite a bit of vintage vinyl around the house, but here is what we chose for each other:
For Don from me:
Willie Nelson's Greatest Hits – vintage
The Eagles Greatest Hits – vintage
Gordon Lightfoot – new re-issue of Sundown
Warren Zevon Envoy – vintage
Neil Young Harvest – vintage
For me from Don:
Joni Mitchell Court and Spark – vintage
Frank Sinatra Swing Along with Me – vintage
Mel Tormé Live at the Crescendo – vintage
Van Morrison Common One – vintage
For both of us: Stravinsky The Rite of Spring – vintage
It's such fun picking out records for Don! And might I add, Don's choices for me were spot on.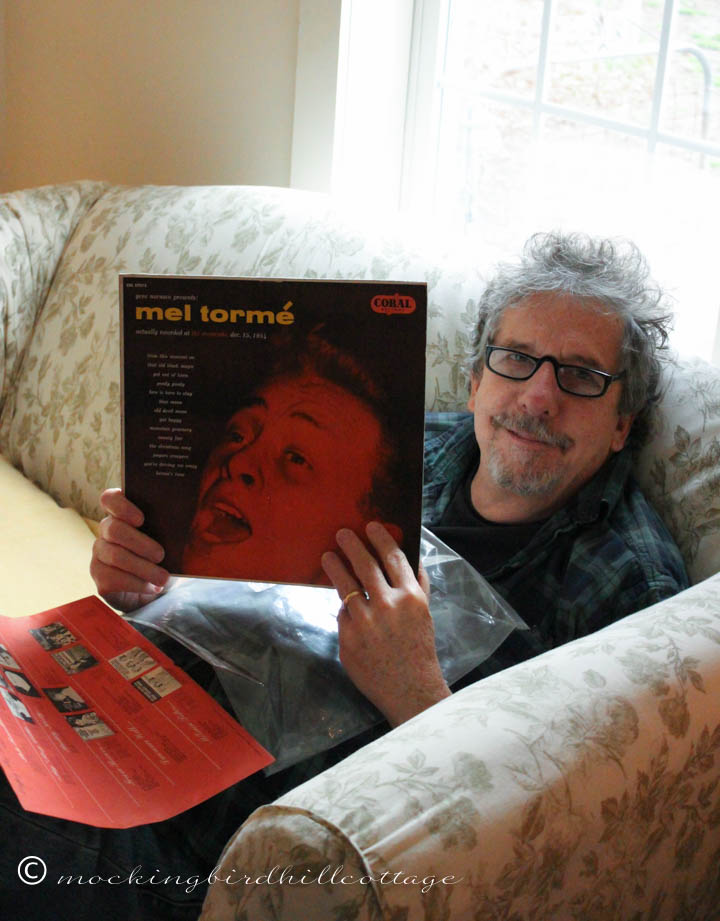 We spent all afternoon listening to records. We have lots and lots of CDs but there is indeed a difference in the sound of an LP. LPs have a warmer, more intimate sound. I much prefer them. CDs, being digital, are almost perfect in their separation of sounds, but I don't think that's the way we actually hear sounds when we're listening to live music. I found I was missing the warmth of a vinyl record. I even like hearing the occasional pop as the record spins away on the turntable. It's comforting, reassuring. There's also something about holding a record in your hand, looking at the cover art, reading the liner notes – all of which you can do with a CD, but on a much smaller scale. Holding an album is a whole other experience.
Fortunately for us, our favorite local record shop is run by a guy who listens to every album he sells and there are ratings as to the quality of the album. Everything we brought home was in great condition – even the Mel Tormé album recorded in 1954. It was as if he was in the room with us.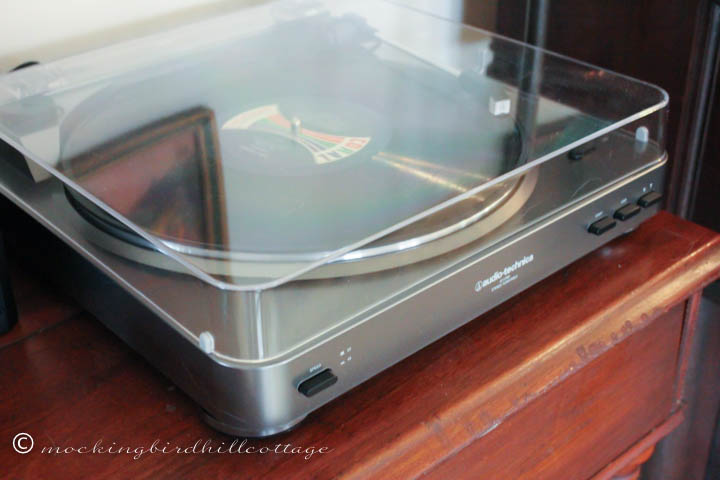 I see a couple of Scoutie hairs have already made their way to the new turntable.
Speaking of which:
Someone, who slept through the exchange of gifts but roused herself for record listening, got lots of soft treats from Santa and Mom and Dad. She was quite happy. (Pssst! She has a birthday coming up on January 4th. She is, at this moment: Sixteen Going on Seventeen. Another musical reference.)
Dinner was delicious. Don made the Stuffed Portobello mushrooms again, with some steamed broccoli. And I made Cloud Biscuits. Pumpkin Pie for dessert.
A lovely day, with a candle burning all day long in honor of my father.
If you celebrate Christmas, I hope your day was a happy one. In fact, whatever you celebrate or don't celebrate, I hope your day was filled with peace and joy.
Happy Saturday.