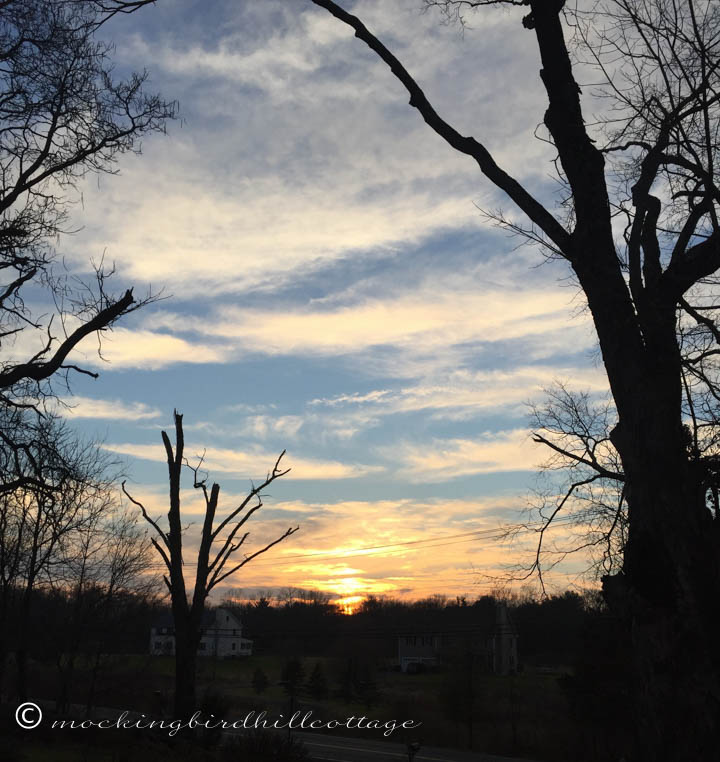 When we lived in California, we would go to the beach to watch the sunset, hoping to capture that moment when the sun was almost set – just a blip of orange or yellow light on the edge of the horizon. That's what I was attempting to capture in this photo.
It looks like we're going to have warmer than usual temperatures this week. In fact, it's supposed to reach 67° on Christmas Eve, not unlike the temperatures we used to see on Christmas Eve in San Diego. Topsy-turvy. And obviously, not a trace of snow in the forecast, though we did see some flurries on Saturday.
I'm off to the city later today to see a 7:00 performance of a one man show about C.S. Lewis that I have had a small hand in. It's still in development, so I'm going to take some notes on what I see tonight. They've been trying to get me in there for a couple of weeks, but the darned ankle kept me from going in. My dear friend from my Old Globe days is producing the show and I'll get to see him tonight, as well.
But I'll leave early in the afternoon, which should give me time for a visit to The Mysterious Bookshop. Heaven. I'll stock up on a few books, drink in the shop's atmosphere, IG a photo or two, then I'll grab a bite to eat and catch the show.
Long day. NYC is wonderful but a trip into the city is always a long one, with three hours of travel time in addition to the hours in the city. Ah well. There will be no time to catch a glimpse of our little town's tree at Rockefeller Center. I've seen pictures, though, and it's beautiful.
Still having problems with timely email delivery of the daily blog posts. I don't know why. It's ticking me off! Hang in there.
Happy Monday.