Thank you so much for all the positive comments on the new office space. I realize, of course, that it's modest by many standards, but it's mine and I love it. If you can imagine how tricky it was for me to work on anything in that niche at the top of the stairs – especially when it involved sewing and ironing and quilting – always afraid I'd roll my chair too far back and down the stairs, trying to move around in such a confined space, and then add to that the challenge of trying to find a place to spread papers out and do my research – well, this little corner of the room is manna from heaven.
We went on some errands yesterday and were amazed by the fog that started in the morning and stayed with us all day long. I've never seen anything like it in this neck of the woods. It never left! We were also amazed by how many drivers drove through the heavy fog without their lights on. Half the time we couldn't see them until the last minute. What were they thinking?
Anyway, I got my chair mat and now I can move around to my heart's content.
And I got a bulletin board.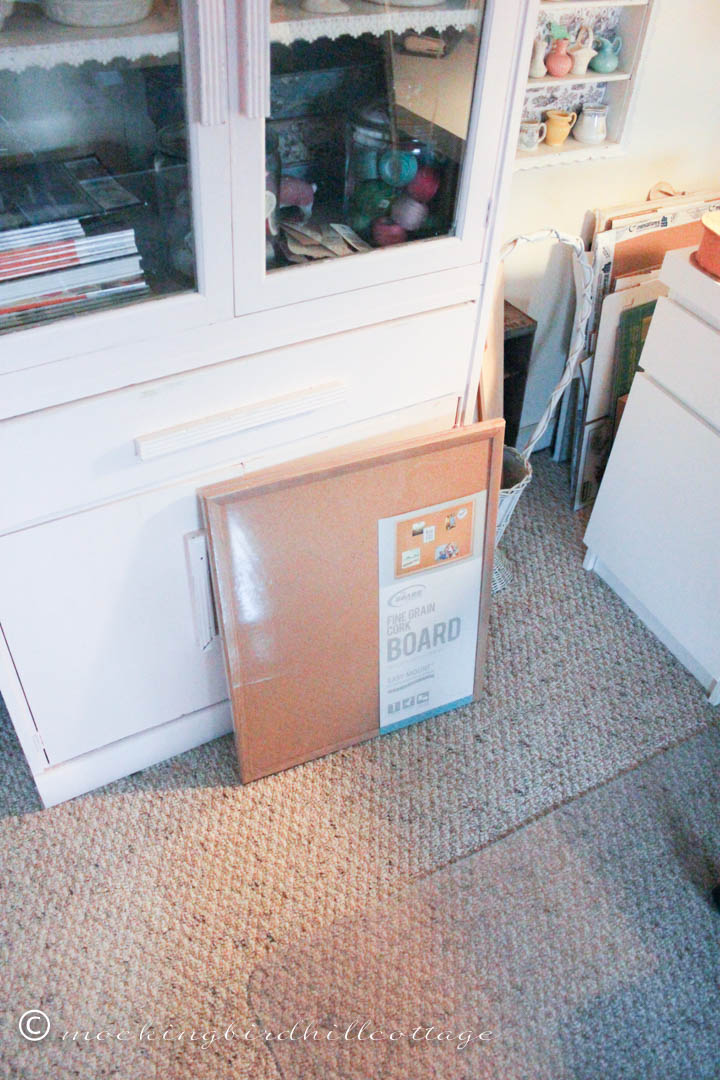 Where I am going to hang it has yet to be determined. I think the wood trim needs to be painted first. Hmmm. What color? Not turquoise/aqua or things will be way too matchy-matchy. I'll think on it.
I was reminded that another piece of Roseville sits on the shelf in that pink cabinet. I got it years ago in San Diego – there's a chip on the handle, so it was reasonable at a time when Roseville prices were through the roof.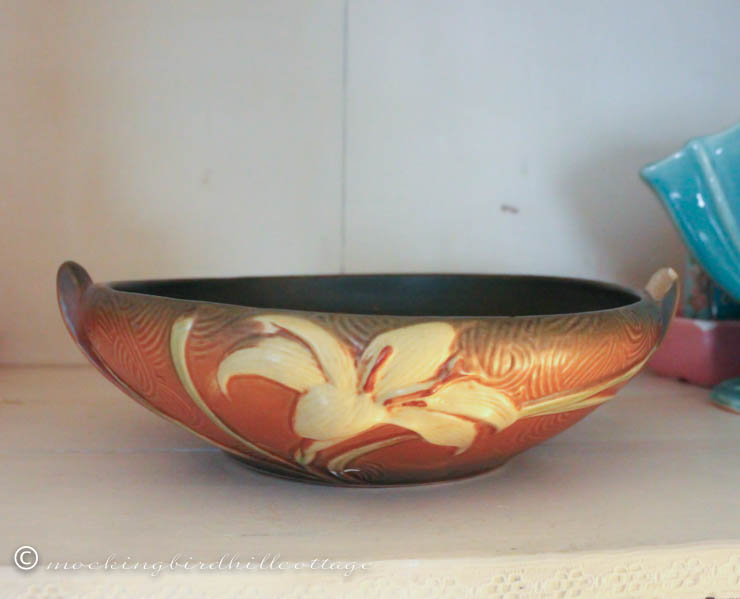 It's a bowl in the Zephyr Lily pattern. I haven't finished arranging things on those shelves. I'm putting the bride and groom cake toppers away for the time being. I'm in a 'there's too much clutter on the shelves' phase.
We're on the cusp of a new year. We have no plans for the evening. New Year's Eve is not a big deal for us. I know for a fact that we won't be staying up until midnight. We'll lounge around, watching something on the television – or maybe we'll spin some records on the turntable.
No New Year's resolutions from yours truly, either. I've never made them. To be perfectly honest, every day I think of something I want to change, do better, learn. It's an ongoing thing in my life; so making a resolution and saying it aloud simply because it's a new year just seems superfluous.
I'm a work in progress. All the time.
It's been a good year in some ways and very, very tough in others. As was last year, when I lost my mom. Losing both parents in the space of eighteen months has left me forever changed. How could it not?
So I'll be thinking of them as we move from 2015 to 2016. And counting my blessings as well.
Happy Thursday.