If I ever say I'm going to put together a big piece of furniture from IKEA again, please stop me.
It took us over four hours to put that darned desk together and since we started at 4 pm, dinner came late. We were slightly irritable and dehydrated. Crawling around on the floor takes its toll as well…yikes. Scout was more than a bit peeved with us when we finally headed downstairs. She does not like it when we both disappear upstairs for several hours – which hardly ever happens, by the way. She ignored us the rest of the evening. So there, she said.
There's much to be done, including renting a little storage space, which I've been pondering for a while. When I floated the idea to Don, he was immediately on board. We have no attic. We have no usable basement. We have a shed where mice like to hangout. And we have some things we don't have room for but don't want to give away or sell. I find myself longing for the kind of storage cage I used to have in one of the apartment buildings I lived in. This will make life much easier for us. My grandmother's trunk? I will never give it away. But it's big and it takes up a lot of real estate. Two beautiful wood chairs? Love them. Don't want to sell them. But right now, we have no room for them. And on it goes.
We're going to rent a space today…before the ice/sleet/snow hits overnight.
Sneak peek: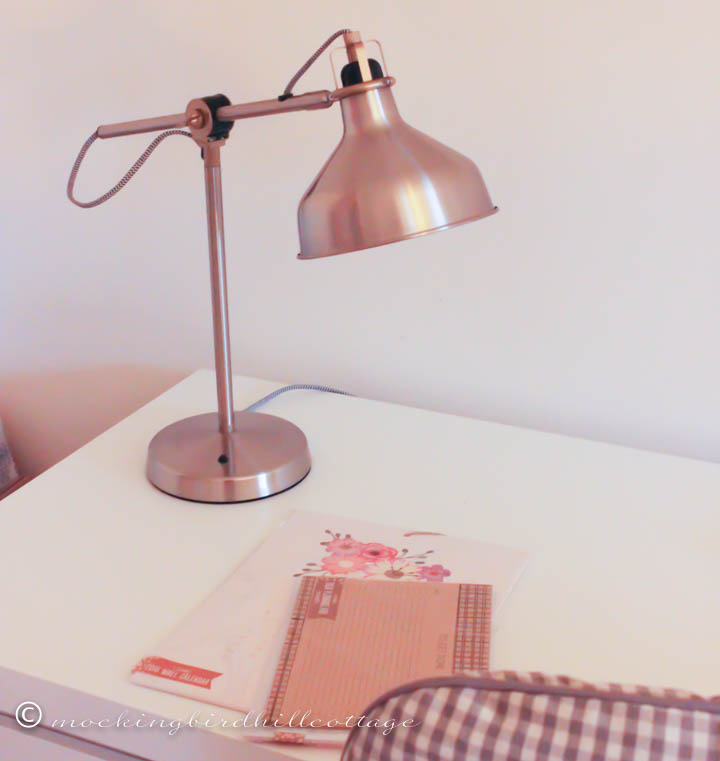 I want to say a few thank yous.
To Cindy, a reader of this blog, who sent me this key chain: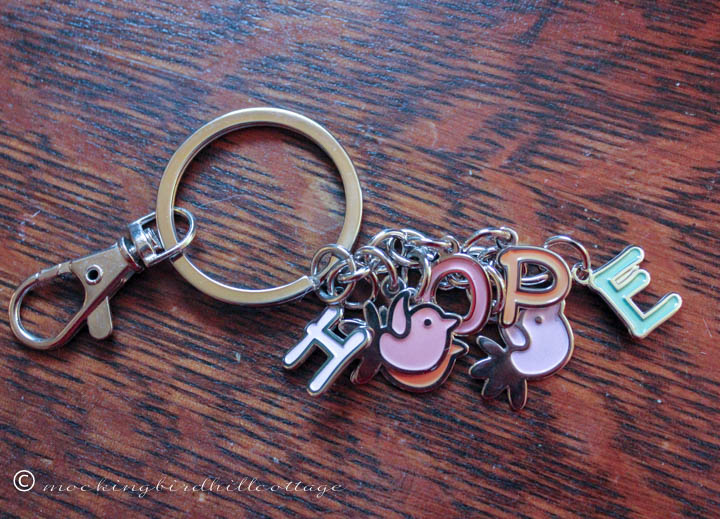 A timely message! Hope. Thank you!
And to Kathy, who sent Scout some tasty treats. She included some Hershey's treats for Don and me, many of which  have been consumed already. Thank you!
And also to show you a lovely egg cup that my friends Lynne and Sean sent to me for Christmas: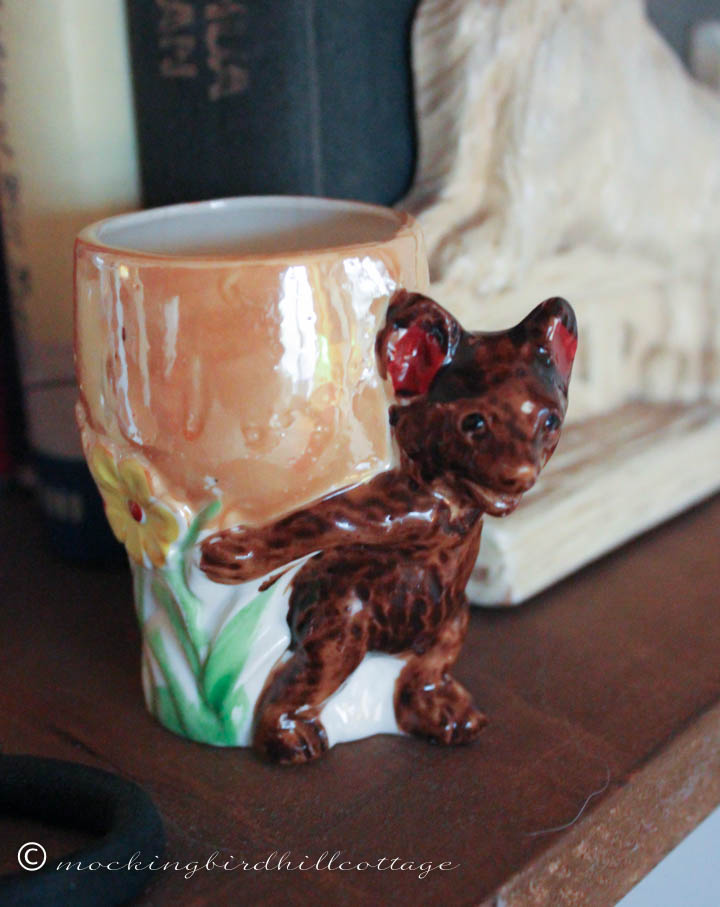 An adorable bear holding onto a lustreware egg cup with pretty flowers. (Note yet another Scoutie dog hair.) I love it. Bears have been missing from my collection, so this gift is much appreciated. Lynne and Sean live in Toronto – they are longtime friends of ours who we miss a whole lot! Hopefully, we'll see each other sooner rather than later. Thank you.
The amount of snow that was in the forecast has changed – we're getting much less. Nevertheless, the sleet and ice that is coming overnight is a bit alarming – especially in terms of our little girl, who has trouble getting around. Stay safe everyone.
Don't forget to leave a comment on my post, "Sharing a Sweet Moment" where I talk about one of my favorite things: Marie Callender's Frozen Desserts. If you leave a comment, you might win a $100 Visa Gift Card!
Happy Monday.