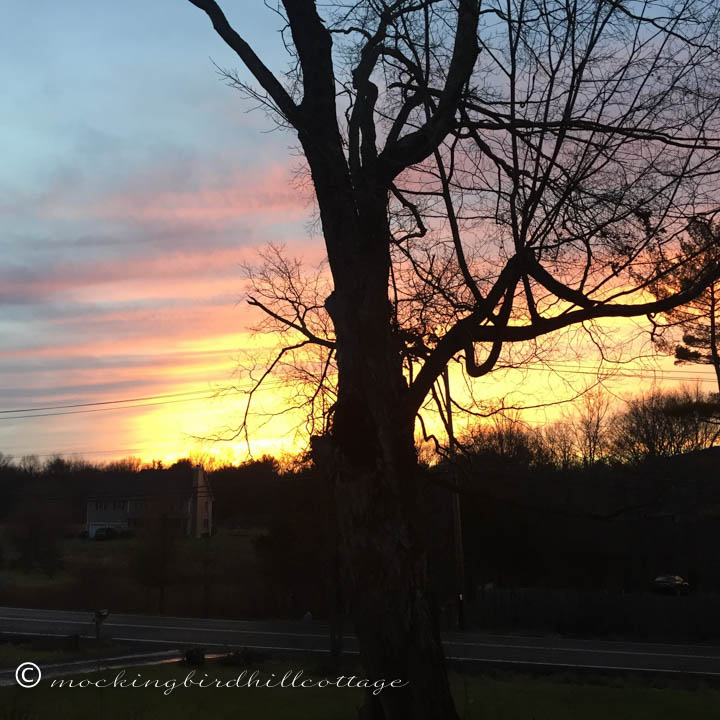 Well, hello there, 2016.
So far you look rather gray-ish and not very pretty. Maybe you'll give us a glimpse of the sun at some point today?
Don got in gear yesterday and cleaned and sorted his part of the shared office space. We grabbed some storage bins and filled them up. So therapeutic! The room is looking much more spacious. When you consider that we had a bed, Don's desk, two file cabinets, my grandmother's large trunk, two chairs, 5 guitars, a linen cabinet and Don's dresser in there, you can see how crowded it was. And why we avoided it like the plague.
Once we got rid of the bed everything changed. By the way, some of you have asked about the hallway. We moved Don's vintage 30s waterfall dresser into the niche where I had my sewing machine. It actually looks good there. And we moved the pine cabinet that functions as our linen cabinet to the space formerly occupied by the pink cabinet. It makes more sense for the linen cabinet to be in the hall. All in all, it's working out nicely.
So we made a little trip to the storage facility and dropped off some bins and other things. We made a mad dash to the bank because I had mistakenly torn a check that was sent to me in half. I know. What the ?? I was tearing up some junk mail and somehow the check got torn in half as well. Thank goodness I didn't tear it into little pieces. The bank teller taped it together and the machine accepted it. Huzzah!
We had a slice of pizza.
Then we stopped by the used record store and came home with:
• A mint album (never opened) of Django Reinhardt (with Stephane Grappelli.) It's fabulous.
• A Little Touch of Schmilsson in the Night (Harry Nilsson) – one of my favorite albums ever and one I have moldering away in the shed. Needed to be replaced. In mint condition.
• The Ballad of Sally Rose – Emmylou Harris (sealed – never opened.)
• Pete Seeger – American's Balladeer (sealed – never opened.)
• Follies In Concert  (Stephen Sondheim) – I have the album (in the dreaded shed) and the CD. I needed to replace the album because vinyl just sounds better. Hurrah, I did!
• Funny Girl (original Broadway Cast) – again, the album is in the shed. Time to replace it.
We're having such fun! We came home and listened to a couple of our new finds and then had dinner, watched the New York Philharmonic/Live at Lincoln Center  and then watched part of Taken 3 , which was so dreadful we laughed out loud.
Lights out by 11:00.
Today? Who knows?
Happy New Year to one and all. May this year be filled with peace and joy and fulfillment and happiness and love. I'm so grateful for your presence in my life.
Happy Friday.