Hello from Hartford!
After packing the car to within an inch of its life, saying goodbye to my husband and doggie, driving two hours, stopping at the Trader Joe's just outside of Hartford to get some groceries, then jamming them into the back seat of the car, I arrived at the apartments yesterday afternoon – about 2:45.
Unfortunately, since others in the cast were arriving around the same time at the train station and airport, I unpacked everything myself. I guess I made about 10 trips back and forth from the car to my apartment.
I was tuckered out and my ankle was complaining – but just a wee bit.
Actor/Staff lodging is always loaded with a mishmash of donated items. Though I must say that the Company Manager has really worked to make things more consistent. The desks are the same in every apartment: basic IKEA desks (and I was wrong in my memory of it – it doesn't have a glass top, rather a faux wood laminate.) The dining table is basically the same, as well. The sofas vary, as do the various coffee tables and side tables.
The following group of photos is basically what I saw when I arrived.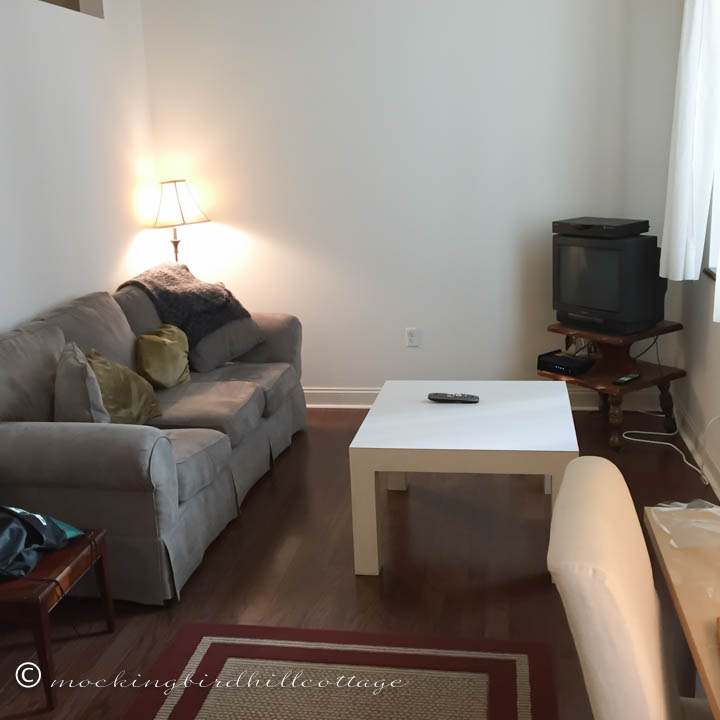 That gray throw on the sofa is mine. I must say the table on which the television is perched is so hideous that it's fascinating.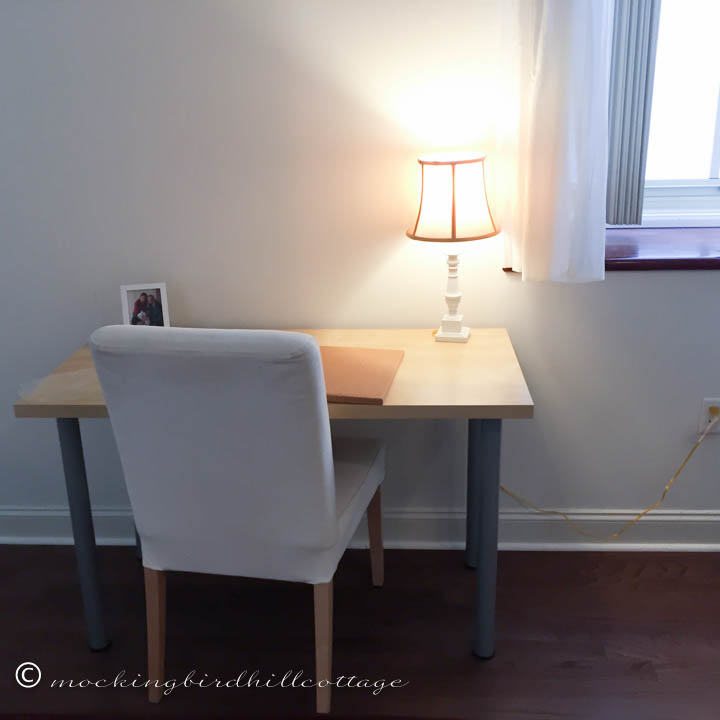 Basic IKEA desk and parsons chair. I brought the lamp from home – there is never enough lighting in these apartments, though that's getting better, too. The framed photo is also mine. I moved the desk over closer to the window and the outlet.
Yikes.
When I arrived, there was a huge yellow lamp on the top of this table. It overpowered the whole thing and the shade was askew because it was a too big and too close to the wall. I moved the lamp over to the kitchen counter, where experience has taught me a lamp is needed.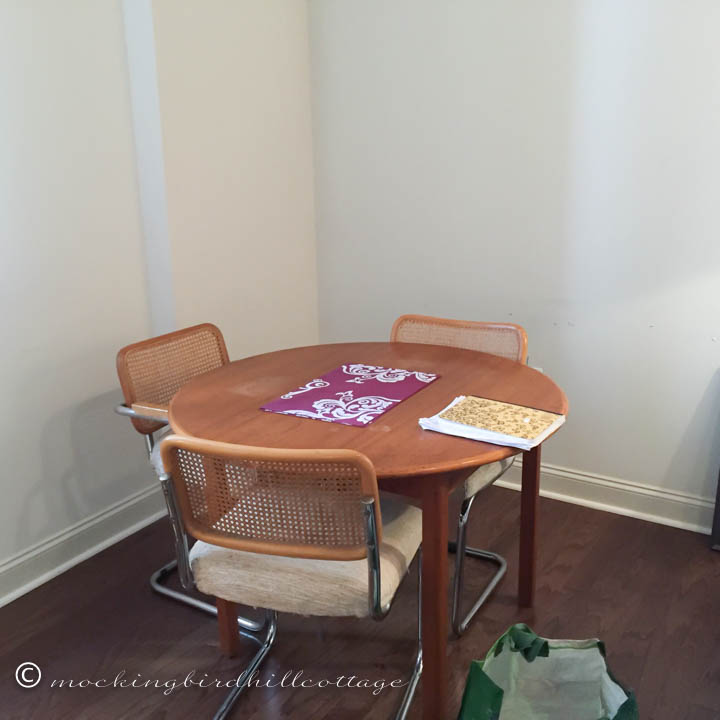 Dining room before. It is what it is.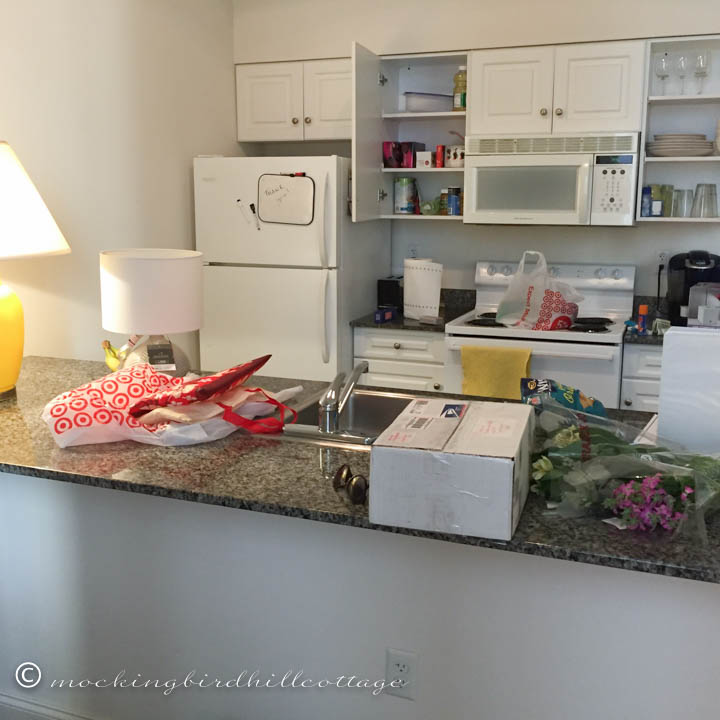 Kitchen in the midst of unpacking. You can see the yellow lamp on the left. You can also see three things that I always bring when I have to create a home away from home. The first is extra lighting (you've already seen the desk lamp.) I bought that smaller lamp from Target, knowing that I will be using it in our shared office space when I go back home. I wouldn't have purchased it otherwise. The white box contains some pottery that I brought from home. And there are two bouquets of flowers from TJs.
Flowers are a must. There's nothing that makes a space more friendly and welcoming.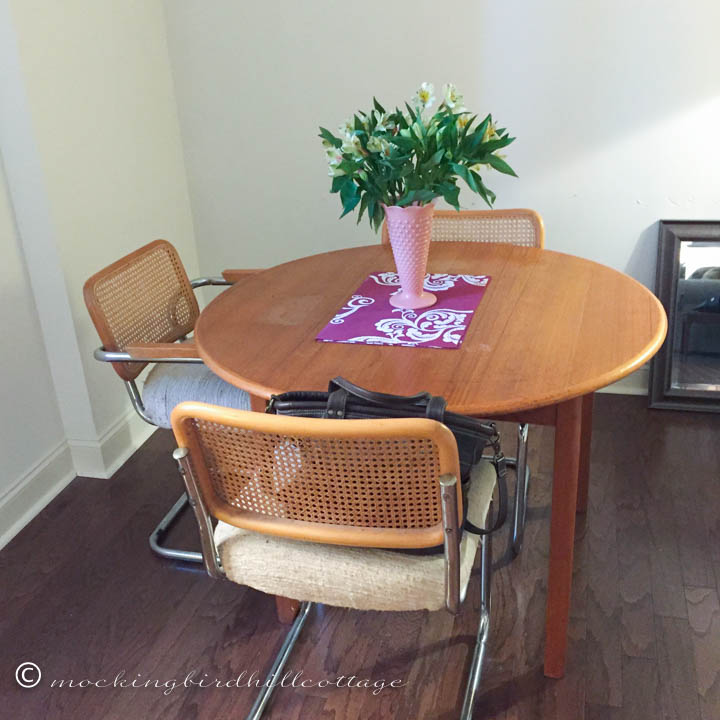 My pink hobnail vase filled with a bouquet of alstromeria – $3.99 at Trader Joe's.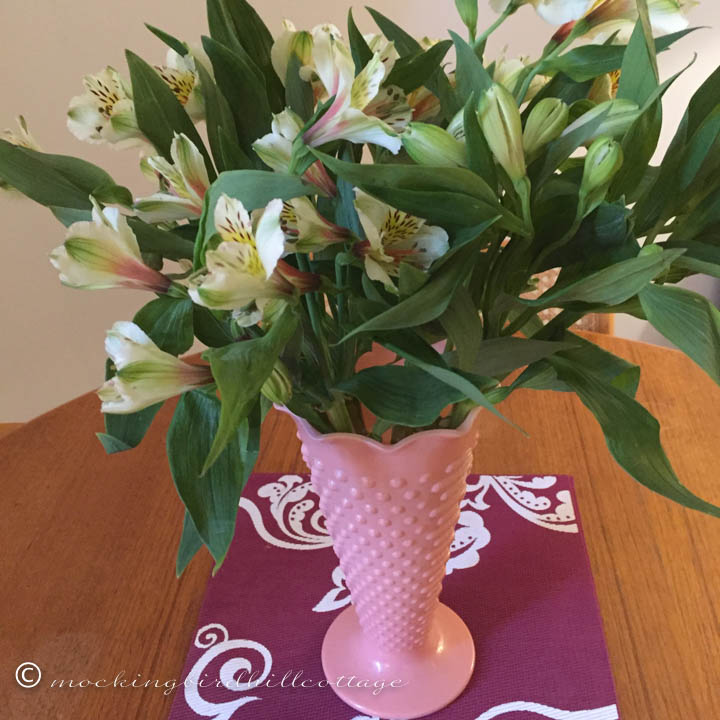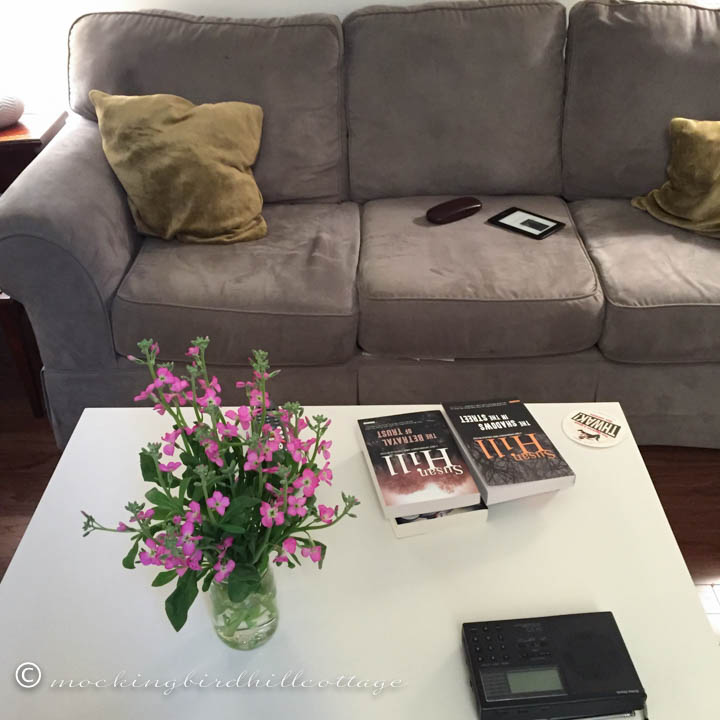 And a bouquet of stock – $2.99 -on the coffee table. I used an empty jar I found in the cupboard for a vase. I have to say they smell heavenly.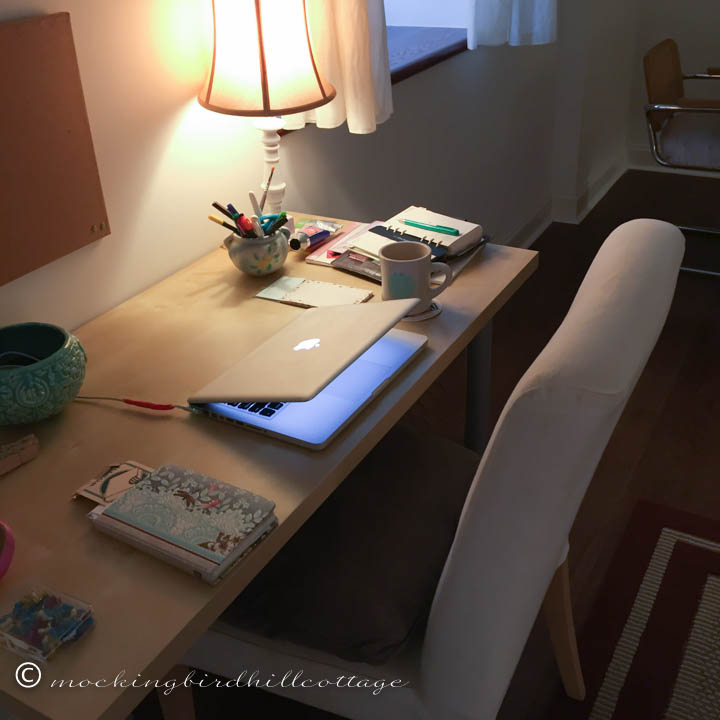 I brought my favorite mug from home. I also bought a small square of cork at Target so I have something to pin notes and schedules to.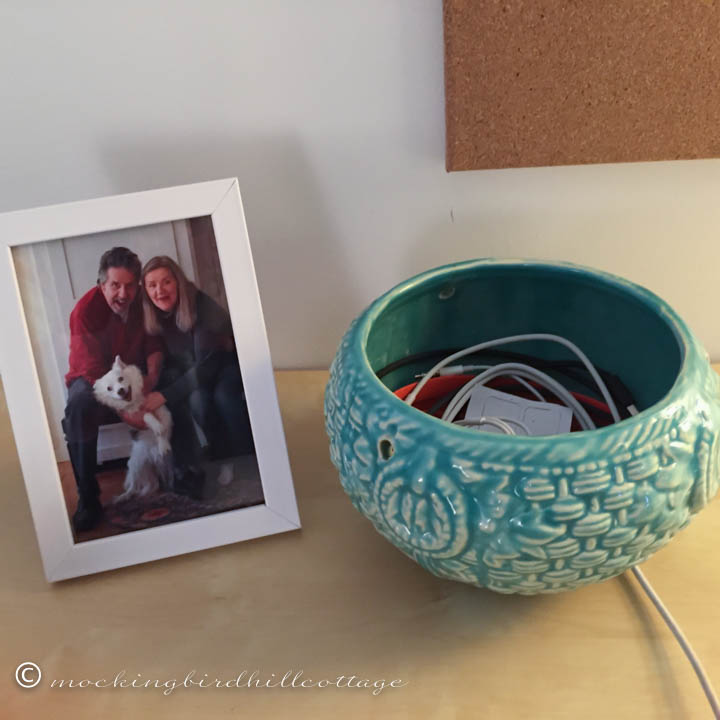 I always add a framed family photo. And this time, I brought this favorite piece of McCoy because I realized that not only would it be pretty, but it would be a great way to stash charging cords and keep them out of the way.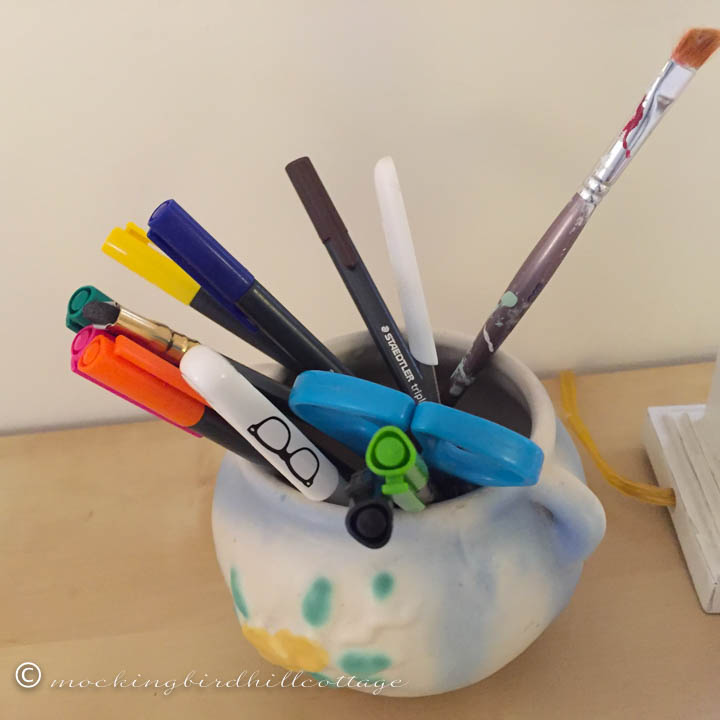 Another piece of pottery brought from home becomes a pencil/pen/nail file/scissors holder.
I get a splash of color that is very welcome as well as something functional.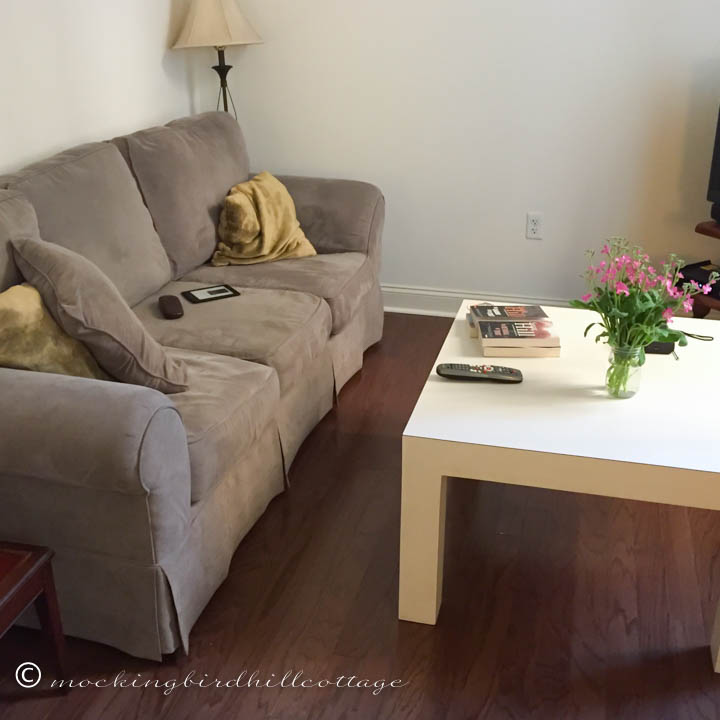 Of course, books always warm up a room, don't they?
That sofa is very nice looking, but boy oh boy, those cushions are too squishy. Like Goldilocks, I tried them all, and settled on that cushion closest to the wall as the best of the bunch.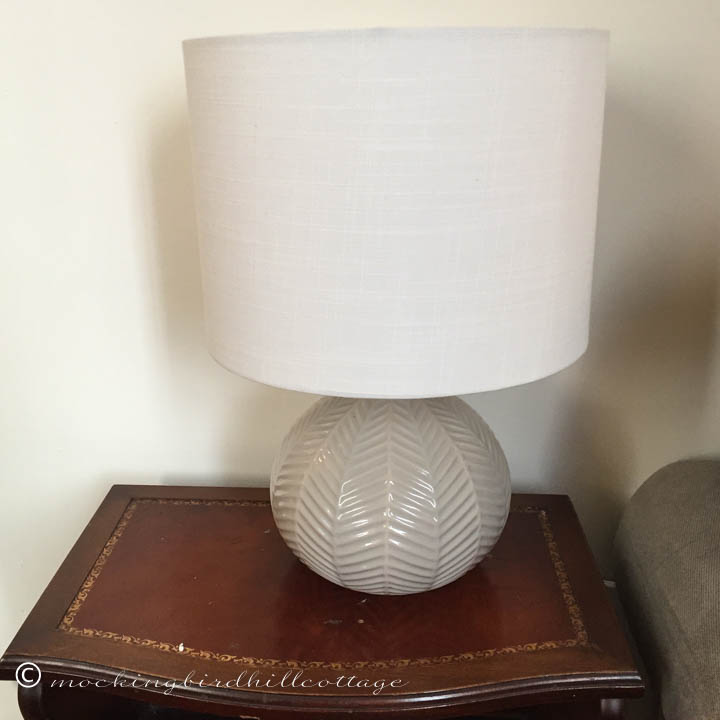 The lamp from Target; purely by chance, it matches the sofa. Who knew? The last apartment I was in here had a purple sofa.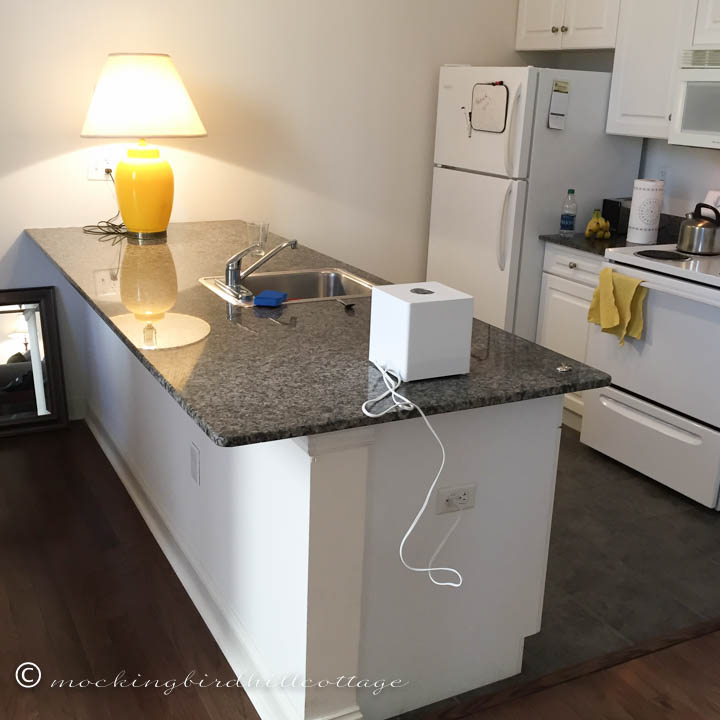 Kitchen, with yellow lamp and humidifier.
These apartments are in a converted office building and the ceilings are very, very high. The windows are quite tall.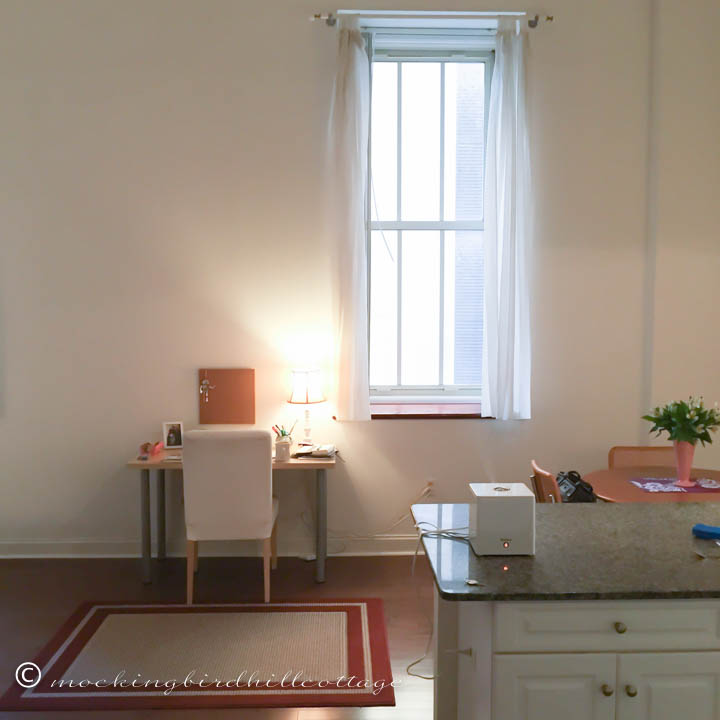 See?
The bedroom is too dark to photograph well. I brought my bed quilt from home – the one I made for our previous bed that no longer fits our new bed. The coverlet on the bed here was perfectly fine, but I like the quilt I made – it's pretty and it's lightweight. I tend to run hot.
This year, the theater bought new mattresses for all the apartments. What a change! It's firmer than our bed at home, but I had no trouble with it. In previous visits, I had to keep track of what mattress seemed to be the best for me and what apartment it was in – or had been moved to. I panicked at the thought of a bad mattress. Remember the time I switched out a mattress from the apartment next door in the middle of the night?
That was fun.
I haven't hung the quilt yet and I might not. I'm waiting on that decision. I'm rather liking the expanse of white walls at the moment.
For some reason, we don't start rehearsal until 2:00 today. We'll have a Meet and Greet, the design presentations, and then a read-through of the play. We'll be done at 7 pm.
Happy Tuesday.