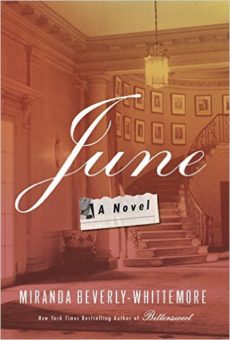 Today I am reviewing June by Miranda Beverly-Whittemore for TLC Book Tours. As always, I am provided with a copy of the book in exchange for my honest review.
About the book (from the publisher): Twenty-five year old Cassie Danvers is holed up in her family's crumbling mansion in rural St. Jude, Ohio, mourning the loss of the woman who raised her – her grandmother, June. But a knock on the door forces her out of isolation. Cassie has been named the sole heir to legendary matinee idol Jack Montgomery's vast fortune. How did Jack Montgomery know her name? Could he have crossed paths with her grandmother all those years ago? What other shocking secrets could June's once-stately mansion hold?
Soon Jack's famous daughters come knocking, determined to wrestle Cassie away from the inheritance they feel is her due. Together, they all come to discover the true reasons for June's silence about that long ago summer, when Hollywood came to town, and June and Jack's lives were forever altered by murder, blackmail, and betrayal. As this page-turner shifts deftly between the past and present, Cassie and her guests will be forced to reexamine their legacies, their definition of family, and what it truly means to love someone, steadfastly, across the ages.
My review: This type of book, I suppose I would call it a romantic mystery, isn't my usual sort of read. However, the opportunities I get to review books often open up reading possibilities to me that I would normally avoid and I'm happy to say I enjoyed this sweeping novel.
The story moves back and forth between the past, when June was a young woman and a movie was being filmed in St. Jude, and the present, where Cassie is dealing with the death of her grandmother, the news that she is an heiress, and the search to find the reason behind the inheritance. Beverly-Whittemore handles this moving back and forth in time adroitly, and the story has a lovely flow. There is a very real mystery that has to be solved; did Jack Montgomery know June? What was their relationship? Is Cassie related to Jack? What happened all those years ago? The author unveils that mystery slowly, bit by bit, until the reader finally puts the pieces together.
So, while we're reading the here-and-now story of Cassie, we are also reading the story of June as it happened long ago, as told by June's friend Lindie. And while Cassie and Jack's daughters are searching for the truth, we are in on the mystery as it happened. It's quite well done.
It's a great summer read and you'll most likely happily lose yourself in the pages of the book. The characters are well drawn. St. Jude and the family's mansion – each a character in itself – are written with great detail, the images so rich that you'll feel like you're there.
A very good, lose-yourself-in-the-story, read.

About the author: Miranda Beverly-Whittemore is the author of three other novels: New York Times  bestseller Bittersweet; Set Me Free, which won the Janet Heidinger Kafka Prize, given annually for the best book of fiction by an American woman; and The Effects of Light. A recipient of the Crazyhorse Prize in Fiction, she lives and writes in Brooklyn.
One of you will be the lucky winner of a copy of June. Just leave a comment on this post and I will pick a winner on Sunday evening. Good luck!
Happy Friday.