Weather forecast? Rain. If you were to visit Mockingbird Hill Cottage, you'd encounter two adults valiantly trying to stay positive in the midst of six plus days of almost-constant rain. We have been aided in that quest by watching the first episode of the second season of Grace and Frankie on Netflix and by watching the gloriously talented Adele in concert (aired last night on NBC).
Adele is the real deal, a throwback to the days when a singer would come onstage, plant his/her feet and just sing. No auto tune. No frenetic and distracting dancers in the background. No vocal pyrotechnics that shout, "Look at what I can do!" instead of actually telling a story in song. We love her. She's modest, funny, and has a voice that is husky and powerful and brave. She writes her own material but I secretly hope that someday she records some old standards because I'd love to hear what she does with them.
I have her first album and now we need to get the second album. Don can't stop talking about her this morning.
Speaking of singing, Don has a gig with his friend Dan tonight. Fortunately, it happens to be in our little town. I'll be attending, of course.
Yesterday I worked on the TSP.
Don. Stop reading.
I wanted some stonework along the base, reminiscent of the very old stonework that is the foundation for our circa-1891 cottage. I briefly toyed with making the stonework and even bought a product that I thought would be perfect. It turned out to be not-so-perfect. So I went the much easier route and purchased an embossed-on-paper granite stonework. From Hobby Builders Supply/miniatures.com.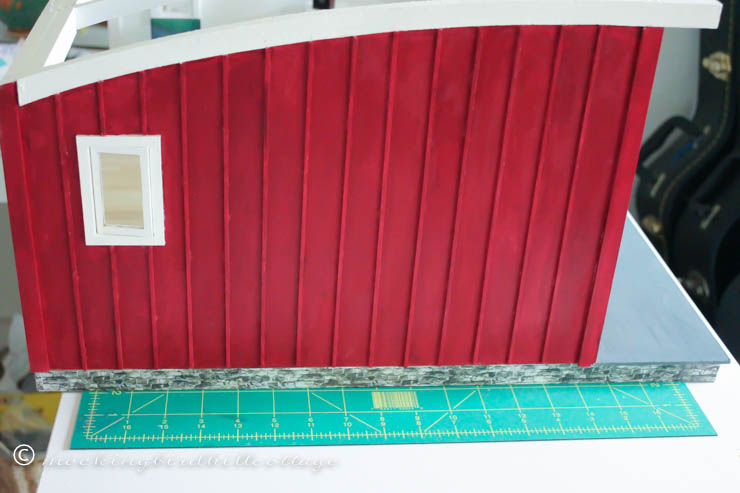 At the risk of sounding like a broken record, photos are particularly difficult during these gray, rainy days. This one is a little less than crisp. But you get the idea.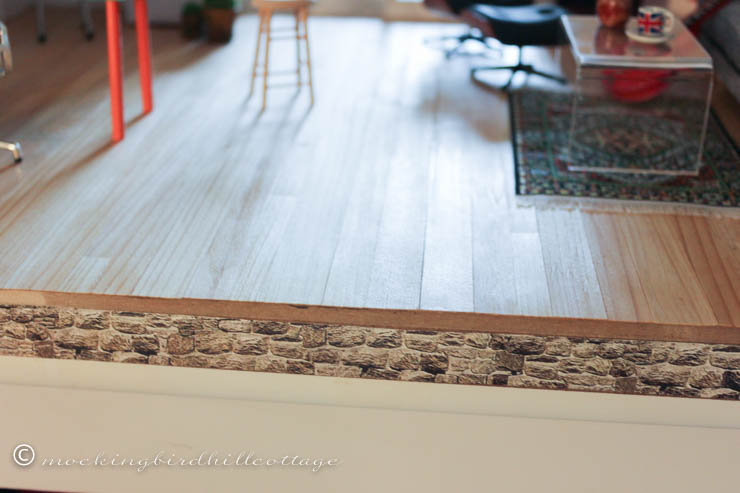 It turns out to be perfectly fine. I like it. And it was fairly quick and easy.
I'm in the midst of painting the deck/porch and today I'll slap on a coat of varnish.
Arriving in the mail yesterday: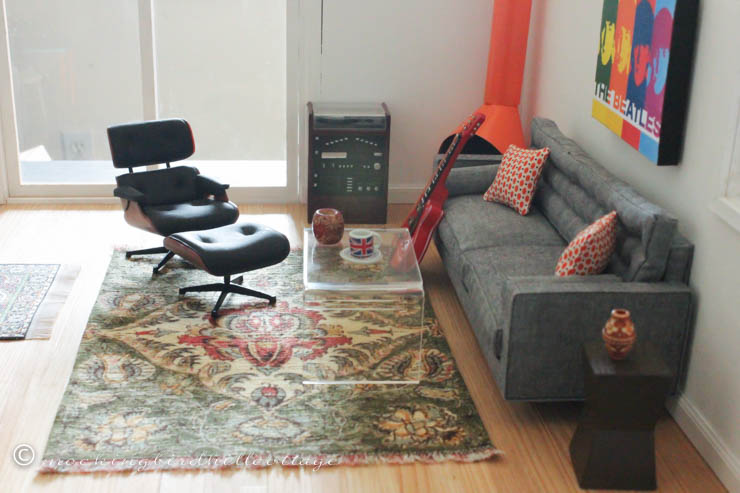 This gorgeous rug from Dale's Dreams. She has an Etsy shop and also sells at miniature shows. I have to say this is the best miniature rug that I have ever seen, and I'm not talking about the pattern, which I love, but about the heft and quality. It looks entirely three-dimensional and there is a backing applied to the rug that gives it weight. A lot of mini rugs – though lovely – are pretty one-dimensional. Many of the rugs in Hummingbird Cottage are one-dimensional. This one is amazing. That's a splash of red-orange in the middle of the pattern.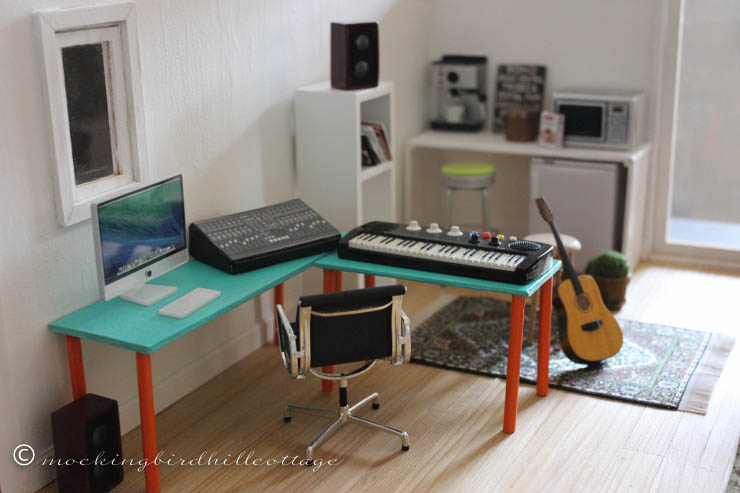 Now I've moved the other rug over to the recording area, which is where I had always planned to have a rug, a stool, a microphone (if I can ever find one I like) and a guitar. I'm not sure whether this rug itself will make the final cut, but for now, I like it.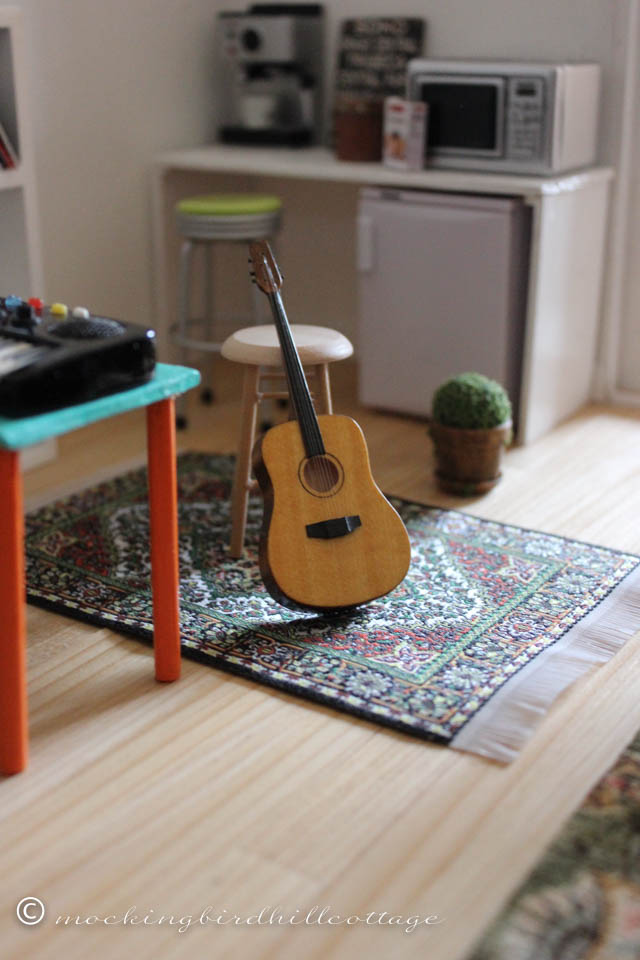 That stool came from Hobby Builders Supply. I'm not sure whether I'm going to paint it, age it, or stain it. But this shows you the look I'm going for.
By the way, I'm not at all concerned with the colors being matchy-matchy. Don is a big fan of color so I'm giving it to him!
It's taking shape, this little project!
Happy Saturday.