Oh for heaven's sake. This is the fifth day in a row of rain, with temperatures a good twenty degrees below normal. I can't plant seeds, I can't weed the garden or put down mulch. The lawn is growing by leaps and bounds and we are just stuck here in the cottage about ready to go nuts.
I've had it.
I got home yesterday and took some photos late in the day of the few blooms that are happening around here. Daffodils are blooming in a clearing on the edge of our woods.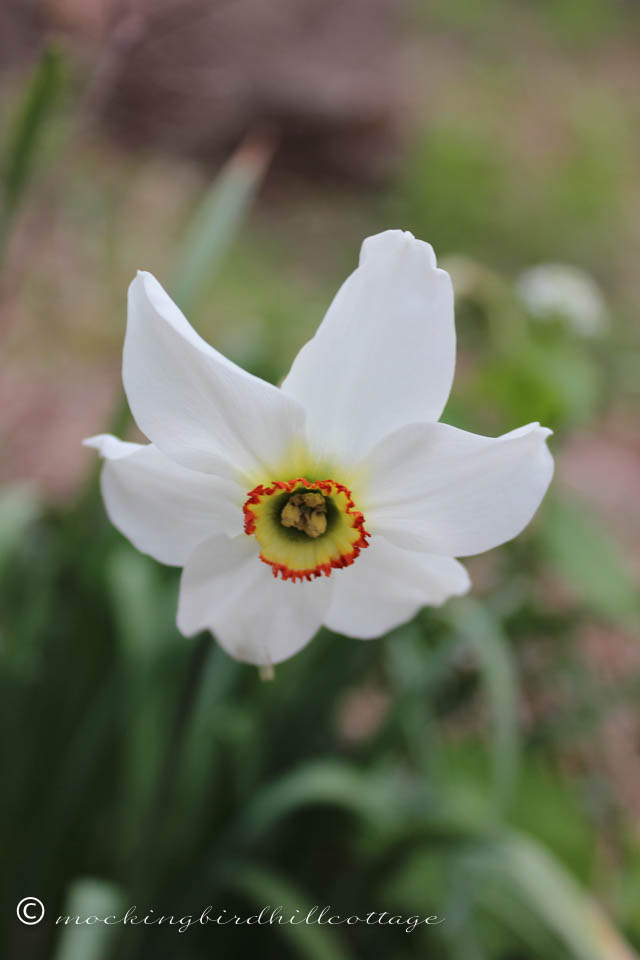 It's May 6th, and the daffodils are just now blooming. We have had the weirdest spring. Abnormally warm. Then snow out of nowhere, with ice. Then warm. Then cold.  And on and on it goes.
I wanted you to see the wee little bug that was on a petal.
• Anastasia  is simply wonderful. I can't wait to see it in full costume, with gorgeous sets and a full orchestra. In fact, the cast was going to sing with the orchestra for the first time yesterday afternoon, and the composer and lyricist wanted me to stick around if I could (they were understandably excited) but I had to get on the road. By the way, that first rehearsal with the orchestra is called the Sitzprobe, a German term used in opera that literally means 'seated rehearsal.'
The music is glorious, the cast is very, very talented, the dances are great, Darko's direction is impeccable, as always. The next time I see it will be for a Preview – probably in a little over a week.
• Don will be starting Medicare in June. (We can't believe we're this old!) I won't be eligible for a year and a half. So we called New York State of Health (our state's vehicle for the Affordable Care Act) to let them know that and to ask that our policy be changed to a single policy. For months now, I have been looking forward to finally saving some money on health insurance, which for those of us who are older, but not quite ready for Medicare, and who earn a modest income but are not at the poverty level, has not really been all that affordable. In fact, it's been a strain financially.
Imagine my shock when I was told that I no longer qualified for a tax credit – even though, right now, we do get a tax credit. Due to some metrics that I cannot understand that have to do with income, a single policy, and the fact that I, being honest, reported a bit more income – and by a bit I mean no more than $2000 – that I'd earned this year, never mind the fact that I have no guarantee of any more income for the rest of this year – I'm suddenly going to have to pay more than we're paying now. For just me. And, since Don has to pay monthly for Medicare Part B, we are now losing money.
I can't tell you how upset I was. We looked over policies and, honestly, I could save maybe $50 if I went for one with a $5000 deductible, but that is simply ridiculous. Those policies also require you to pay a rather large chunk of the costs of hospitalization, also no-can-do. So I have to pay more, just to get to a $2000 deductible.
Pardon me while I scream.
I championed the Affordable Care Act and I know it is helping millions of people. It is helping many actors I know, many young people who are working part-time, the list is quite long. That's a wonderful thing. But it doesn't help those of us who are in a riskier age category and who aren't quite 65. For us, it sort of sucks. Big time.
Edited to add:  Please remember, though, that pre-the Affordable Health Care Act, getting insurance as two freelancers was much more difficult. I want to be clear on that. We had to settle for catastrophic insurance, which only covers hospitalization.
• Today is my late brother Dave's birthday. He would have been 69. He died when he was 44. I miss him so much. Happy Birthday, dear brother. And Happy Birthday to his son Eric who shares the same birthday.
• I'm not looking forward to Mother's Day for obvious reasons. I hope the day brings weather that allows me to work outside. I think that will help. I just have to keep busy on that day.
Happy Friday.