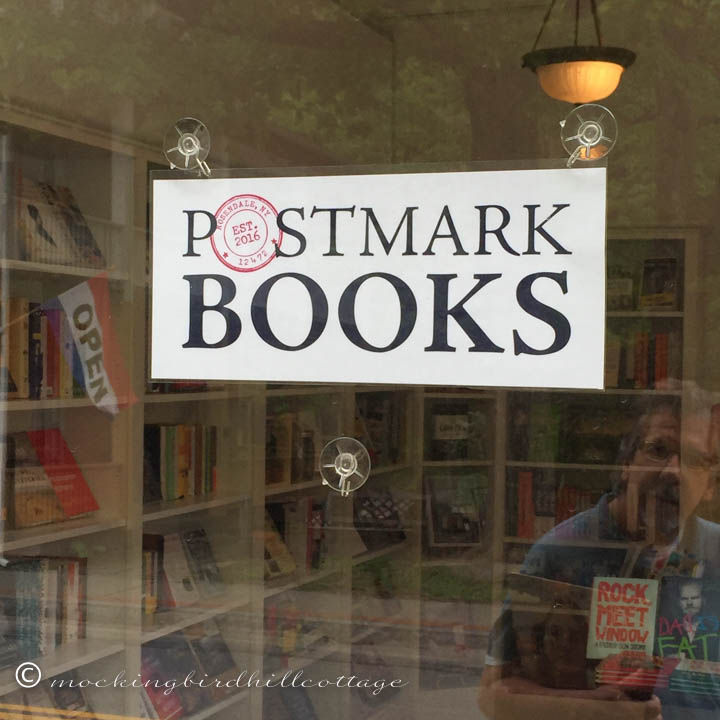 You know by now – at least,  you do if you read yesterday's post – that I found a new bookshop in a neighboring town. To say I'm over the moon at finding a new independent bookseller is putting it mildly. The nearest town to us – a college town – has a used bookstore and an independent bookstore, but the I find the sparseness of the selections available at our little indie very frustrating. So I rarely go in there.
But just a hop, skip and a jump away is Postmark Books, in Rosendale, NY. The shop just opened a week ago. (A link to their Facebook page.) It is simply lovely and beautifully designed.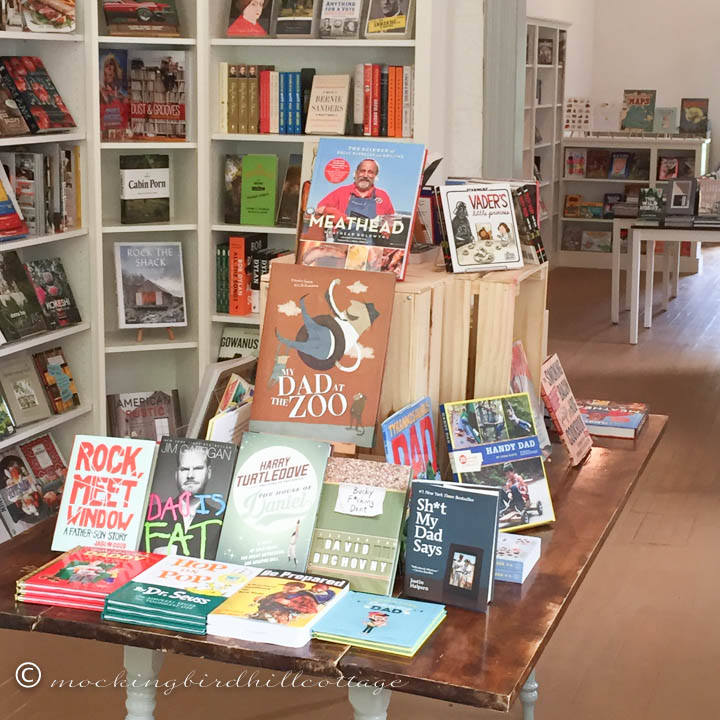 Copper covered table with Father's Day books on display.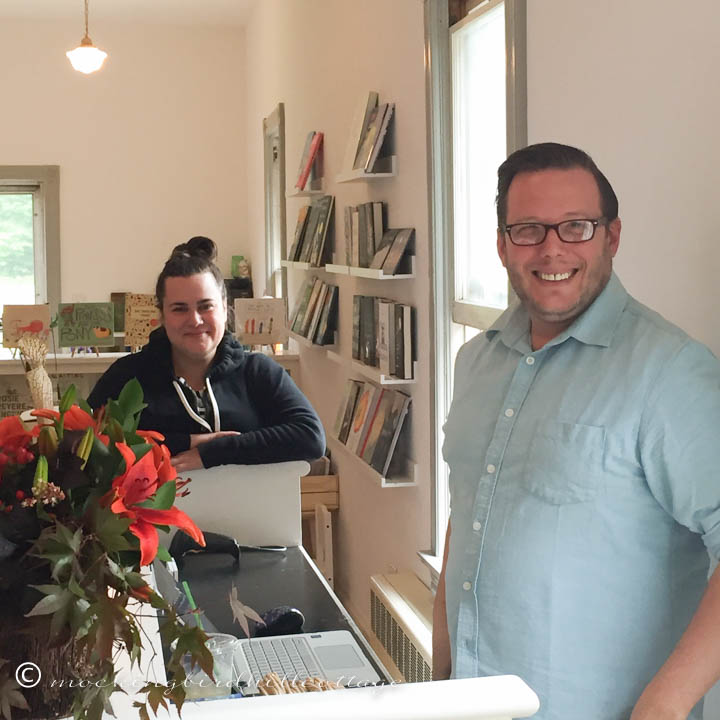 Jesse and Maggie.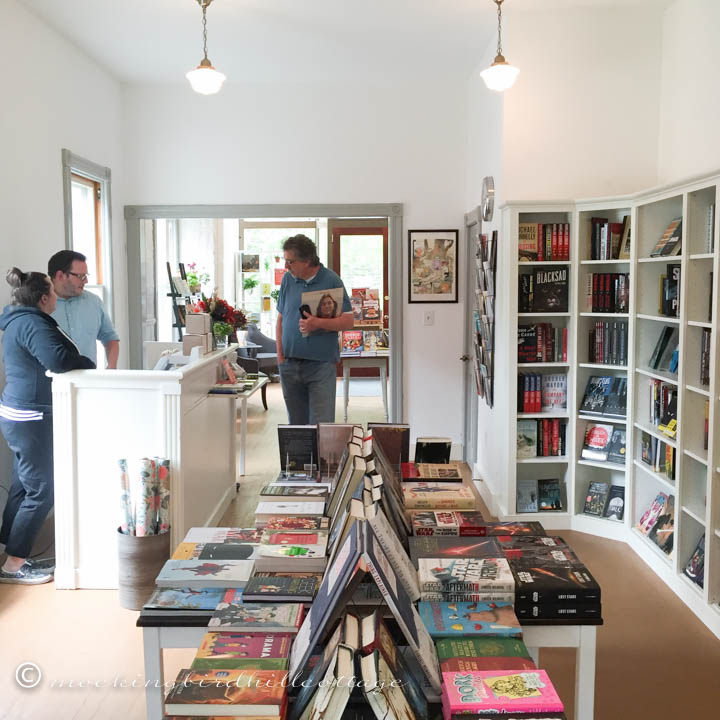 Don talking to Jesse and Maggie, all the while clutching our "new" Judy Collins album. That wrapping paper you see by the counter is by Rifle Paper Co. There is also a display to the right of the counter of Rifle Paper Co. stationery. I love their designs so I was very happy to see them there. Thanks, Maggie!
Look at the gorgeous interior of this shop. Wouldn't you like to spend an hour or two there?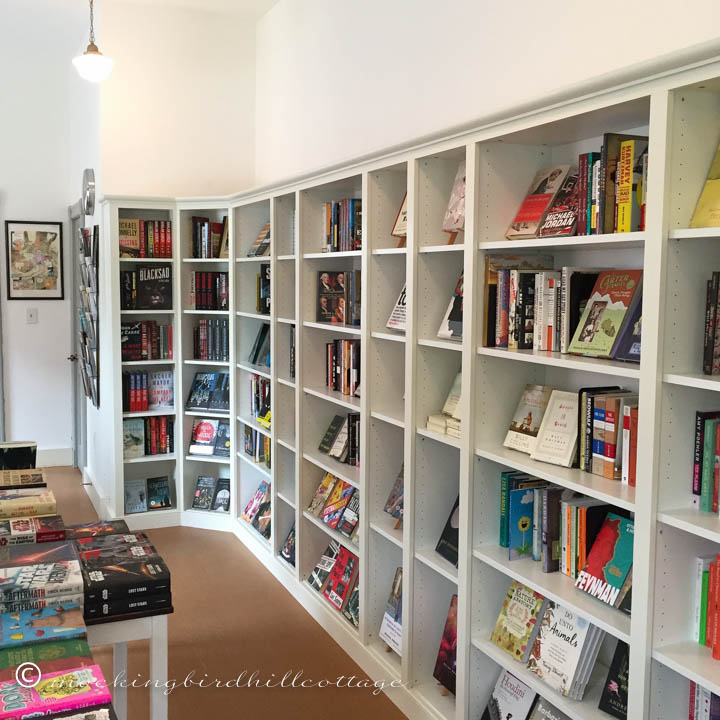 This book lover and constant reader feels like Jesse knows exactly what I am interested in, as well as new-to-me books I wouldn't ordinarily see in any old chain bookstore.  (I'm talking to you, Barnes & Noble.)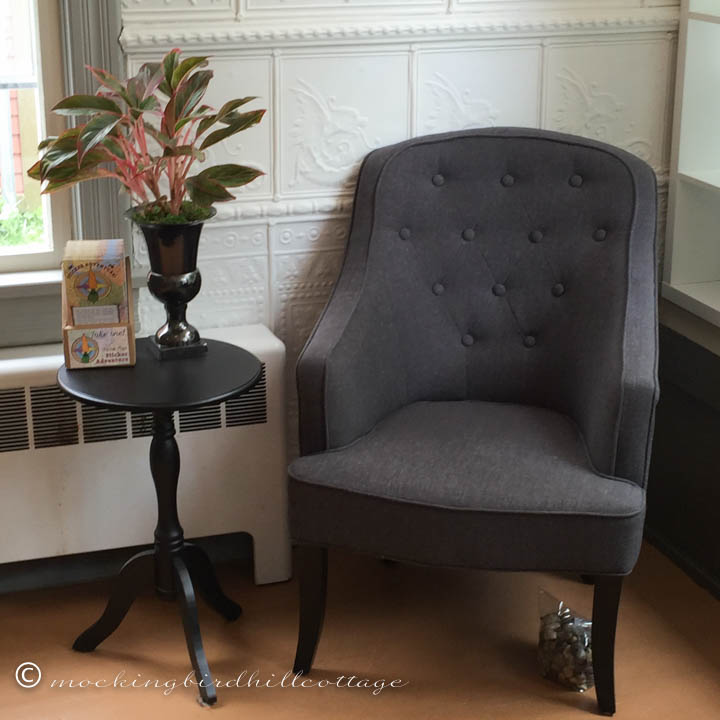 Two beautiful gray chairs are in a corner in the front of the store. Just perfect for book exploration.
(All flower displays are by Maggie.)
A charming display of greenery on the shelves dedicated to gardening.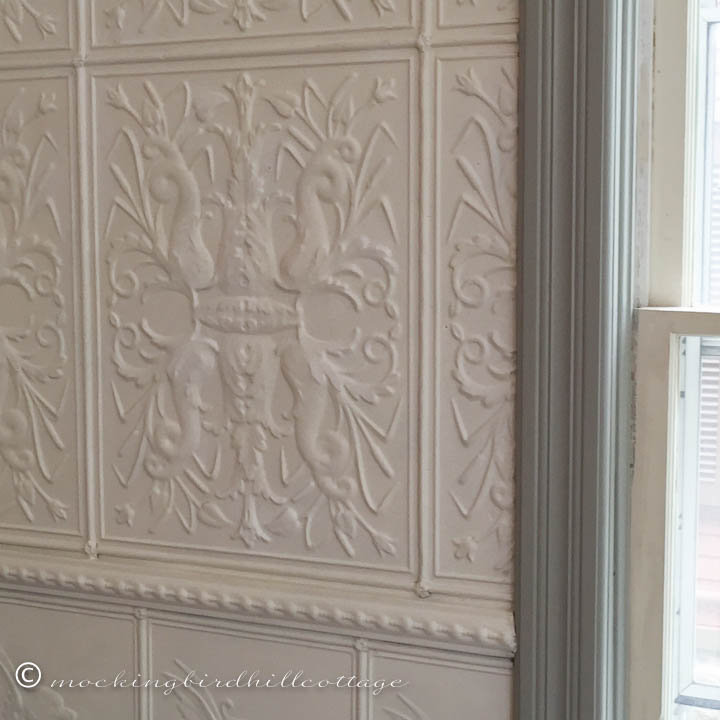 A close-up of the tin that covers the walls and ceilings. Be still my heart. I'd like this in my kitchen, please.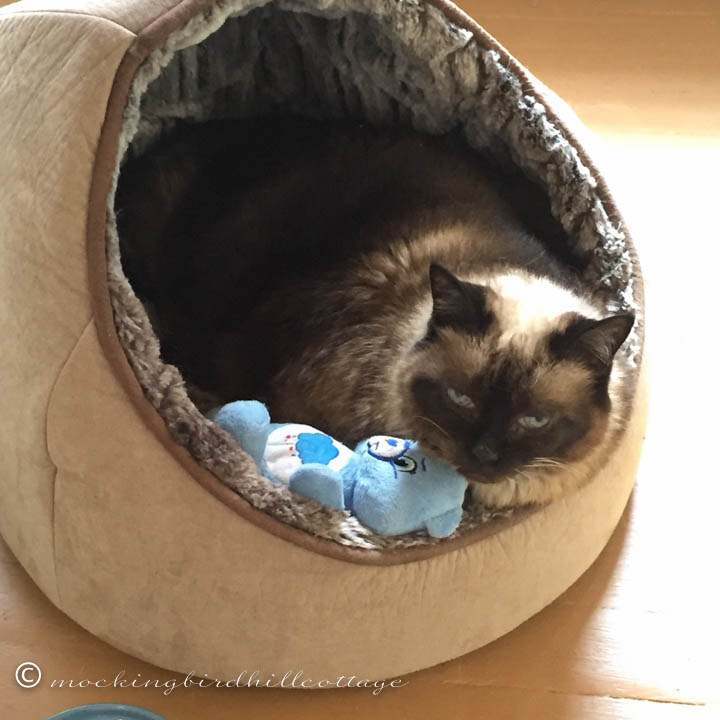 Shop kitty.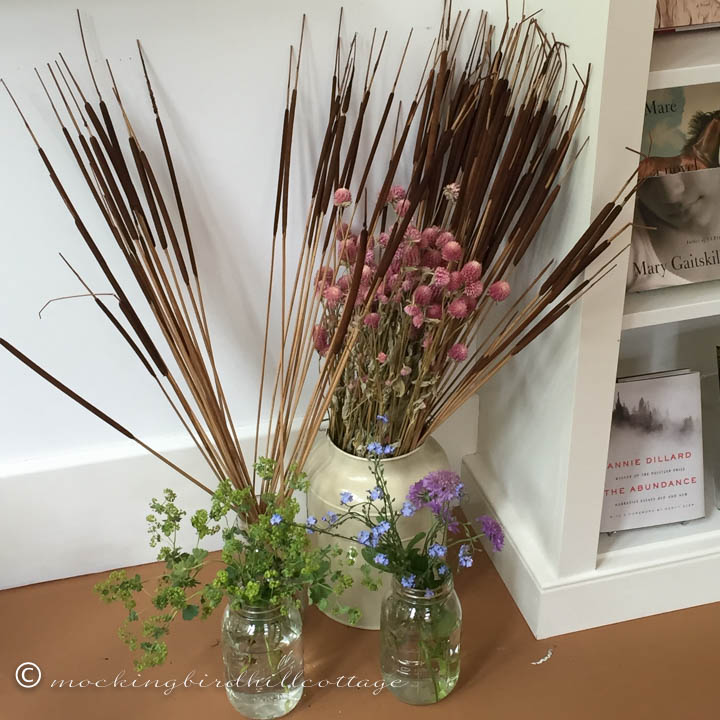 More flowers from Maggie.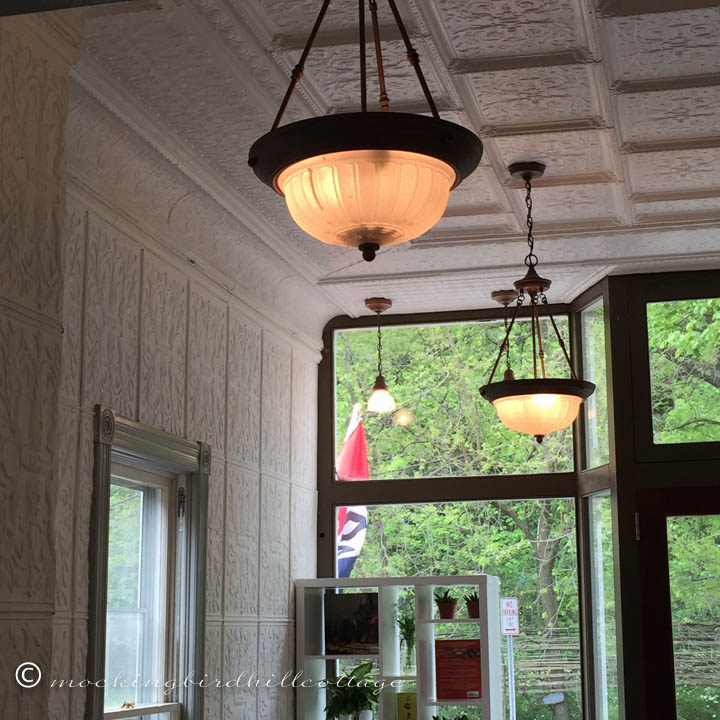 Oh my heavens. Can I just move in?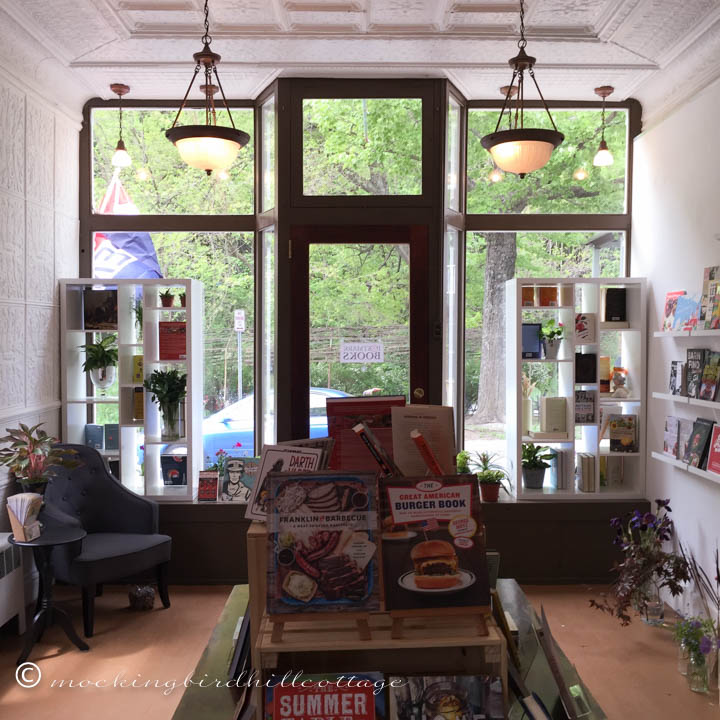 Facing the entrance.
When it comes to my bookshop design dreams, I can't imagine anything more perfect than this. I cannot wait to go back. When I do go back, I'll take my big girl camera with me. I hope to interview Maggie and Jesse again. Frankly, I was so overwhelmed by the beauty of the shop and the abundance of good books that I can't remember everything we talked about. And we talked for a long time!
I do know that Jesse told me he loves to read and became frustrated when he realized that he would either have to travel north to Woodstock for a good independent bookstore or settle for Barnes & Noble. That's when he decided to open his shop. And aren't we lucky he did?
More will be coming, I promise.
Happy Tuesday.