Wind, wind, and more wind yesterday, which kept going until around 8 pm. I had to run a quick errand, but otherwise, I stayed in. My allergies are making me a not very happy camper. Maybe it's just me, but they seem much worse this spring. Avoiding flying pollen seemed like the wise choice for yours truly.
So, I puttered around, mostly playing with the Top Secret Project. Don: Stop Here.
Actually, nothing big happened. Just a couple of tweaks. I'm waiting on a couple deliveries and one kit that I have to put together. Otherwise, friends: it's almost done! And I find myself dreaming of my next project, searching eBay, searching Etsy, thinking of houses, thinking of style (modern, I believe) and knowing that I have to have something to work on.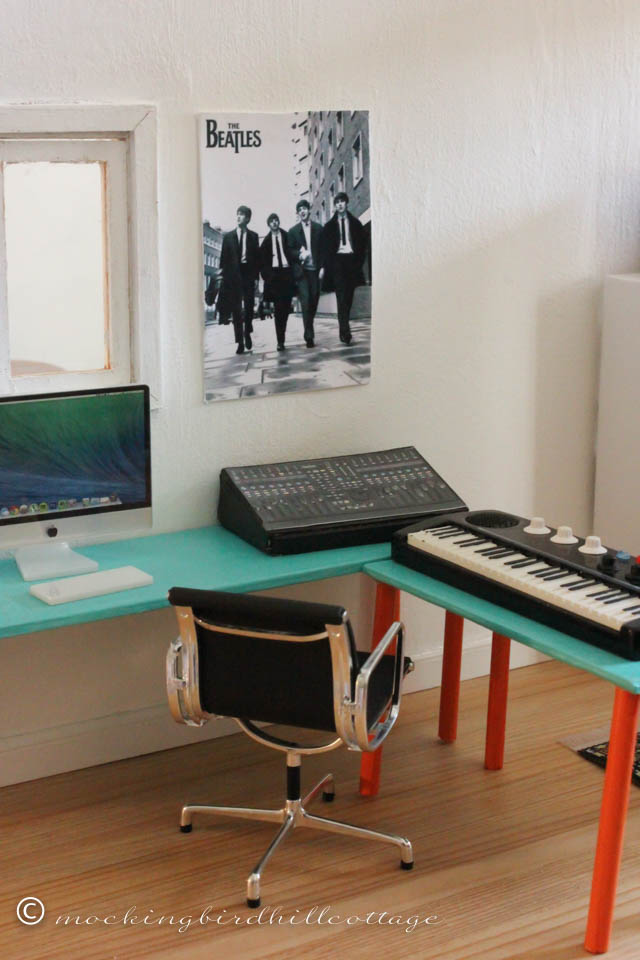 I added a Beatles poster. Mini Don finds the Fab Four a source of inspiration.
And, because I think I'm not  adding a roof, I thought the top of the fireplace pipe needed to be finished off a bit more.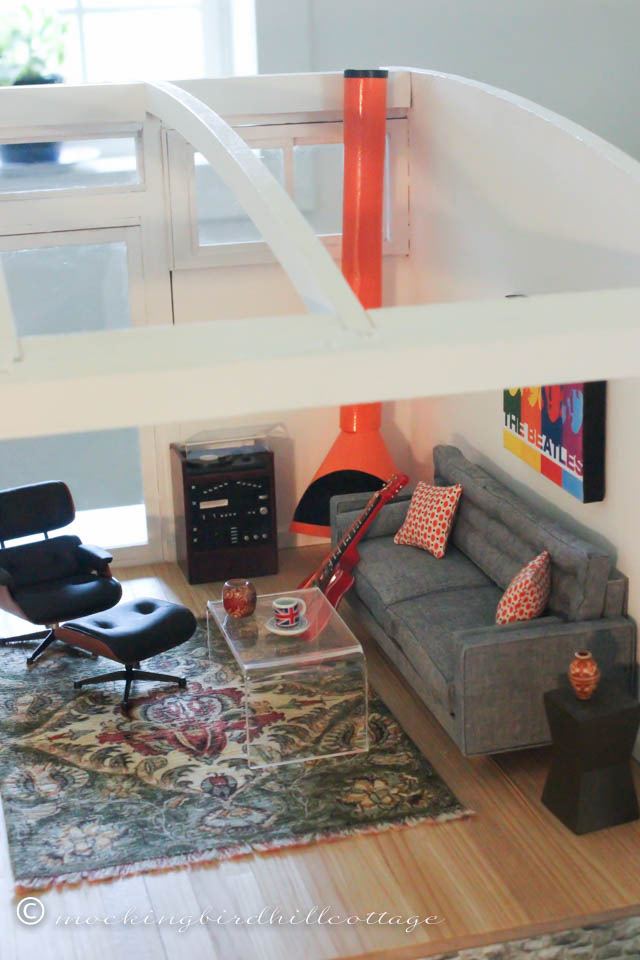 I didn't place it against the wall, so it's a little crooked, but you get the idea. I painted the inside of the pipe black and I made a little bit of black trim to finish it off. That way, when someone is standing and looking down into the room, the fireplace will look 'finished.'
Side note: Do you ever take pictures, think they look fabulous, and when it comes time to edit them you realize they don't? That happened with both these pictures. But I'm not about to go upstairs and take them again, so I'll just hang my head in shame and keep on going.
So, as for the TSP, I have to add some chairs to the deck/porch. I need more albums. I've ordered another guitar, as well as a piece of art. I'll probably add some food to the inside of the refrigerator. And there will be a tweak here and there.
We are close to the finish line. Very close.
I need another project!
Do any of you remember the Petite Princess dollhouse furniture that was made by Ideal in the sixties? Gosh, I wanted that furniture! I remember bugging my mom about it to no avail. I never got any. The line of furniture consisted of about 30 pieces, as well as dollhouses and room boxes. It was fancy fantasy furniture done in ¾ scale, rather than the 1 inch scale most commonly found in dollhouse miniatures. That means the pieces look slightly off scale, but you can often work around that.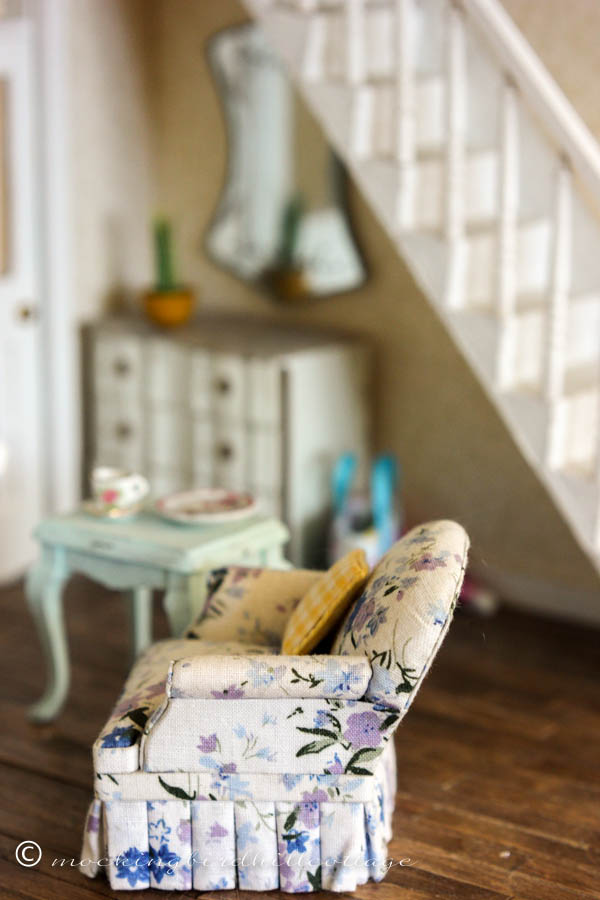 That fancy dresser you can see as you enter the door of Hummingbird Cottage is Petite Princess. I found it in a local antique shop many years ago – mint and in the box. It's on the petite side, as befits the name, but it works in the dollhouse. It's made of plastic, but you'd never guess it, and the drawers open. I liked it so much that I found another one on eBay and it is in the bedroom.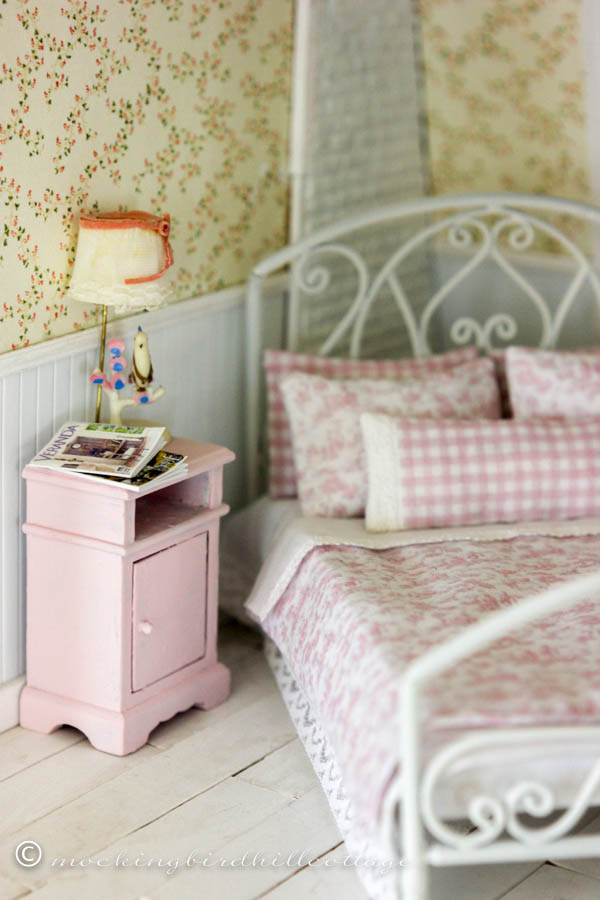 Along with that lamp, which is also Petite Princess. (I'll have to take a picture of the boxes they came in.)
At the same time that I found the dresser in a local shop, I found this: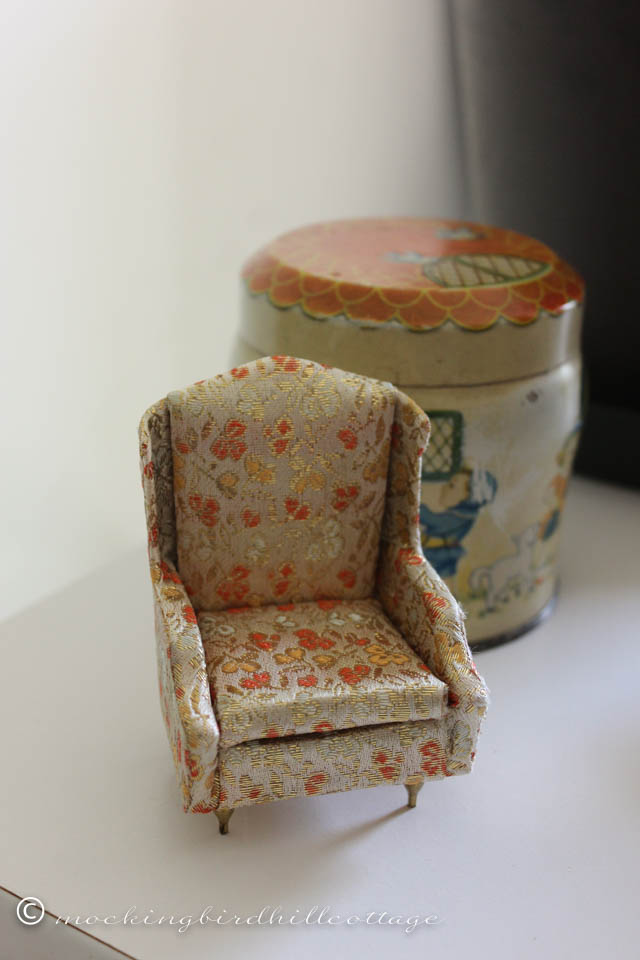 A fancy Petite Princess chair done in brocade. See those little gold legs? I found this in one of my bins the other day and it's now on my desk because I like looking at it.
Let's stick it in the TSP.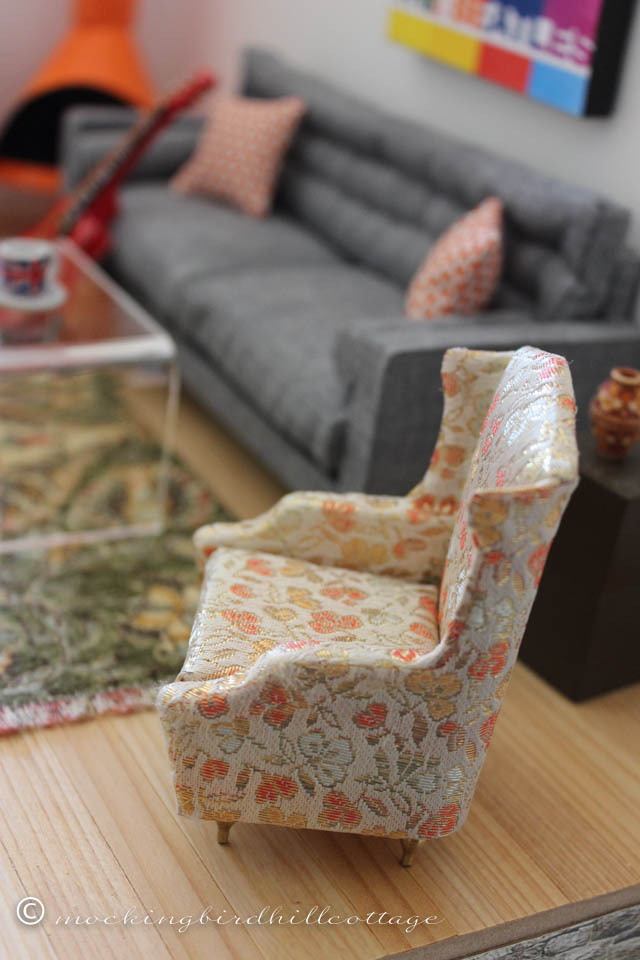 A bit too fancy for this guy's music studio, but it does  pick up the orange, doesn't it?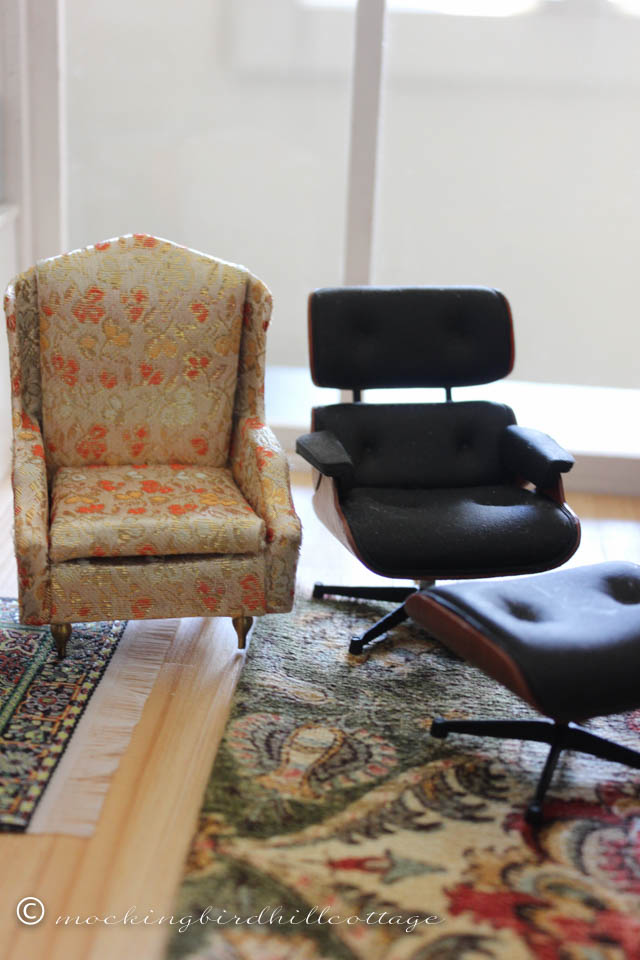 Girly chair. Guy chair. Both of them ever-so-slightly smaller in scale.
I'm going to use that Petite Princess chair in some project. It's in perfect condition. Maybe in a bedroom? There are people who collect this line and I, being a collector, could see myself falling down that particular rabbit hole quite easily. But I won't.
It does, however, take me back to my youth and my ever present hope that I'd find some Petite Princess furniture under the Christmas tree. I never did. But then again, I would have probably lost track of it all as I have of so many treasures from my childhood.
At least I have some of it now. Always a little girl, no matter what my chronological age.
Happy Tuesday.