Yesterday turned out to be a lovely, serendipitous day. We were in the mood to go somewhere; take off on little drive, a little adventure. We stopped at a neighborhood shop and bought the Sunday New York Times, which I have yet to read, though I finished off the crossword puzzle, and drove to the neighboring town of Rosendale.
After Scout died and I was in Hartford, Don often went on drives to work through his grief. He would explore and think of Scout and cry and find roads that were new to him. One of those drives ended up taking him to Rosendale, a place he'd been to many times before, but this particular new-to-him route was a back road with lovely old homes and farms. So, yesterday, we took that route and it was beautiful.
I've been in Rosendale before – there is a vegetarian restaurant there that I love and a movie theater that plays art, independent, and vintage films. It's a really neat town and a lot of people love it. I think we love it because it definitely gives off an artsy vibe and we're drawn to that sort of place. It's like Woodstock, but much less commercial.
We pulled into a parking space and started walking down the street – our plan was to explore the shops. The first shop we saw was one that is run by a friend of Don's. It's called Soiled Doves.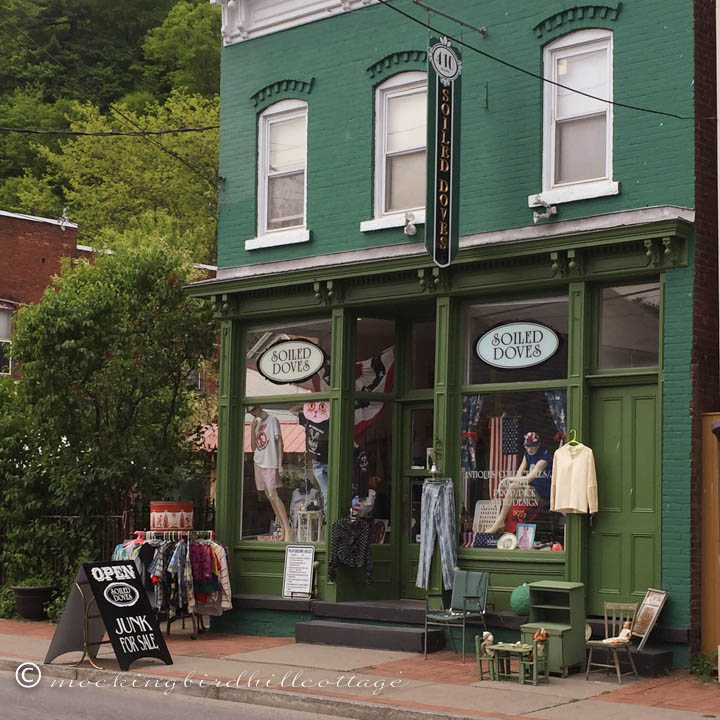 I'd never met Elizabeth, the owner, so we stopped and chatted as she set some merchandise out on the sidewalk. We timed it well. She was just opening. We, of course, went inside and I immediately saw an amazing chair. I called Don over and he loved it (I knew he would.) It's meant to be an outdoor chair, but we quickly started to think about using it indoors instead. Anyway, we asked Elizabeth what the price was ($85) but she said she'd let us have it for $70. That was a great deal, believe me. A quick consultation resulted in our saying yes. (I'll show it to you at the end of the post.)
In the meantime, we looked around the shop. My eyes landed on a black Barbie case just like the one I had as a kid. I am absolutely sure I'll be going back there to get it. Now if I could just find a Barbie with the platinum bubble cut, I'd be all set.
People started coming into the shop. I looked up and there was one of the appraisers who is on Antiques Roadshow – Nicholas Lowry. (He's the tall man with the deep voice, distinctive mustache and natty suits who appraises prints and posters.) Since he was dressed casually, I had to look twice to make sure it was him. I chatted with him and he proved to be absolutely charming. We talked for quite a while. Elizabeth tells me that celebrities frequently come through the door of the shop. Daniel Craig was in there once!
We paid for the chair, loaded it into the car, and continued our window shopping.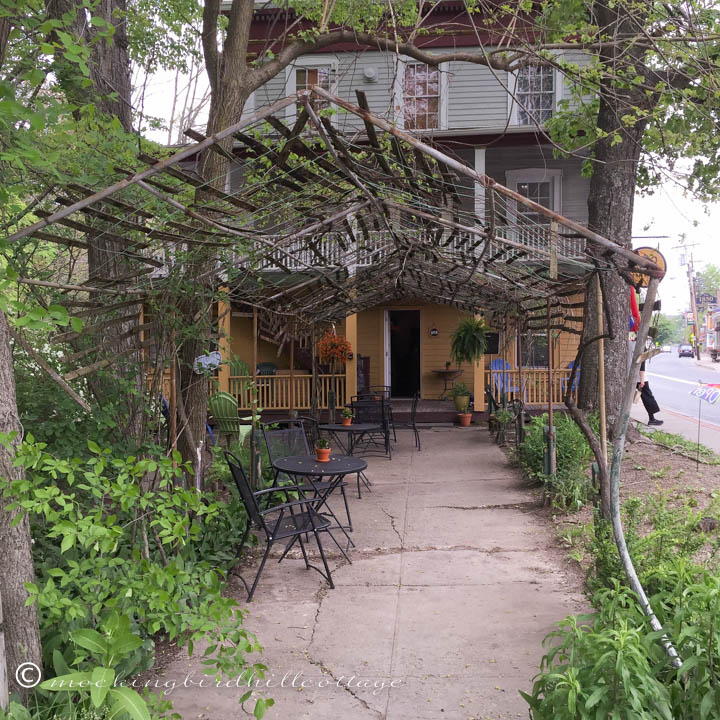 Outside a lovely tearoom. Isn't it charming?
We went inside a used bookstore and found a great collection of used LPs. (I'm going back there for sure.) We purchased one that I used to own: Judy Collins' Colors of the Day. We're both Judy Collins fans and, in fact, we've both met her. Don met her in NYC a few years back and I met her years ago at a concert in Detroit. This was an album I had truly loved so finding it there, and  in good condition, was a delightful surprise. Don has since fallen in love with it, as well. It's playing as I write this post.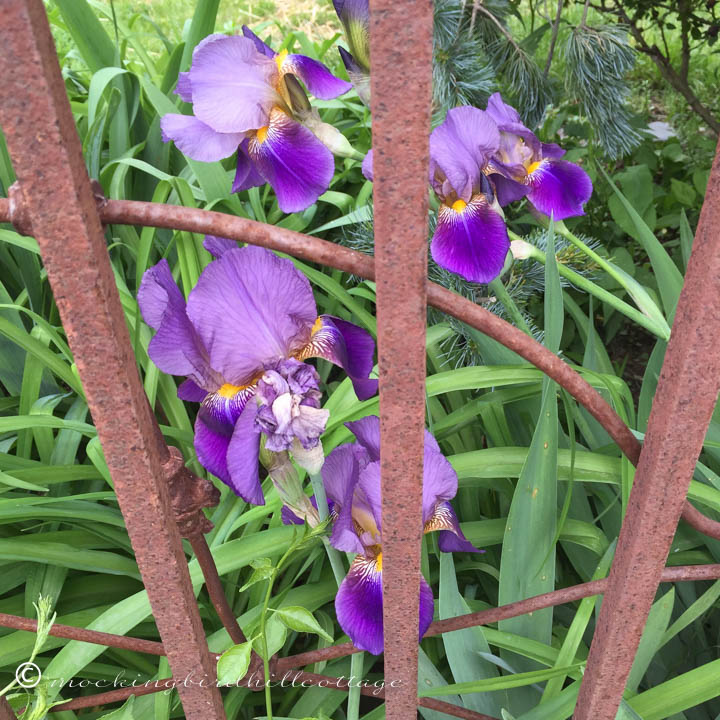 Outside one of the local restaurants – beautiful irises.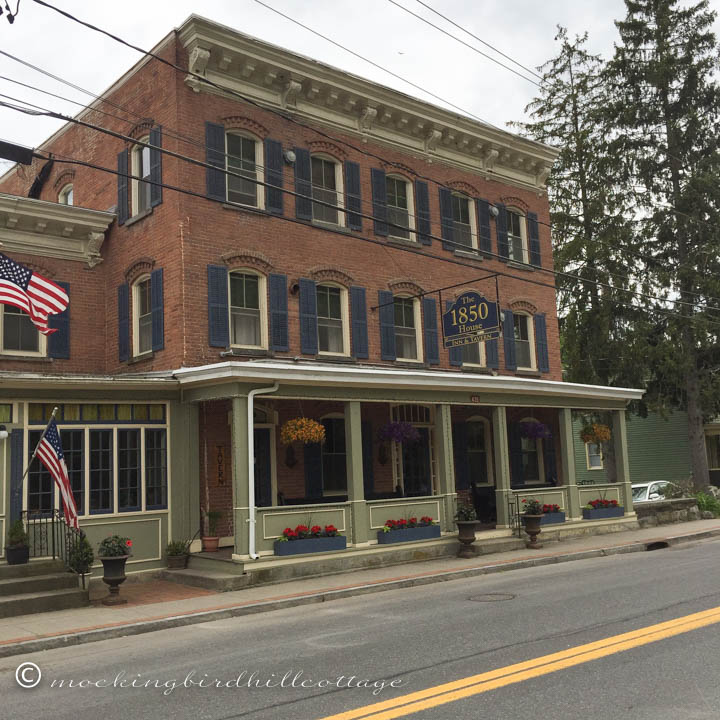 The 1850 House – an Inn and Tavern.
As we crossed the street to double back, I saw another shop. It was a bookshop. And it looked newly opened – at least I didn't remember it being there before. We went inside and I immediately fell in love. It's wonderful. I'll write more about it tomorrow because it needs to be a post in itself. It's called Postmark Books. In fact, they've just been open for a week. We had a lovely chat with the owners and it is my new favorite place. A bookshop. Not a chain. A beautifully stocked and sunny space full of new books, picked by the owner, not by a corporate entity.
If I could own a bookshop, I'd like it to be like Postmark Books. I'm going back there this week. Anyway, more on that wonderful space tomorrow.
Lovely day. Running into Don's friend, finding the chair (and we timed it well, other people were definitely interested in it) meeting Nicholas Lowry, finding one of my favorite albums, finding a newly opened bookshop – perfect day.
Would you like to see the chair? It's from the forties.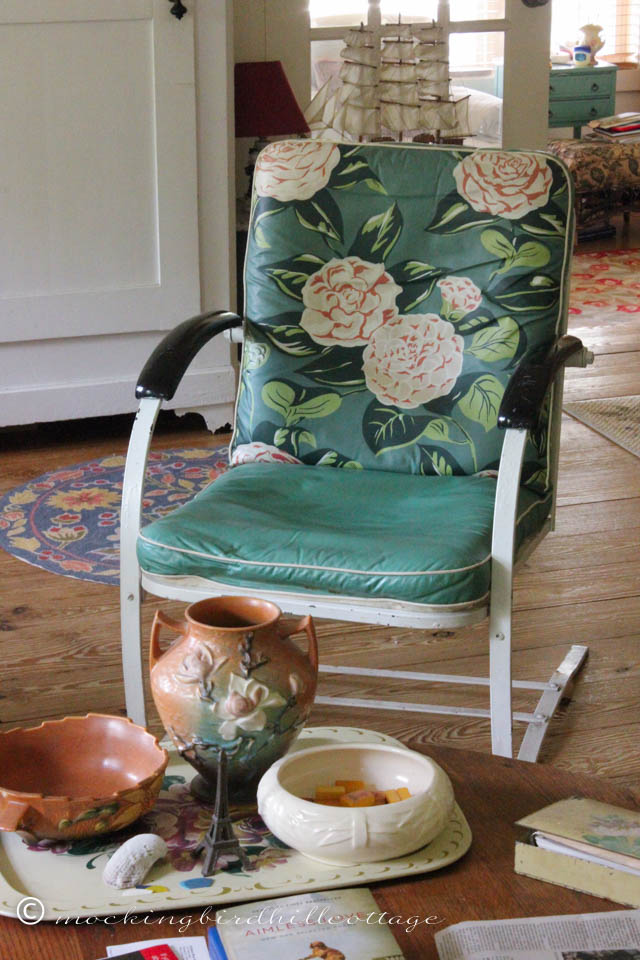 There it is. Oh my goodness. We love it. It's in great condition. It's incredibly comfortable. When you sit in it, you sink into those cushions and you can also gently rock the chair.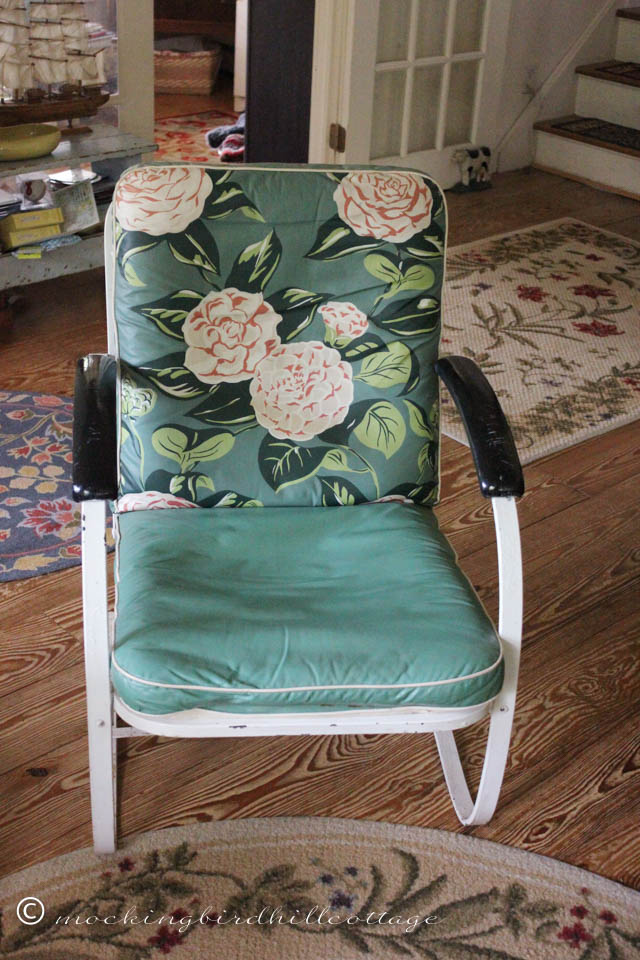 We briefly considered putting it on the porch, but it's too nice. The wind and rain that regularly hit the porch and porch floor would be too hard on it. Besides, we love taking something that is meant to be outside and bringing it inside. We like a funky, eclectic mix in our little cottage.
The black wood armrests on top of the metal are to die for. We think they really 'make' the chair.
Isn't it cool? I cannot tell you how comfortable it is! I sat there yesterday, listening to the angelic voice of Judy Collins, rocking gently, talking to my husband, and musing about serendipity.
A simply lovely, serendipitous day.
Tomorrow: the bookshop!
Happy Monday.