Weather forecast? Rain. End of story.
Don. Simply stop here.
A bright spot yesterday – a package arrived in the mail from Elf Miniatures in England.
By the way, I want to clarify something: none of these links are affiliates or partners or anything other than companies I've ordered from and like very much. I understand affiliate links and I use them on the book blog occasionally, though I earn next-to-nothing from them – just enough to use as a credit toward a future book purchase! But I've seen a lot  of affiliate links lately on other blogs and I must admit that too much of that sort of thing turns me off. Does every post have to be the result of a partnership?
So if you see a link to a miniature site or source here, it simply takes you to that site. I get nothing from you clicking on the link, except satisfaction in recommending a good source. (There's a source list up in the navigation bar, also – under Dollhouse.)
Back to Elf Miniatures, an online company I really like – fast delivery across the ocean, great customer service, and a fabulous inventory of all things miniature. I ordered 3 items.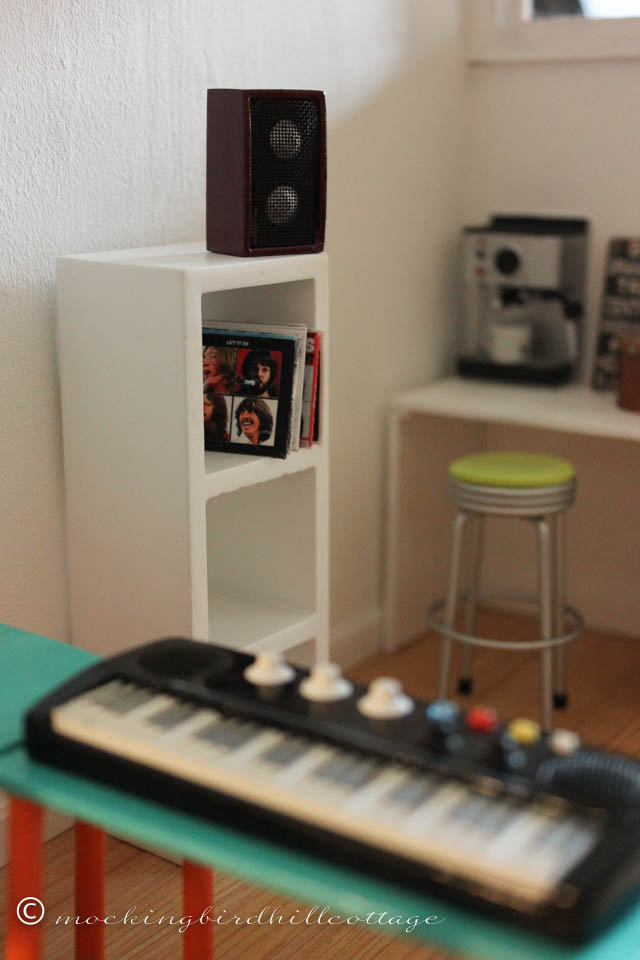 Well, I meant to order two. I got three items because, for the second time, I ordered two  of something; this shelf unit, which is reminiscent of the IKEA units that are so popular. I have one in real life. Anyway, getting two of them is okay by me. I'll use the other one in another project
I want to use this for records, but it has quickly dawned on me that I have to get a lot more albums! Oh, my heavens! Where am I going to get them all? I can purchase some through Etsy. I could make them, I suppose, and I'll try to do some of that. My friend Susi, of Minibase, did that for her award winning Record Shop. Click on over at some point and see it. It's incredible. She has even posted a very helpful tutorial on the subject of making albums.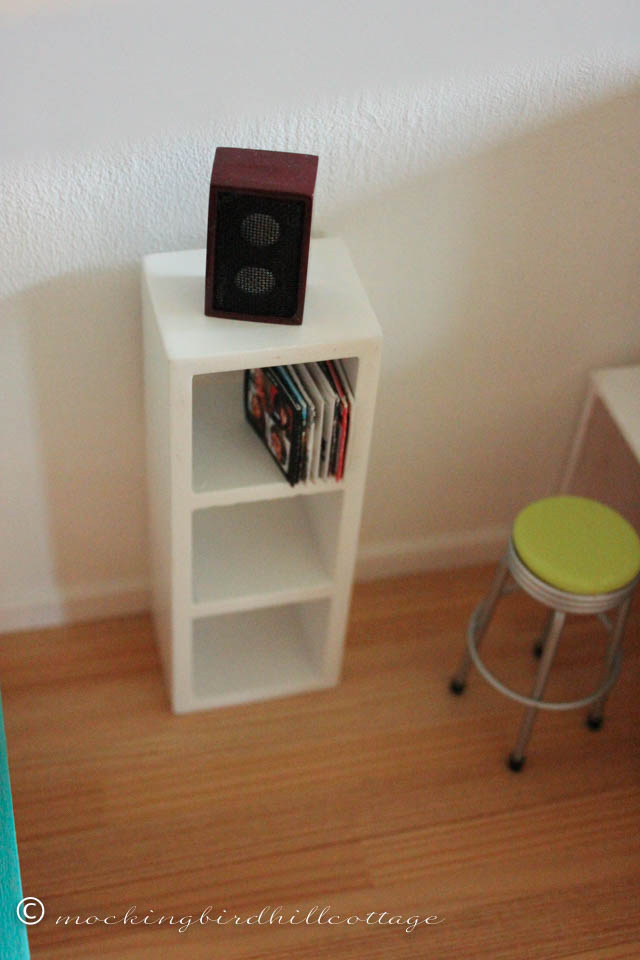 See? I'm going to need a lot of record albums!
Also in the box that traveled across the ocean: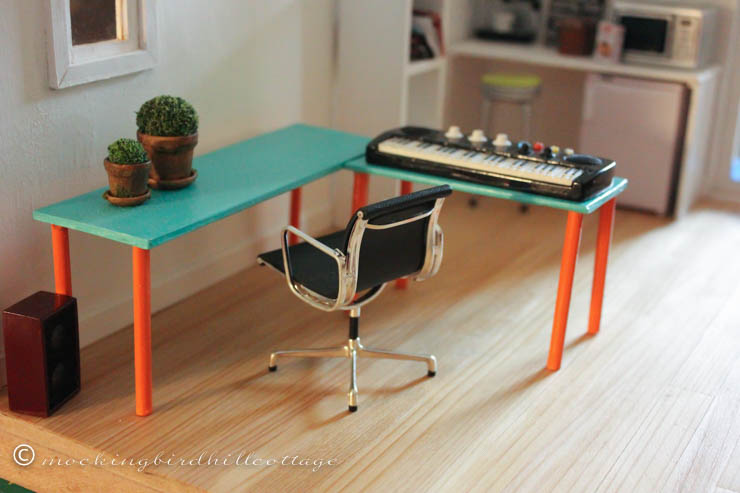 This oh-so-cool desk chair.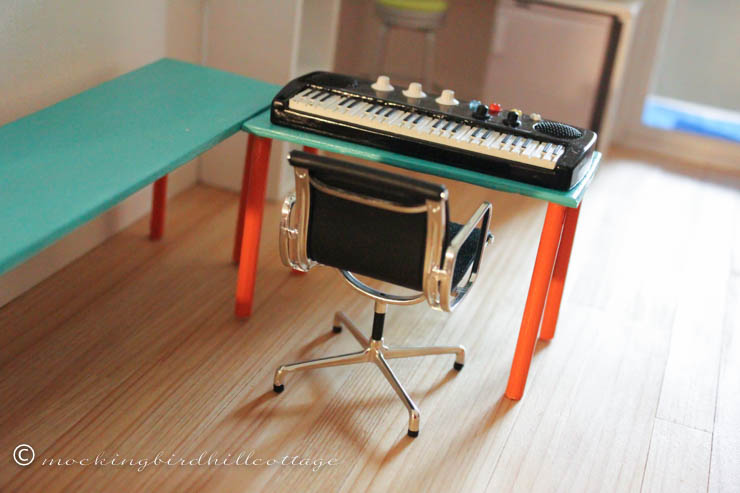 I love it. I can see the gentleman who uses this studio swiveling between a computer monitor and the keyboard, completely into his creative process. I bet you can, too.
Still going back and forth about the legs. I was just about to paint them silver/chrome yesterday afternoon when I decided to hold off. Today, I like the orange. Tomorrow? Who knows?
I mentioned that I made a preliminary stab at a mixing board. Really, what I did was build a three-dimensional housing for it, like I've seen in many home studio photos. It's made out of mat board.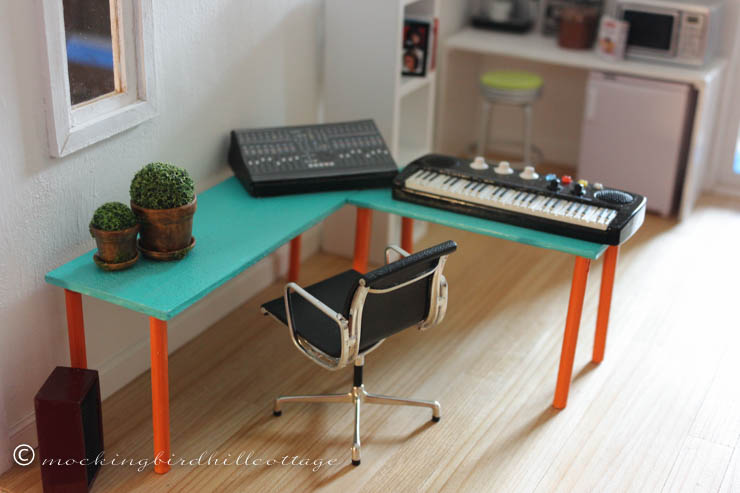 There it is. From here, it looks okay.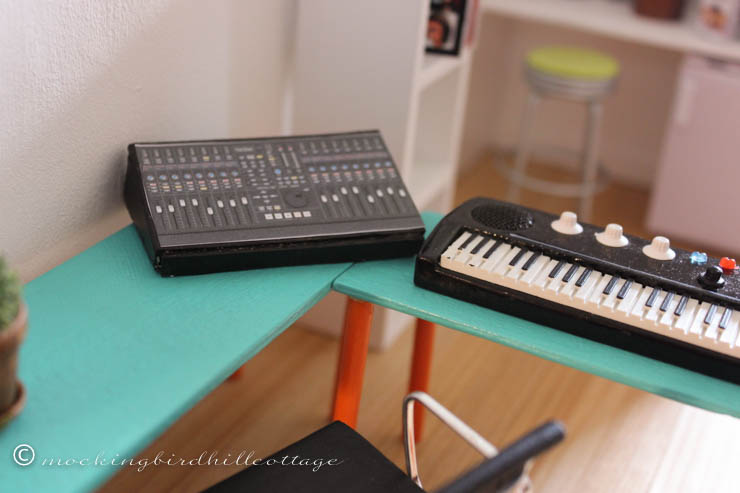 From here, the top is clearly one-dimensional. I'm not thrilled with that. I can probably fiddle with it and add some elements that give it dimension – like a knob and silver bits that function as those slides. The jury is still out on this one.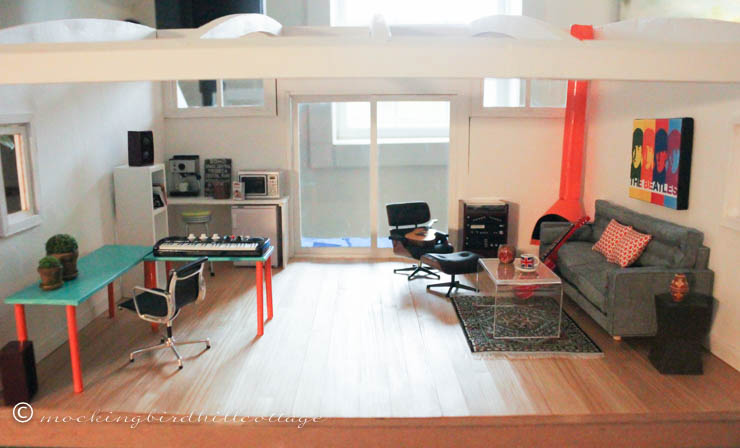 A rainy day view of where we are so far.
I have to do some work on the outside. I have a few more elements on order. But I've got about seven weeks, give or take a day or so, until Don's birthday. So I'm in good shape, I think.
Blogkeeping: I usually have the volume on my computer turned all the way down because I dislike suddenly hearing something I didn't plan on hearing. But lately, I've had it on a few times when an ad or two on this blog started making itself known via sound. I don't like that. And, in fact, ads are not supposed to automatically play. The visitor to a site is supposed to be able to turn it on if he or she wants to, but otherwise, it should be mute. So I have my ad company looking into it and, if I have to, I'll stop all video ads. My apologies. I'd rather earn a bit less than have intrusive sound on the blog.
Happy Tuesday.