Oh, friends. I'm trying. I'm trying. But a pall of sadness and despair has come over me. I suspect the same thing has happened to you. I'm just trying to keep moving forward in the face of unspeakable sorrow. I won't even go into the hateful rhetoric spewing out of the Orange Man's mouth. Sitting in a corner with a dunce cap on his head? The stocks in the public square? Better yet, jail?
Don hasn't been sleeping well and, therefore, I haven't been sleeping well. That isn't helped, for either of us, by what we're seeing and hearing and feeling. A sleepless night last night for Don and he's off to film an episode of Mr. Robot  today.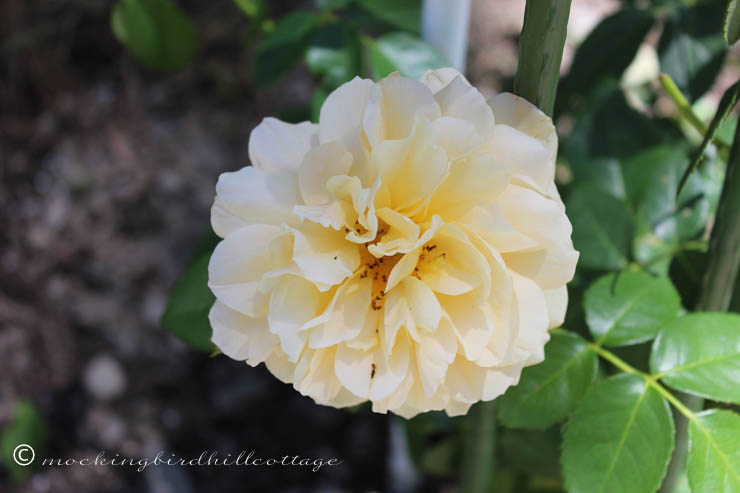 The new roses in memory of my dad. I'm not looking forward to Father's Day. But I'm going to try to do a little something for Don because he's missing Scout so much. I've got an idea.
Anyway, this is the At Last rose after it's been open for a few days.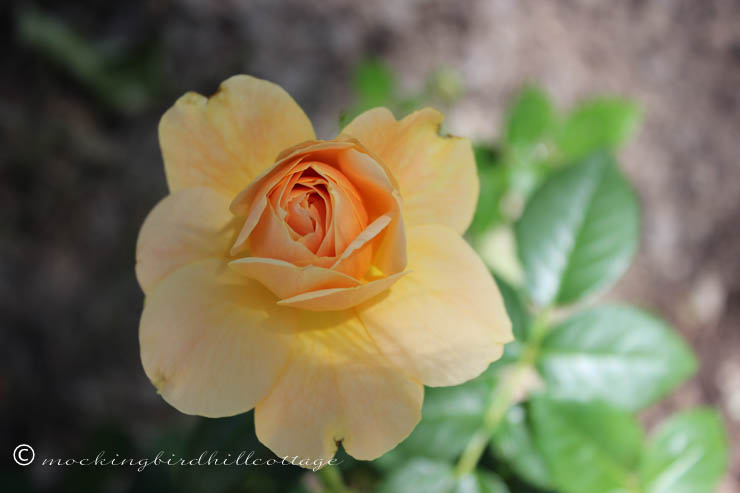 Here it is when it's just opening – more of a peachy color. I love it in all its stages. Thank you again, Martha.
I was on the phone with Bluehost, the host of this blog, for over an hour yesterday as we tried to get to the bottom of why you weren't getting my replies to your comments, why I wasn't getting emails of your comments and why other notifications weren't being received on this end. A big thank you to Jared, who patiently and painstakingly worked his way through the mystery. I did what I could on my end, both of us working together. Several changes were made, a plugin added, and finally – everything worked! I'm getting your comments, Donnamae checked to see if she got my reply and she did, so all should be back to normal.
I won't go into all the details, partly because they're hard to explain! But Jared was an enormous help, I could never have figured it out on my own.
Having a self-hosted blog involves expenses on my part and sometimes that can feel daunting – I just paid a chunk of money to renew for a year, as well as for security. But in times like these, being able to call my host on the phone, talk to a real person and get things fixed is so much better for me than when I was on Blogger and had some serious problems that I could never speak to anyone about. There was never an actual person to help sort things out – only a help forum where sometimes I got an answer but most of the time I did not.
So, I'm glad I made the move to WordPress and self-hosting.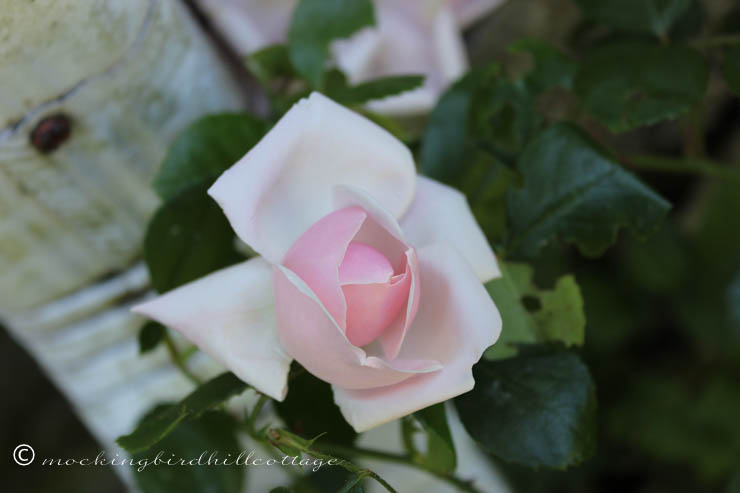 The soft pink of the New Dawn rose, hidden away on the side of the house. So beautiful.
It's been hard for me to concentrate on a book the last few days but I'm going to try to lose myself in one today. The lawn has been mowed, the weeds whacked/wacked, and some quiet time is in order.
Happy Wednesday.