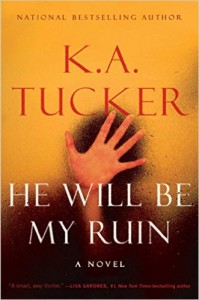 Today I am reviewing He Will Be My Ruin  by K.A. Tucker for TLC Book Tours. As always, I am provided with a copy of the book in exchange for my honest review.
About the book (from the publisher): On the surface, Celine Gonzalez had everything a twenty-eight year old woman could want: a one bedroom apartment on Manhattan's Lower East Side, a job that (mostly) paid the bills, and an acceptance letter to the prestigious Hollingsworth Institute of Art, where she would finally live out her dream of becoming an antiques appraiser for a major auction house. All she had worked so hard to achieve was finally within her reach. So why would she kill herself?
Maggie Sparkes arrives in New York City to pack up what's left of her best friend's belongings after a suicide that has left everyone stunned. The police have deemed the evidence inconclusive: Celine got into bed, downed a lethal cocktail of pills and vodka, and never woke up. But when Maggie discovers a scandalous photograph in a lock box hidden in Celine's apartment, she begins asking questions. Questions about the man Celine fell in love with. The man she never told anyone about, not even Maggie. The man Celine believed would change her life.
Until he became her ruin.
On the hunt for evidence that will force the police to reopen the case, Maggie uncovers more than she bargained for about Celine's private life – and inadvertently puts herself on the radar of the killer. A killer who will stop at nothing to keep his crimes undiscovered.
My review: I wanted to really like this book, as I am an avid mystery fan. The title alone is wonderfully intriguing. And it's not that I totally disliked He Will Be My Ruin, either. Since I don't want to write the equivalent of a passive-aggressive review, let me be clearer.
The premise is interesting. A life-long friend who doesn't believe that her friend committed suicide and is determined to find clues to what really happened. That is somewhat like the premise in the last book I reviewed, Keep You Close. All well and good.
But the characters and their back story leave a bit to be desired. Extremely rich family (Maggie's) and  poor family retainers (Celine and her mother) who are considered part of the family. Maggie and Celine, rich girl and poor girl, grow up together and become friends. Maggie decides to stay away from the family business and use her wealth to run a charitable foundation and she spends lots of time in Africa doing really good things. Celine works hard in NYC to get the tuition necessary for further training, refusing to accept any help from Maggie or her family.
It's the kind of thing I find to be a bit trite and lacking any depth. Tucker is a good writer as far as plot goes and there are a few twists and turns that are surprising. But it's hard for this reader to get fully involved in a story that I couldn't quite believe to begin with. The clichéd rich girl/poor girl story kept me from fully losing myself in the book. It was just too obvious.
That being said, if you like Chick Lit with a mystery, you might well enjoy this book. It's a good beach read, it takes place in New York City (which is always a great character in itself) and there is an interesting mystery to solve.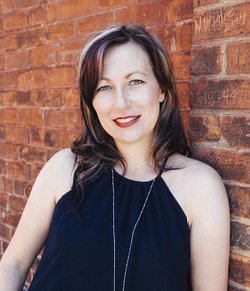 About the author: K. A. Tucker is the author of the Ten Tiny Breaths and the Burying Water series. She currently resides outside of Toronto with her husband, two beautiful girls, and an exhausting brood of four-legged creatures.
I'm sorry to say there is no giveaway connected with this book tour.
Happy Wednesday.