Good morning! This is the wind-up post for the TSP. Picture heavy, for sure, and along the way I'll give information as to the source of each piece and, if necessary, the story behind it.
Here's where I started in July 2015.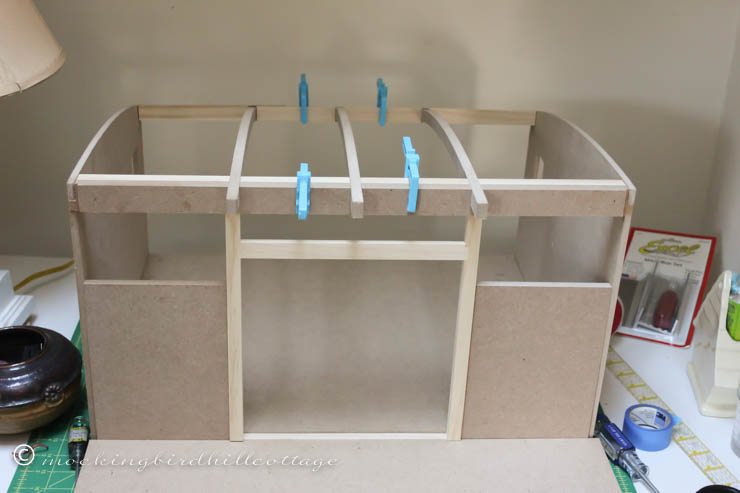 This was my first foray into building a dollhouse. Hummingbird Cottage was already built when I got my hands on it, but it wasn't built very well, so that project was a Rehab. I made mistakes with this one, but I learned a lot, and that will help me on my next project – also a build.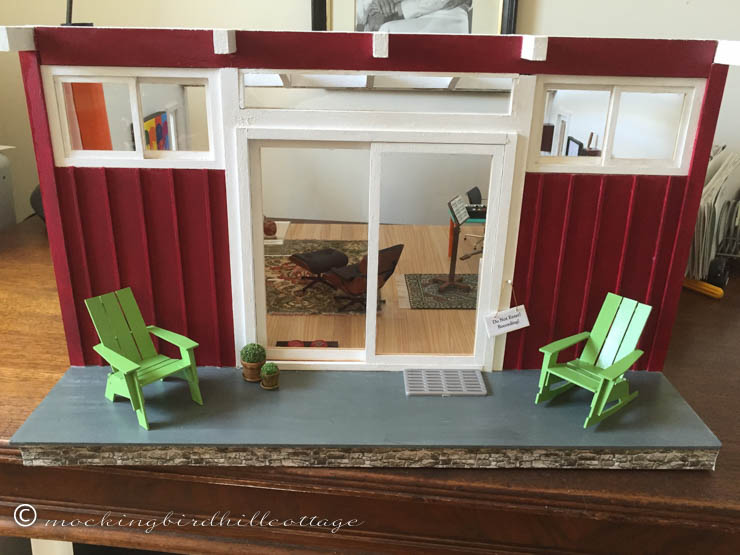 And here it is in its finished state. I will use the word 'finished' lightly, because Don has already mentioned adding a thing or two over time. (He's been bitten by the bug, I fear.)
I was inspired by our very own shed in choosing the color – a deep red. I liked the idea of white trim, making the look of the exterior very crisp. I also went for a board and batten look, so I added each and every one of those narrow strips of wood.
Kit for TSP and wood for strips: Hobby Builders Supply/miniatures.com
Paint colors: Alizarin Crimson by Decor Arts/Americana; Wicker White by Folk Art – at any Craft store.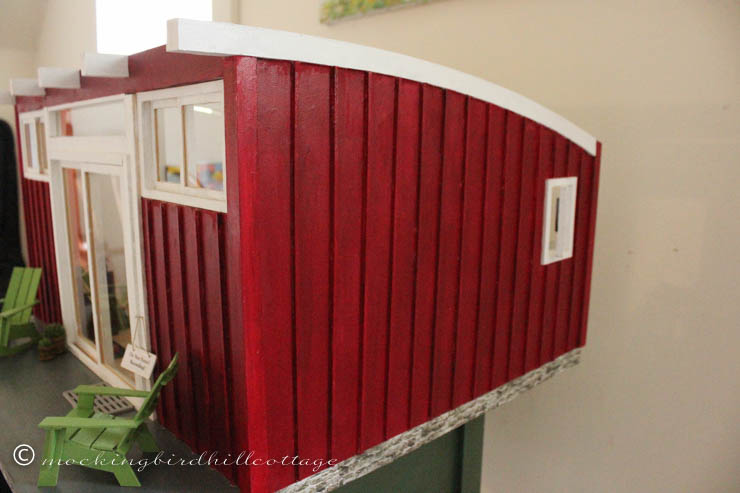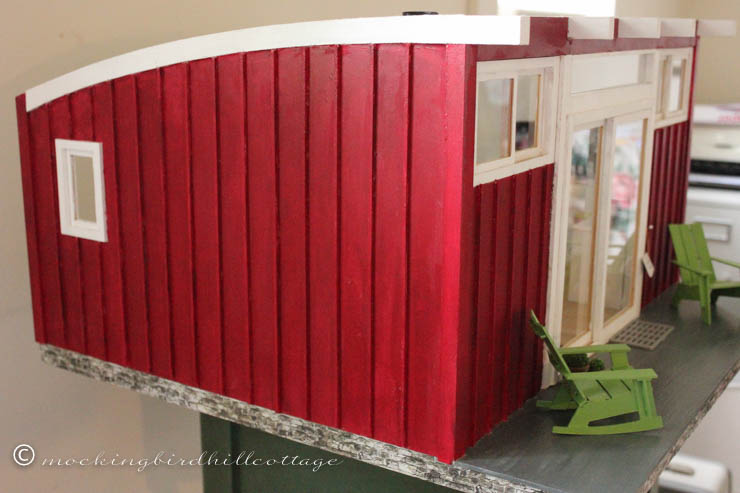 Again, inspired by our own property and the stonework foundation that is on our cottage, I went for the same thing on the TSP.
Granite Stone Paper Panel – HBS/miniatures.com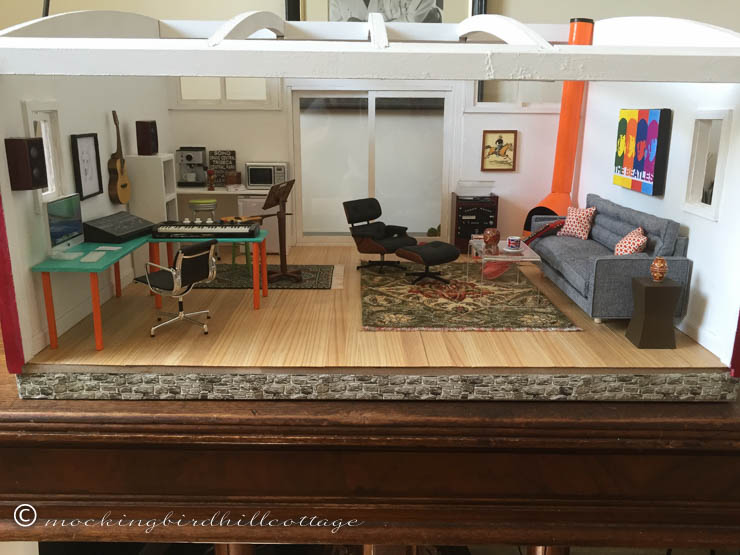 Whoops! The fireplace is leaning because we had just moved the whole thing over to Don's desk.
Rather than cut individual sticks for the floor as I did in Hummingbird Cottage, I decided to go for a different look. I knew I wanted the walls white, so that the space had an airy, bright and inspiring look. So I wanted a lighter look to the floor. This flooring is made of wood veneers and it comes in sheets that are 11″ by 17." I glued it down very carefully and then I placed some heavy books on it overnight to make sure it didn't buckle or warp. I then buffed it with some wax.
I also cut and mitered (for the first time) the baseboards. (I wish I'd used these in Hummingbird Cottage!)
Random Plank Flooring by Houseworks and baseboard – HBS/miniatures.com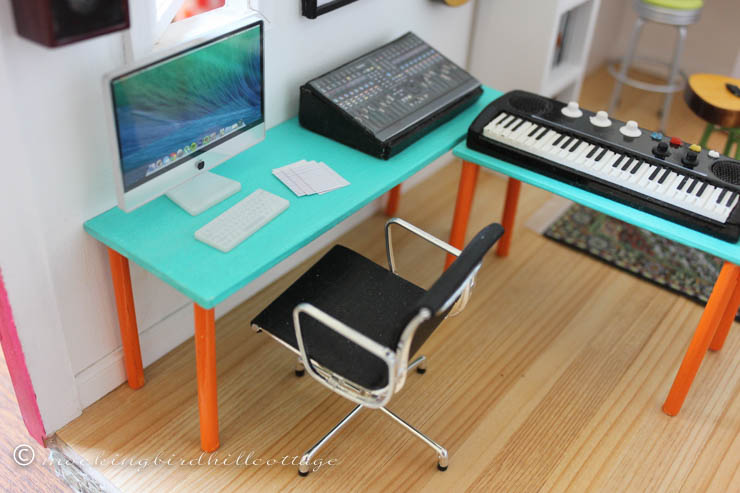 I made the desks that configure into Mini Don's recording console. I also made the sound board, the top is a copy of one offered at a music store online, the base is made out of mat board. The computer came from an Etsy seller in Thailand, the keyboard was a gift from Barbara, and the chair came from Elf Miniatures in England.
Apple Computer: liluminiature on Etsy; chair: Elf Miniatures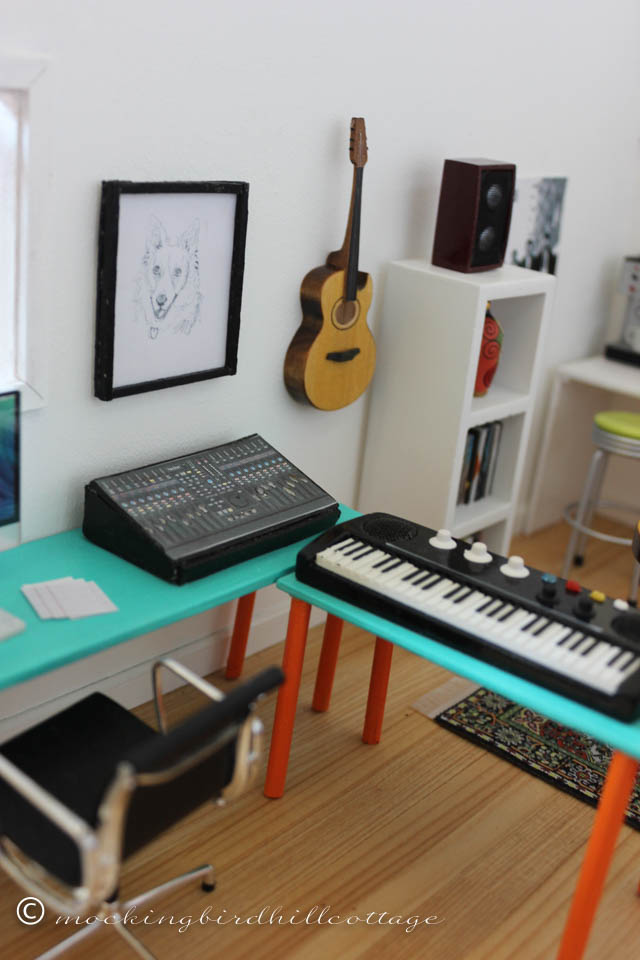 Portrait of Scout (originally done by Shanna) miniaturized by me, frame made out of matchsticks. I bought the guitar from an Etsy artist, after being given one by that same artist from Barbara. I like it so much, I ordered another one in a slightly different style. Reader Debra suggested the idea of miniaturizing that sketch. Thank you!
Guitar: LALittleArtist on Etsy.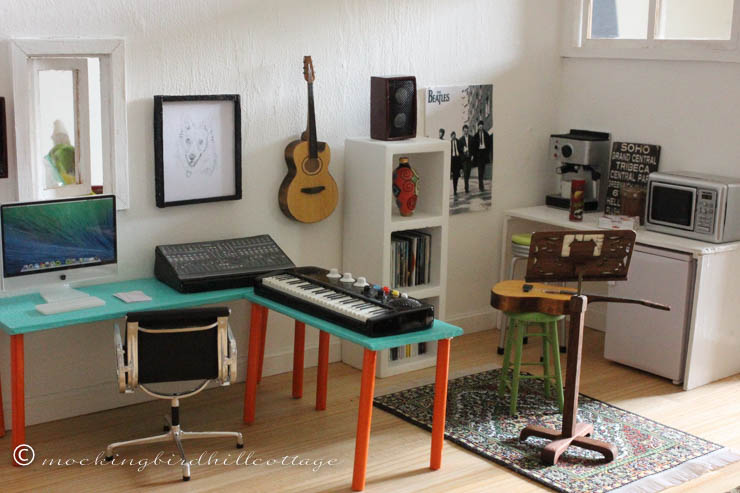 The guitar on the stool was a gift from Barbara (from that same Etsy seller.) I made the counter top that fits over the mini fridge. The music stand was a very lucky find on eBay, made for a NAME gathering several years ago. It's simply beautiful. The rug was a gift from Barbara, as was the vase in the bookshelf, the Pringles can, the box of Pepperidge Farm cookies, the Beatles poster, and the Soho subway sign. The stools and Espresso machine came from HBS/miniatures.com.
The microwave and mini fridge came from Elf Miniatures in England. (If I've already indicated the link for a company, I'm going to refrain from writing it a second time – in the interest of getting this published today!)
The albums are gifts from Linda, Barbara, Susi and also from an Etsy Shop called Petals and Brims.
Petals and Brims on Etsy.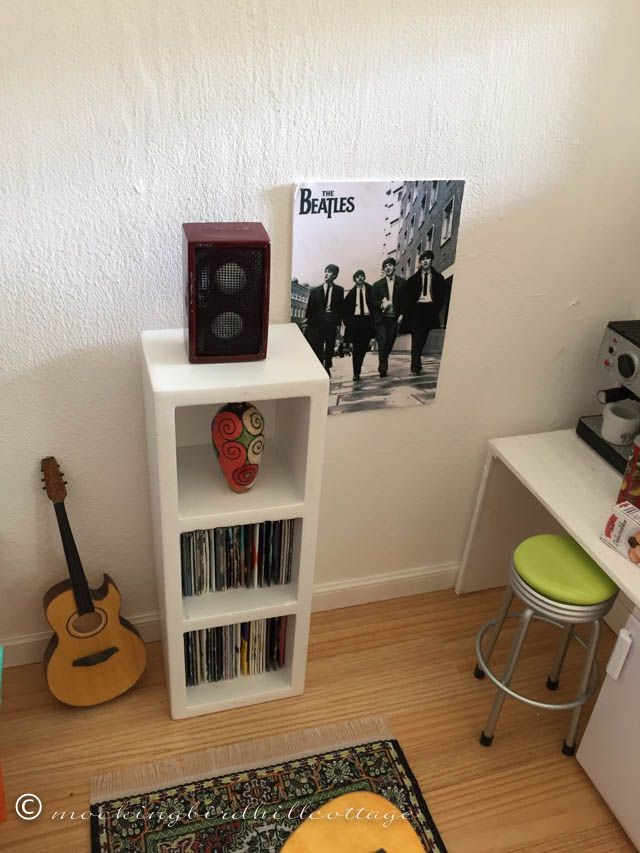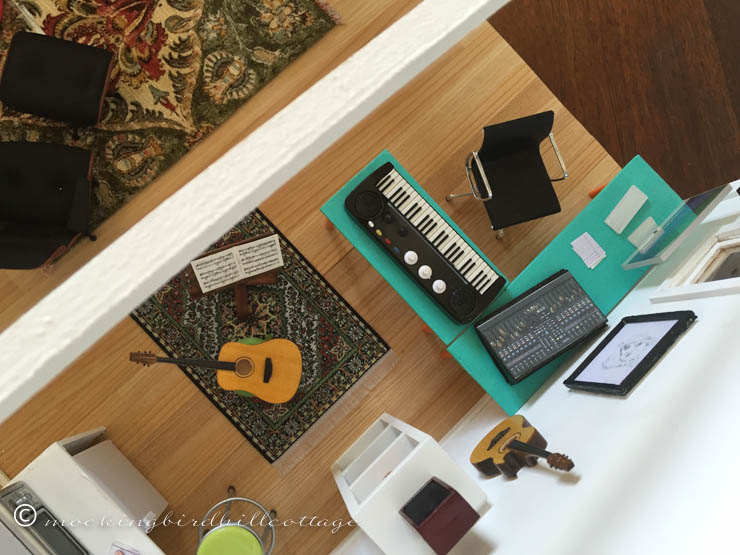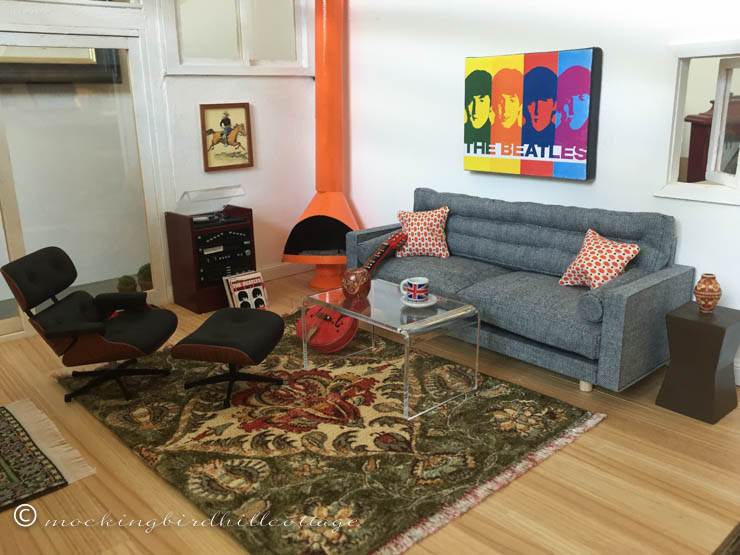 The other side of the room. The Eames Chair (my very first purchase for this project) came from eBay. These mini reproductions are up for auction frequently – you should have no trouble finding one. The stereo and speakers were a gift from Barbara. The fireplace was made by yours truly from a tutorial by Kris at 1″ Minis. (Silly, but I'm so proud of that!)  The sofa was made by Gabrielle of InTheTwelfthScale on Etsy (she lives in Australia.) The pillows came from Brae's (Otterine) Etsy shop. The cup and saucer, acrylic table (a jewelry stand!) side table, vases and Beatles canvas were gifts from Barbara, the guitar came from shop in England, and the Remington Print (made from a stamp) came from MiniMyEye on Etsy. The rug is from Dalesdreams on Etsy.
MiniMyEye on Etsy; 1″ Minis/Kris Compass; InTheTwelfthScale on Etsy; Otterine on Etsy; dalesdreams on Etsy; Red guitar from Tumdee Dolls House Miniatures.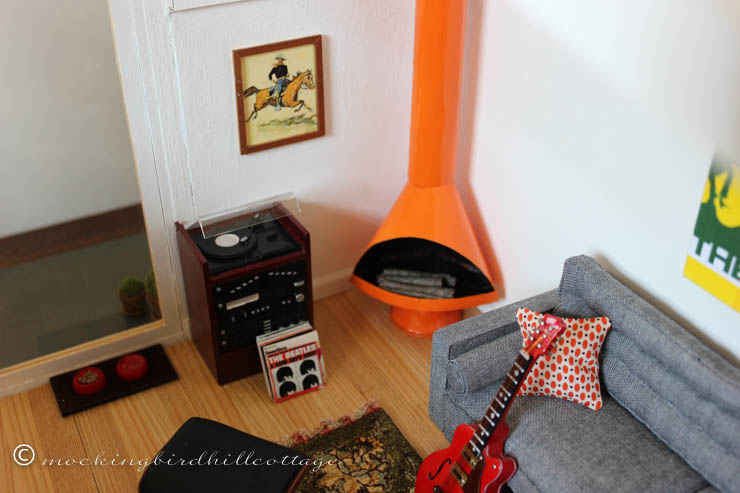 Logs in fireplace via twigs found on our property.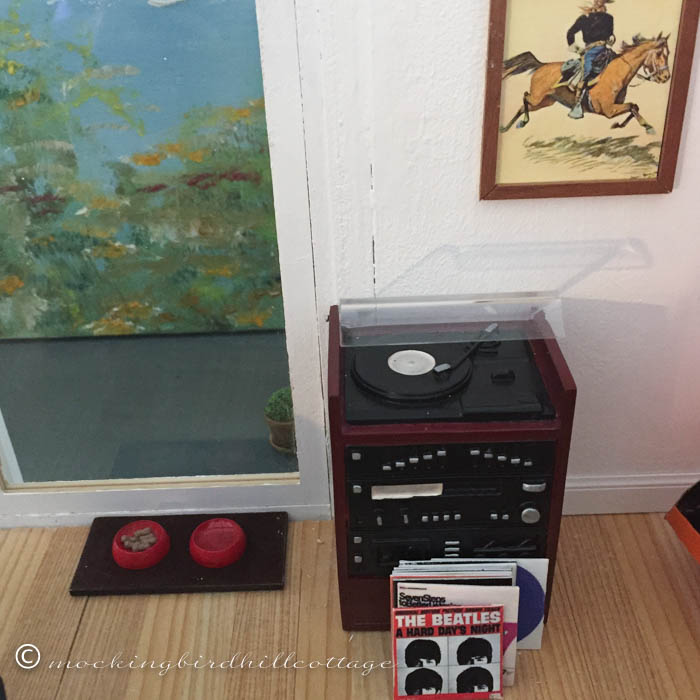 Dog dishes from Michael's – you don't need a link for Michael's, do you?
I used my dad's oil painting as a backdrop in some photos – that was fun.
If you've seen the video, you know that all things Beatles were a big, big hit!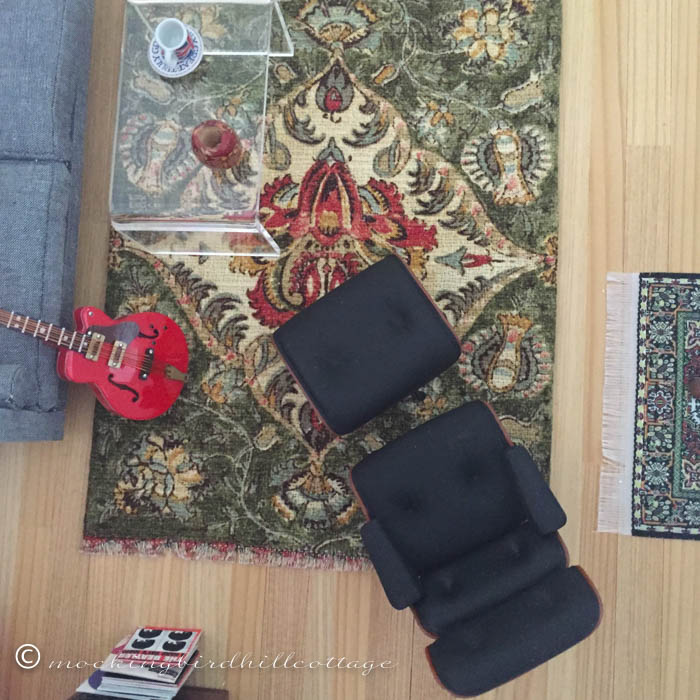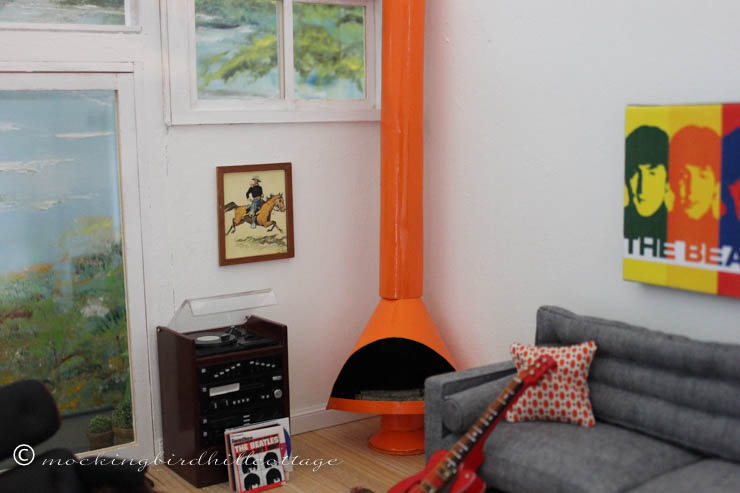 See? There's my dad's painting as the view 'outside.'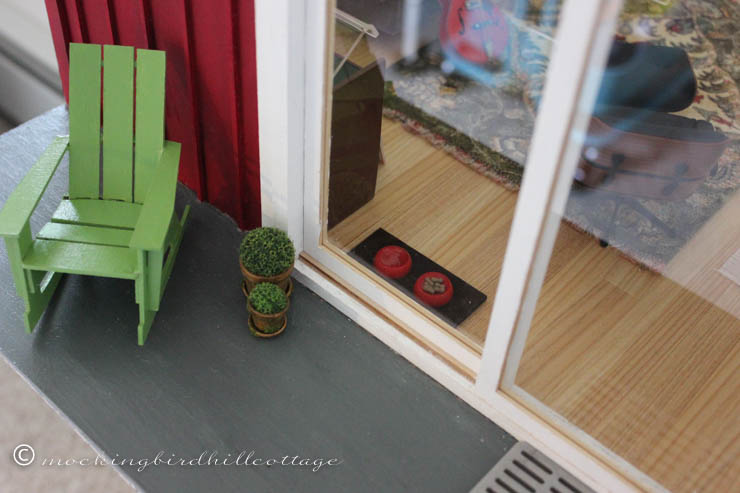 The Loll versions of adirondack chairs were a kit from feYerwerks on Etsy. I really fell in love with them. One is a rocker, one is a chair. The potted boxwoods came from Brae's Etsy shop.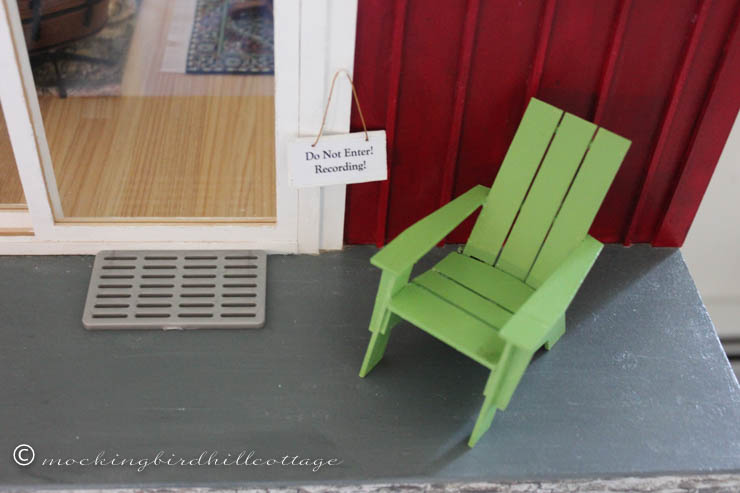 The sign was made my yours truly, the hanger for the sign is the top of a quilting pin. Paint color for the porch/deck is Ash by Folk Art. Clear coat is Delta Ceramcoat Varnish. The welcome mat came from the trays inside the refrigerator that was in that Loft house I got from Target.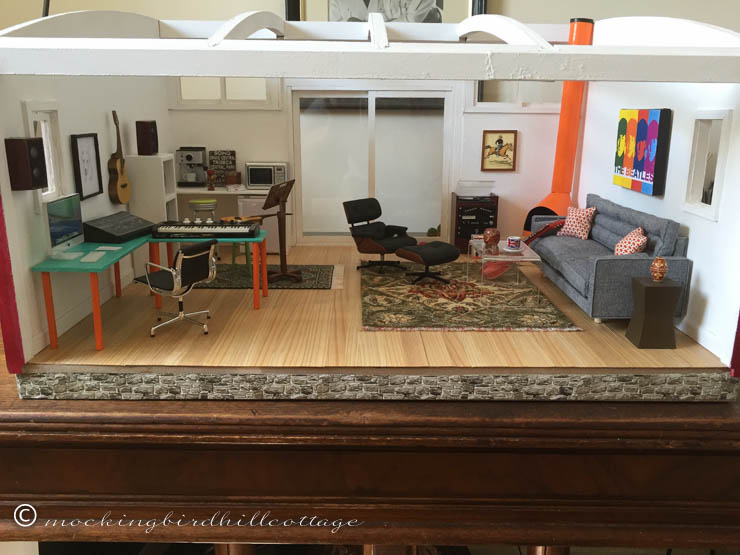 I hope this covers everything. Rest assured, I will most likely be editing this post throughout the day!
A big thank you to all of you, dear readers. You were there cheering me on throughout the whole process. You offered suggestions. You shared your opinions. You sent me things for The Studio. Just like Hummingbird Cottage, this is a group effort and my gratitude knows no bounds. Thank you. I even had an email from reader Jen, expressing her concern that the sofa was too near the fireplace and would be a fire hazard – she was right! I moved it. That is the power of miniatures. They take hold of you, cast their magic spell, and you're lost.
Case in point: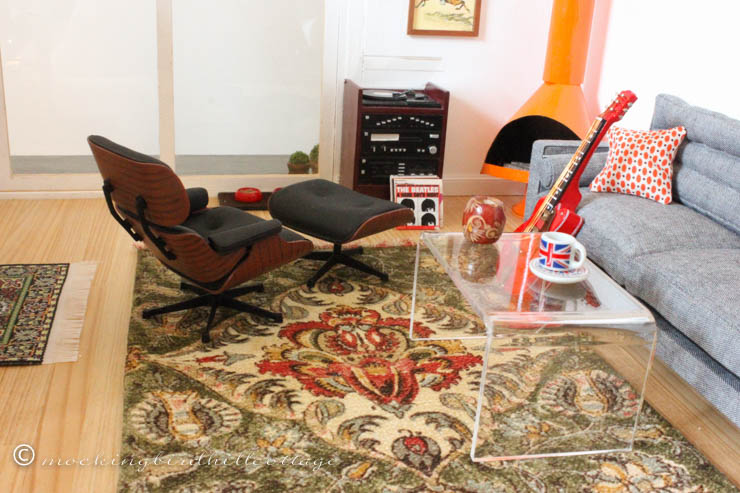 Don went upstairs yesterday to spend some time 'in the studio' and moved the chair because he was 'listening to records.'  Gosh darn it, I love that guy. He also came downstairs and said he gets his best ideas there – while looking at the Studio and moving things around, he got an idea for a real-life project he's working on.
It doesn't get better than that.
Much love to all of you. If you didn't see the video, scroll down one post and you can watch Don's reaction to his birthday surprise.
Happy Sunday,