Big, big thunderstorm last night! It seemed to go on for hours. Cracks of lightning, the sky lit up, thunder, torrential rain.  This morning everything in the garden is water-logged and sort of smashed down. I know this because I had to go out to remind Henry that the big garden bed was not for him. That scamp!
During the storm, I had my iPhone out and was checking The Weather Channel. There was a warning saying "Lightning Strikes in your area. 0 miles WSW." In other words, right here. When I tapped the warning, a map came up and I could see all the lightning strikes happening around us and it was actually sort of terrifying! It felt like we were sitting ducks! Maybe it's better not  to know that sort of thing.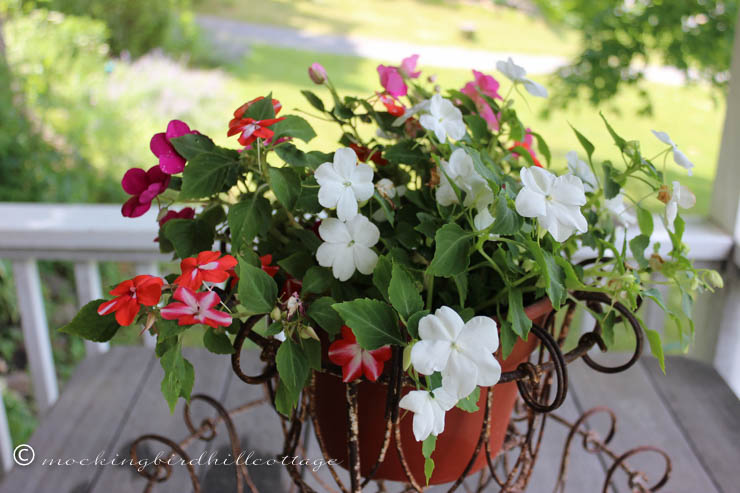 Impatiens are my favorite plant for our shady porch and there are pots and pots of them. Normally, I overwinter several of them, but I only overwintered one plant this past winter.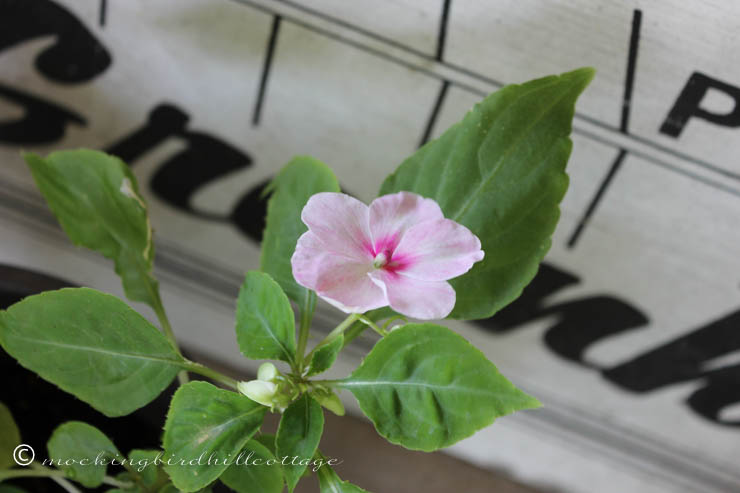 Yesterday, the first flower opened up on that overwintered plant. Hurrah!
We chat with Little Z most every night, but now we have introduced FaceTime to the mix. I had a long FaceTime chat with Z the other day where we talked and laughed and he asked to see 'my things' and I played a little of the piano for him. He immediately requested another chat, which took place yesterday evening. I love seeing his adorable little face on the screen. I do my best to make him laugh and give him kisses and Uncle Don, who was in the middle of cooking dinner, also made an appearance that sent Z off into gales of laughter. (We're actors, after all, and are really good with funny faces and voices.) Added bonus: I get to see my dear sister. I had a nice long chat (a traditional phone call) with her yesterday afternoon, as well.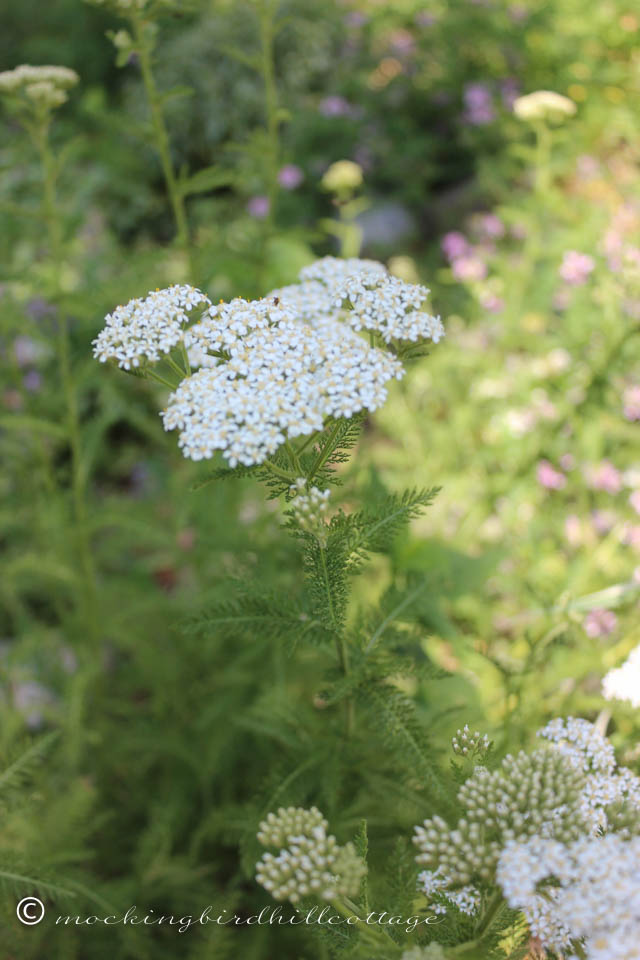 Yarrow in the big garden bed. I have two yarrows this year.
I've started John Connolly's newest book (I'm a big fan) titled, A Time of Torment. It won't be published until the beginning of August, but I have an eGalley. You know that feeling when you open the newest book by a favorite author and you read the first page or two and then you sigh with happiness because you know you're in good hands? That's what I felt yesterday.
I'll feel the same way when Daniel Silva's newest comes out next month and Louise Penny publishes her newest at the end of August. By the way, in case you missed it, I reviewed a book by a new-to-me author yesterday as part of Soho Crime's 25th Anniversary Read-Along. It's Rock Paper Tiger  by Lisa Brackmann. I really liked it and plan to read the other books in this series. Book review here.
We received the official news yesterday that Anastasia  will open on Broadway on April 24, 2017 at the Broadhurst Theater. Even better, the actors playing the four leading characters have been signed. I love that – they are talented actors who captivated audiences and deserve to be a part of the Broadway production. Bravo!
Wonderful piece of writing on LitHub: On the Invisibility of Middle-Aged Women.
Happy Wednesday.