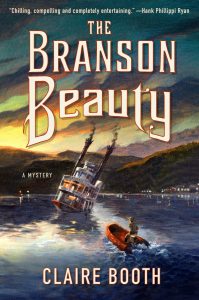 Today, I am reviewing The Branson Beauty by Claire Booth for TLC Book Tours. As always, I am provided with a copy of the book in exchange for my honest review.
About the book (from the publisher): The Branson Beauty, an old showboat, has crashed in the waters of an Ozark mountain lake just outside the popular destination of Branson, Missouri. More than a hundred people are trapped aboard. Hank Worth is still settling into his new role as county sheriff, and when he responds to the emergency call, he knows he's in for a long winter's day of helping elderly people into rafts and bringing them ashore. He anticipates a lot of anxiety, many arguments, and extra costs for emergency equipment that will stretch the county's already thin budget to the breaking point. But those are the least of his worries after he discovers high school track star Mandy Bryson's body locked inside the Captain's private dining room.
My review: This is Claire Booth's first novel and I'm so glad she has emerged on the mystery scene. She plans to write a series revolving around Hank Worth and Branson, Missouri and that is good news, indeed. Her style is so assured, so rich, that it's hard to believe this is her debut as a novelist.
In Hank Worth, we have a protagonist who is fascinating and will be the perfect central character for a series of mysteries. Married to a doctor, the father of two young children, he's left the big city to move to Branson after the death of his mother-in-law. The new household consists of his family and his father-in-law, who takes care of the children when the daily demands on a doctor and sheriff turn to long hours away from home. He's learning about Branson and his solid strength of character is going to come into play as he stands up to those in power.
Booth creates a fascinating cast of characters: the officer who feels he should have been awarded the job of sheriff; the owner of The Branson Beauty, a powerful business man whose tentacles are everywhere in the county; the young police officer Worth calls The Pup, because of his eagerness to do the job well; bereaved parents; and a group of locals who add a great deal of flavor to the plot.
Booth is a very good writer who pens an intricate plot seemingly effortlessly. She manages the details of the story, planting a clue here and there, sending us off on the trail of the murderer, where, like any good mystery, one path veers off into another, and another. Along the way, Worth finds corruption and greed, obsession and obfuscation. Yet, Booth laces all of this with a streak of wonderfully dry humor that enriches the story.
I really enjoyed this novel and, I'm not exaggerating, couldn't put it down. It's so well written. Branson itself is fascinating, set as it is in the Ozarks, a town and a county where the emergence of an entertainment strip has changed the face of that neck of the woods. I've never been there, but Booth's skill as a writer makes me feel as if I have.
You'll like this book.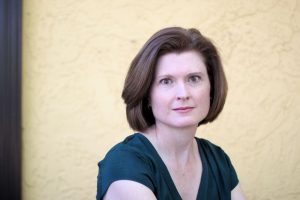 About the author: Claire Booth spent more than a decade as a daily newspaper reporter, much of it covering crimes so convoluted and strange they seemed more like fiction than reality. Eventually, she had enough of the real world and decided to write novels instead. Her Sheriff Hank Worth mystery series takes place in Branson, Missouri, where small-town Ozark politics and big-city country music tourism clash in, yes, strange and convoluted ways.
Good news! One of you will win a copy of The Branson Beauty. Just leave a comment on this post and I will pick a winner on Wednesday evening. Good luck!
Happy Monday.