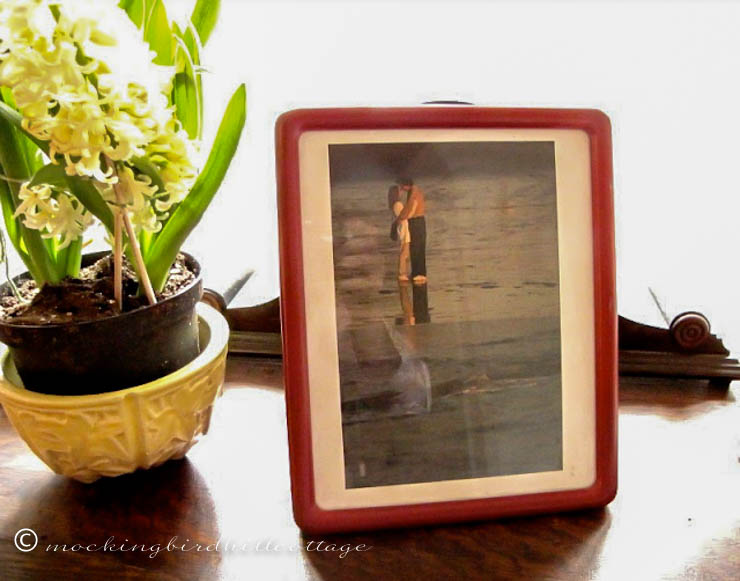 Year: 1994
Scene: San Diego, specifically Ocean Beach
Cast of Characters: a teacher/coach and an actor, along with a host of actors, designers, directors
On that Fateful Fourth, a woman woke up in her apartment in the Hillcrest section of San Diego. She had just finished her first year of teaching in the Graduate Acting Program at USD/Old Globe and was now in the midst of coaching a production of Brian Friel's Wonderful Tennessee. But that had been put on hold while she was on Jury Duty for five days. The Fourth was a welcome break from a tedious trial and she and her great and good friend Rick were going to their friend Kathy's home on the beach. She decided to make guacamole as her contribution to the party. (Kathy's parties were renowned around the Globe; there was always an ongoing barbecue, with staff from the Old Globe, and visiting actors and designers who were in town for the summer making an appearance throughout the day. At the end of the day, everyone walked a hundred feet or so to the beach to watch the fireworks.)
By the way, that was the first and only time she made guacamole.
Sometime in the afternoon, Rick picked her up and they drove out to Ocean Beach. It was a beautiful day, and the house was full of friends and colleagues and laughter and great conversation. As the day went on, this woman was in and out of the house, talking to everyone and especially enjoying the company of those actors she was coaching in Wonderful Tennessee.
A peculiar thing happened. Every time she came in the house, a man who was sitting on the sofa would smile at her. I mean…every time.
A bit of back story: She knew who this man was. He was an actor. She'd seen him onstage the summer before when she flew out to San Diego for her job interview. On a break from the stressful interviews, class teaching, and constant smiling that goes hand-in-hand with this sort of interview, she went to see a production of Morning's at Seven. Included in the cast were her friend Kathy (who she knew from her time at Boston University) and several other actors, including a guy who played the character of Homer. She remembered liking his performance very much and looking at his bio in the program, along with his headshot. He was back at the Globe to play Malvolio in Twelfth Night.
He didn't know who she was, but he asked around and found out.
She was normally shy in this kind of situation, but after a certain number of smiles, she found herself going over to where he was sitting (which happened to be next to her friend Rick) and introducing herself. She was invited to sit down and join the group on the sofa, whereupon she and this man starting talking about themselves and the curious state of being in their early forties. He had just turned 43. She was still 41.
They talked and laughed and really liked each other.
Later on, when the convivial group was sitting on the beach to watch the fireworks, she noticed him catching her eye and smiling. She smiled back.
When she and Rick were ensconced in his car and headed homeward, she kept thinking about this guy and smiling. He'd definitely made an impression.
A week or so went by with the woman feeling like she was back in high school, engineering ways to run into him at the theater. Each time they saw each other they learned a bit more about each other. One day, they ran into each other in the courtyard of the theater and sat on a bench and talked some more, whereupon the man asked her if she'd like to go to a movie with him once Twelfth Night  opened.
She answered in the affirmative.
There were some delays. His production had to open. Her production was in technical rehearsals and her friend Joe was coming to visit for a week. In the meantime, one of her students who was understudying the lead in Twelfth Night  had to go on one night during previews, so she went to see the play and was blown away by the performance of this man as Malvolio. She says to this day that he was the most brilliant and funny Malvolio she has ever seen. Her friend Rick turned to her during the performance and said "He is absolutely brilliant!!" and she shyly confided to Rick that she was going to go on a date with him soon. After the show, she waited for the man so she could tell him how wonderful he was as Malvolio and they hugged each other.
Her show finally opened and the opening night party was at a local restaurant and this man came to the party and proceeded to flirt with her and basically spend most of the evening at her side. When he offered to drive her home, she went to get her purse and found it had been stolen. Everyone looked for it, but it was gone. The man, seeing how troubled she was, drove her home (she can't remember why she had the keys to her apartment when they should have been in her purse, but she did) and after making sure she would be alright, walked her up the three steps to her door, whereupon he surprised her by kissing her rather passionately right there on the steps.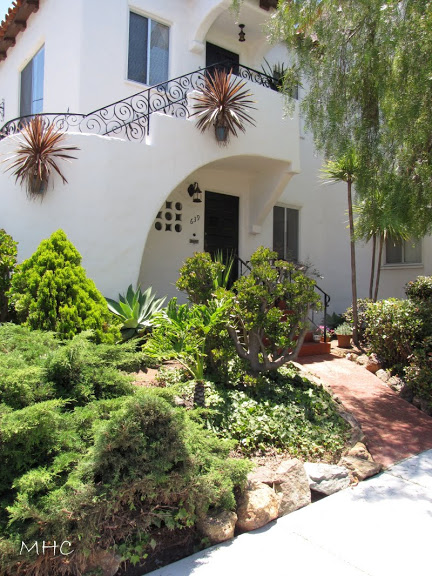 Those steps, right there on the first floor.
She found herself feeling a curious mix of emotions, worry about her wallet and her credit cards, and the fact that an extra key to her apartment was in that wallet which meant she would have to change the locks, as well as lingering memories of that kiss. He called the next day to check on her.
Finally, one Monday – the day off at the theater – they went on that date, which ended up taking place on the beach, where they talked and talked and talked. When he drove her home, he came inside and he proceeded to lay another kiss on her that literally made her lose her balance and nearly fall over.
She says that he is the best kisser, ever.
They're still together.
Happy 22nd Anniversary, my love.
Happy Monday to all of you. Happy Fourth of July.