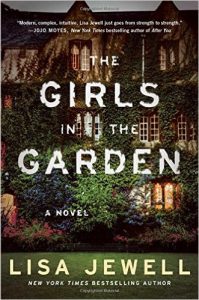 Today I am reviewing The Girls in the Garden by Lisa Jewell for TLC Book Tours. As always, I am provided with a copy of the book in return for my honest review.
About the book (from the publisher): Imagine that you live on a picturesque communal garden square, an oasis in urban London where your children run free, in and out of other people's houses. You've known your neighbors for years and you trust them implicitly. You think your children are safe. But are they really?
One midsummer night, as a festive neighborhood party is taking place, preteen Pip discovers her thirteen-year-old sister, Grace, lying unconscious and bloody in a hidden corner of a lush rose garden. What really happened to her? And who is responsible?
Dark secrets, a devastating mystery, and the games both children and adults play all swirl together in this gripping love, packed with utterly believable characters and page-turning suspense.
My review: I've not read any of Lisa Jewell's books before, though she is a bestselling author of thirteen novels. One of the many reasons I love reviewing books is that I am introduced to authors I might not know of otherwise. Such is Lisa Jewell.
The novel centers on the lives of the occupants of the houses and apartments that border the communal garden: Adele and Leo and their three daughters who are living in a huge flat along with Leo's father – a temporary resident; Clare and her two daughters, who have sought refuge in a flat after losing their house (I won't tell you how, you will discover that soon enough); and the children that roam the garden in packs, making the garden their refuge, their place to hang out.
Yes, it's a mystery; after all, when Pip discovers her sister's unconscious body there is a natural need to know who was responsible for injuring her. Since Grace is unconscious, it falls to Clare, to Adele, and to Pip to find out the truth. But more importantly, this novel is a rich character study. Jewell creates complex and very real characters. She understands kids who are on the precipice of their teenage years and the way they think. She also understands adults and the way they think; the complexities of raising children, the complexity of simply being an adult. Much of the story is told from three points-of-view: Adele's, Clare's and Pip's.
The novel starts with the discovery of Grace's body, then backs up to an earlier time when Clare has just moved into the neighborhood. We learn the back story of all the characters, how their lives intertwine, how they interact, and how the appearance of Pip and Grace on the scene changes everything.
Think Rear Window, where there is a slice of life that can be seen only by those inhabitants who look out on the interior courtyard.
Beautifully written, the novel explores relationships and the assumptions we hold about those we think we know and love. When Grace is injured, everything changes. What secrets might be uncovered – secrets about those we love, about what we hold dear?
This is a lovely novel, written with a compassionate heart. You'll find it compelling and, ultimately, life-affirming.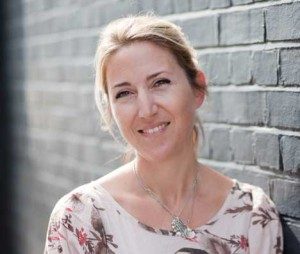 About the author: Lisa Jewell was born and raised in North London, where she lives with her husband and two daughters. She is the New York Times, Wall Street Journal, and USA Today bestselling author of thirteen novels, including The House We Grew Up In and The Third Wife.
Though not the usual way we do a book giveaway on this blog, there is indeed a giveaway, this time through Rafflecopter. Information below:
But hey, leave a comment anyway! I love to hear from you.
Happy Monday.