I think…fingers crossed…that the hot and extremely humid weather we've been having for over a week and a half has broken. I'll know more when I venture outside. For the first time in what seems to be a long time, the windows are open.
Yesterday, I glimpsed a butterfly near the butterfly bush. It seemed to be darker than the Eastern Swallowtails that hang around here. Could it be a Monarch, so rarely seen nowadays? I grabbed a camera, ran outside, verified that a gorgeous Monarch was perched on my bush and snapped a picture. Want to see it?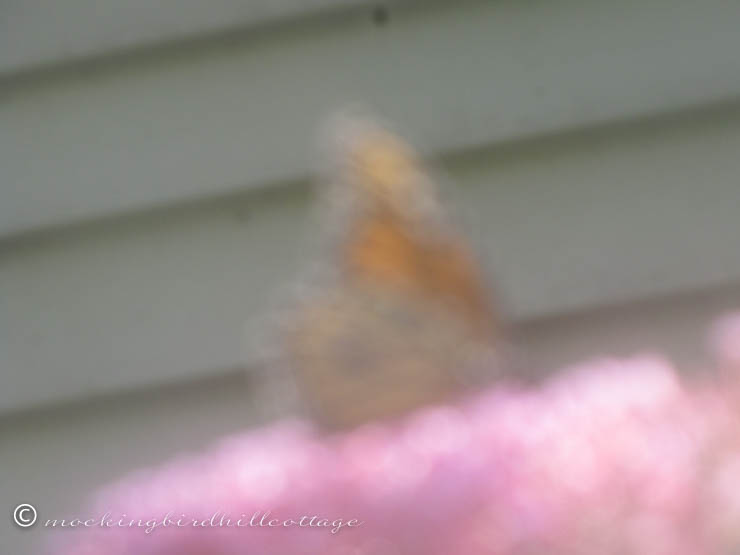 It was so humid that my lens steamed up. By the time I realized it and wiped the lens, the Monarch was gone.
And then I surprised a hummingbird – twice – who was dining on the phlox. Again. The steamy lens.
That's how frigging humid it was here yesterday. At one point, the clouds were covering the sun and I thought it was less humid than it actually was, so I decided to mow the corral. Thirty minutes later, dripping wet, I acknowledged that I had misjudged the atmospheric conditions.
Second shower of the day.
Today, however, I think we'll be able to tackle the front lawn. Every blade of grass around here is at least 6 inches long. It's making me crazy.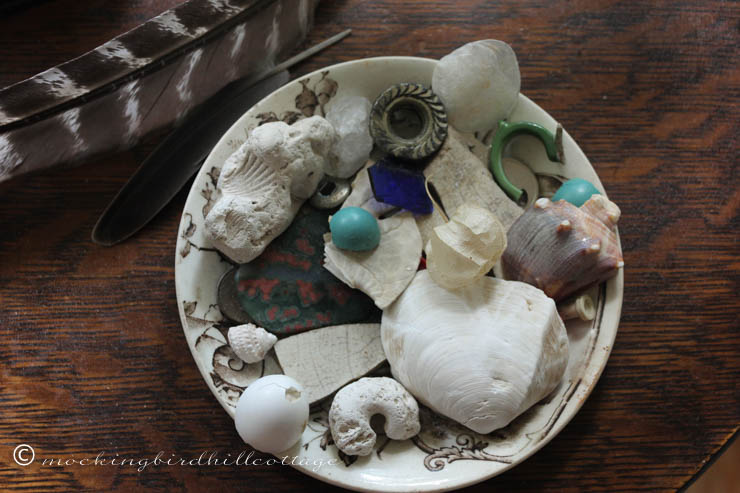 I have this transferware plate that lives on the sideboard. It holds 'found treasures.' A fossil and seashells found in Florida and California, an agate, a crystal, a broken sand dollar, a pod, blue glass, broken china found on our property, birds eggs, a decorative nozzle also found on the property. The newest addition is the green teacup handle. Somehow these things just emerge from the ground after years of being buried. I found this in the Memorial Garden.
That's a wild turkey feather on the left, along with another recently found feather.
As I said on Instagram a while back, these remind me of the treasures that Boo Radley painstakingly hides in the tree – gifts for Jem and Scout. Oh, that book, it melts my heart.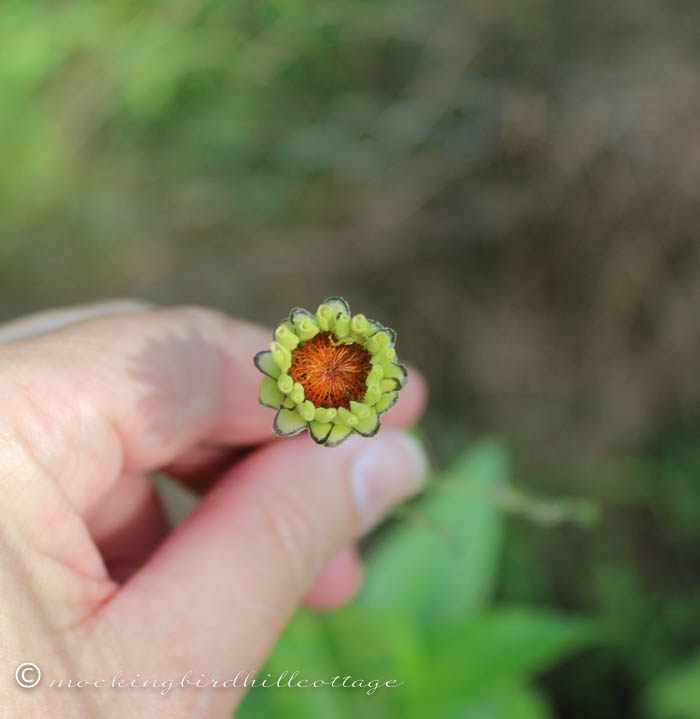 A zinnia getting ready to open. The leaves on this one were being attacked by a darned Japanese Beetle. I thought they were gone for the season, so I was rather outraged when I found a beetle eating the leaves on one of my long awaited zinnias. Get out of here, Japanese Beetles! You have overstayed your welcome.
Don't forget to check out my post on Replens and leave a comment for a chance to win a $100 Visa Gift Card. Just click here! #ad
Heads up! Just got a message that Don's episode of Mr. Robot airs tonight at 10 pm on USA!
Happy Wednesday.