When I first started blogging over eight years ago, I had no idea if anyone would ever find me on the internet, let alone leave a comment. I really did feel like I was a speck in a vast wilderness. I did what was recommended; visit other blogs, leave a comment, and hope against hope that blogger would return the visit.
One of those bloggers did stop by. In fact, she was my very first blogging friend: Donna, of An Enchanted Cottage. Donna, a fellow Northeasterner, and I share many of the same loves, including nature, gardening, decorating and, above all, animals. We have stayed friends for over eight years and she has been steadfast and true. When Riley died, Donna made a beautiful framed piece based on a photo I had posted of Riley and Scout (my favorite photo) and moved both Don and me to tears. It hangs on my wall just outside my office.
Donna is very talented and is a working artist as well as a the owner of a successful Etsy shop. She has two daughters, both adults now (how did that happen so quickly?) and one of them, Amanda, is also an artist.
Which brings me to today's post. Amanda has just had her first Coloring Book published by Pomegranate Press! Huzzah!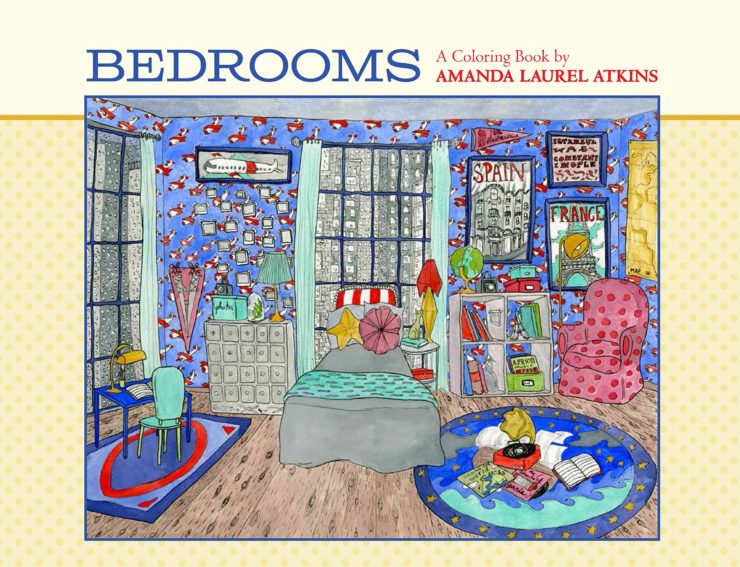 Bedrooms – A Coloring Book by Amanda Laurel Atkins.
Amanda and Donna graciously sent me a copy of Bedrooms. You know I love coloring books! I was floored when I first held it in my hands. First of all, it has a hard cover that opens flat. (I don't see that out there in the coloring book world.) So much easier to color! Each page has a blank page as its back, so no worries about coloring on both sides of the sheet of paper. The quality and heft of the paper is perfect for coloring. And each page is laid out horizontally, rather than vertically, just as the cover indicates. The binding runs right alongside the edge above the title. It is beautifully done.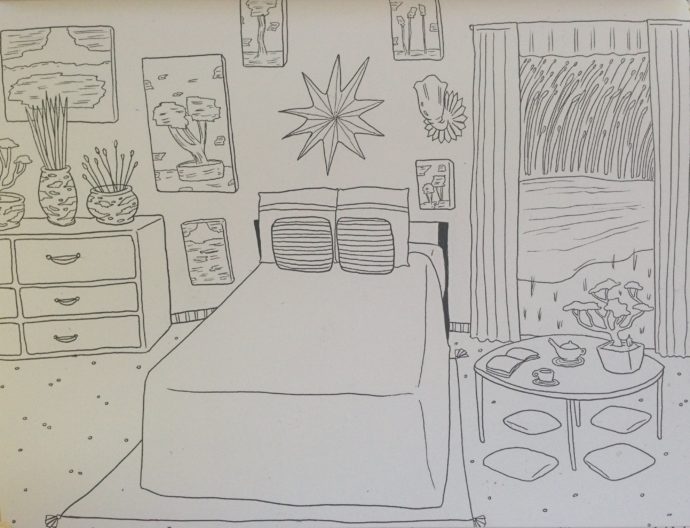 A sample page.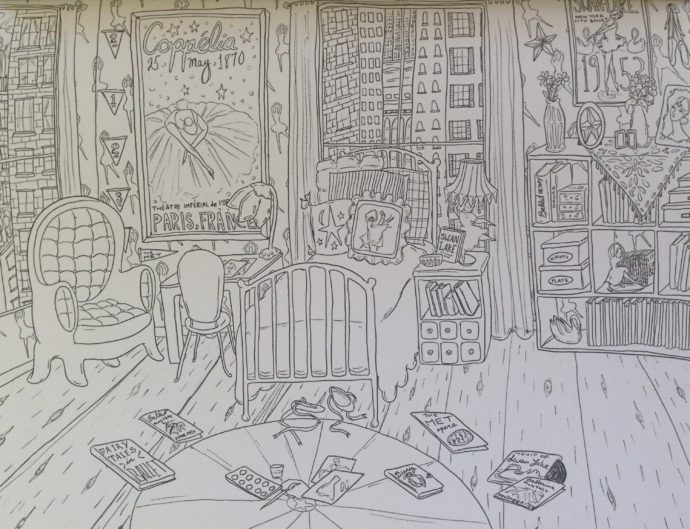 These photos don't really show the crispness of the lines, but trust me, they are crisp and clear. They're also not too thick. Personally, I have passed on purchasing certain coloring books out there because the lines are too thick, almost like you'd see in a child's coloring book. This one is perfect.
Donna and Amanda shared some pages that they colored themselves: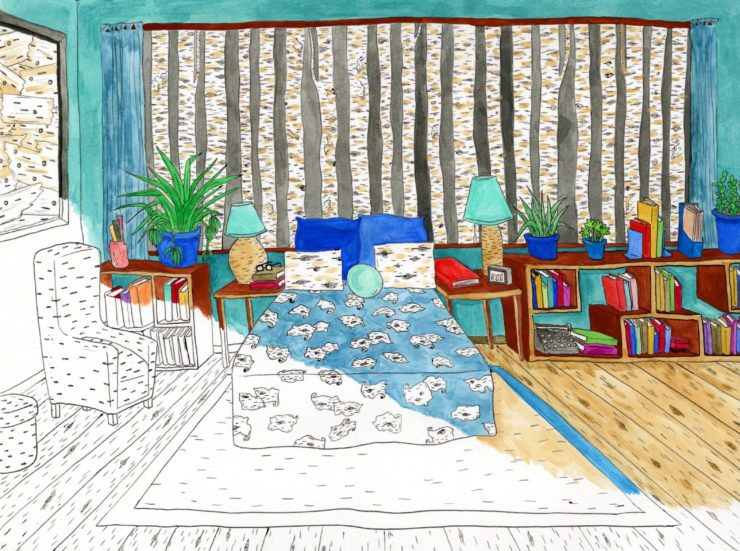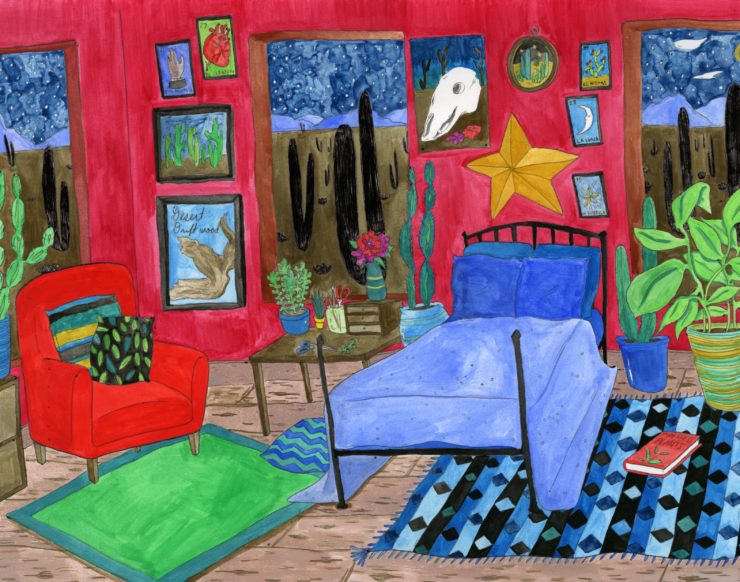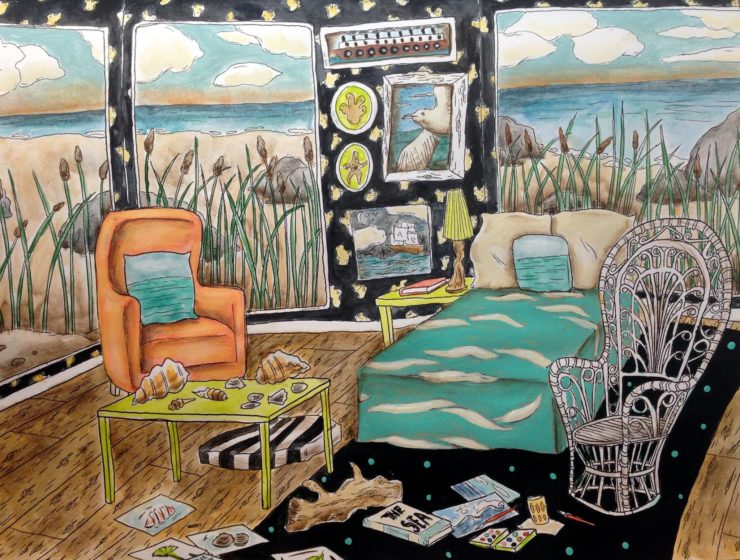 The illustrations are full of books, paintings, animals, and nature, things that Amanda loves.
I often think about my childhood bedroom, which for a girl who needed a good chunk of alone time, was a refuge that was all mine. I could shut the door and be in a world that was entirely my own. That same feeling is evoked in these illustrations.
Amanda: Bravo! Such beautiful work!
By the way, here's a bit of information about Amanda: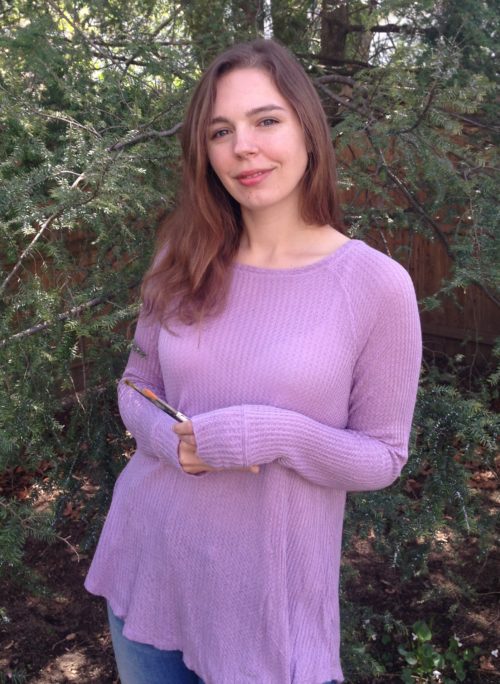 Amanda Laurel Atkins is an artist and illustrator living and working in Boston, MA. Her work is inspired by the 1950s, architecture, fashion, color, animals, and literature. While her paintings focus on portraits of fictional women, her illustrations span a vast array of subject matter, including the many rooms in Bedrooms. Amanda loves walking and exploring her city and spending time with her family, friends, and all the animals in her life. You can explore her work at AmandaAtkins.com.
You can purchase this delightful book in Amanda's Etsy shop and at Pomegranate Press as well as on Amazon.
Exciting news! Amanda would like to share one copy of Bedrooms with one of my readers. Isn't that wonderful?
Here are the rules: Leave a comment on this post before 8 pm on Monday August 8th and I will use Random (dot) org to pick a winner.
In your comment: Tell me what it is about your bedroom that you love.
Good luck! And thank you, Amanda and Donna.
Happy Monday.