It's Friday, I slept in (thank goodness) and I'm now awake enough to write this post. Or I think I am.
First of all, for those of you who missed my misidentification, the flowers that are blooming in the Memorial Garden are Forget-Me-Nots, not Four O'Clocks. (Smacks herself upside the head.) And it would make sense that flowers in a memorial garden are Forget-Me-Nots, would it not?
But apparently I forgot.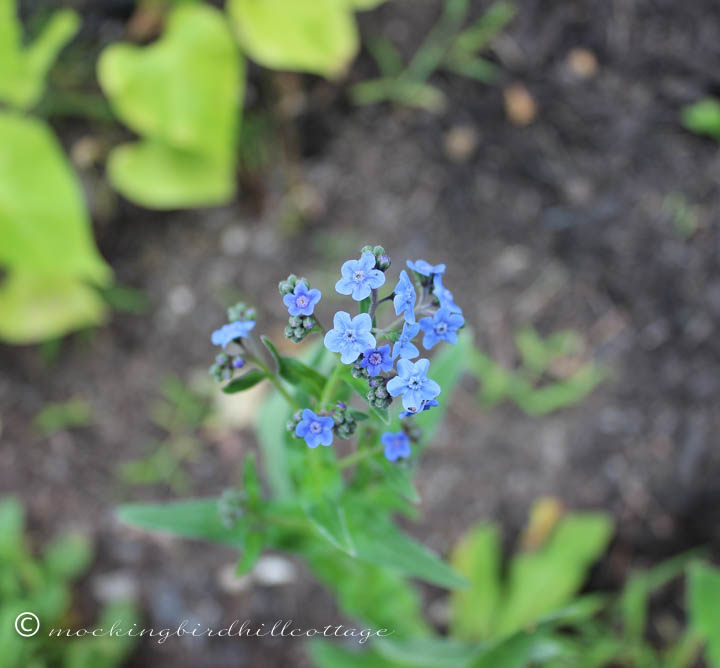 Here they are. Five petals, not four (the earlier photo seemed to show four petals.) Forget-Me-Nots are such sweet flowers.
As to the beloved ones that we will never forget, we did this yesterday: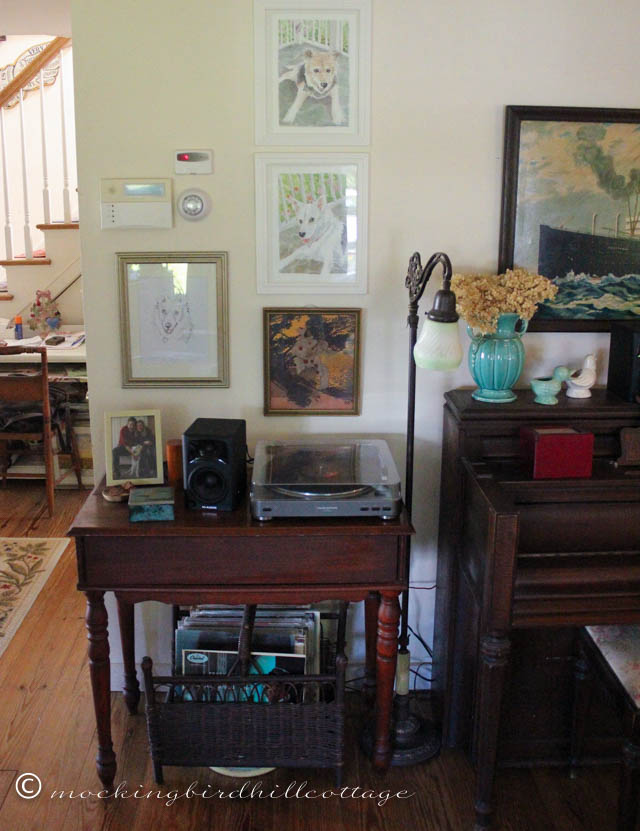 Forgive the picture – it was early in the day and the lighting wasn't the best, so there's a lot of 'noise' in the picture. Again – we love all our windows, but they're pouring tons of light on this wall. And I don't have the patience to tinker and tinker and tinker until I get it right. We'll leave that to the decorating blogs.
When Winston's portrait arrives, we'll add it above the thermostat and alarm box. We're thinking we'll have to move the Maxfield Parrish. It clearly doesn't belong in this group. But where, oh where, will I put it? It's my first Maxfield Parrish and it deserves a place of honor!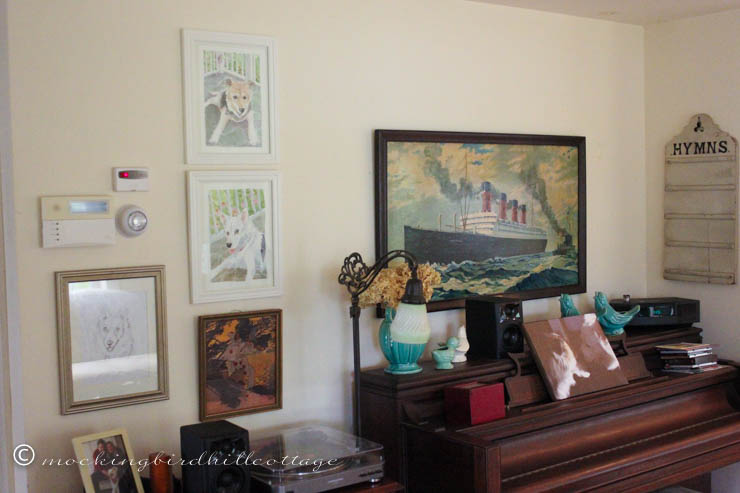 I think the canvas of Riley and Scout will take its place. At least, that's what we're thinking at the moment.
From the Maxfield Parrish hanging above the turntable to a gallery of our beloved babies. All thanks to Shanna. (I think I'll be thanking you forever, Shanna!)
Today is supposed to be a humid one – yuck – so I'm not sure what I'll be doing. What I should  be doing is gathering all my tax info and making a list of my deductions; we always file an extension. That, my friends, is a job I detest, but it has to be done. Then, as is always the case, I will have to spend a fair amount of time nagging Don to get his done.
And so it goes.
Happy Friday.