I told Don yesterday that he would feel hopeful and heartened by the responses to yesterday's post. I sure do. Thank you. In the midst of the muck and sludge that is the candidacy of Donald Trump, hearing your voices, reading your words, has helped enormously. We are not alone, my friends. There are wise people out there who have had Trump's number from the beginning. I'm volunteering. I'm going to do whatever I can to help defeat this pathetic, destructive, and evil man.
Okay. Let's do a 180 and talk about decorating! (Take a moment to catch your breath.)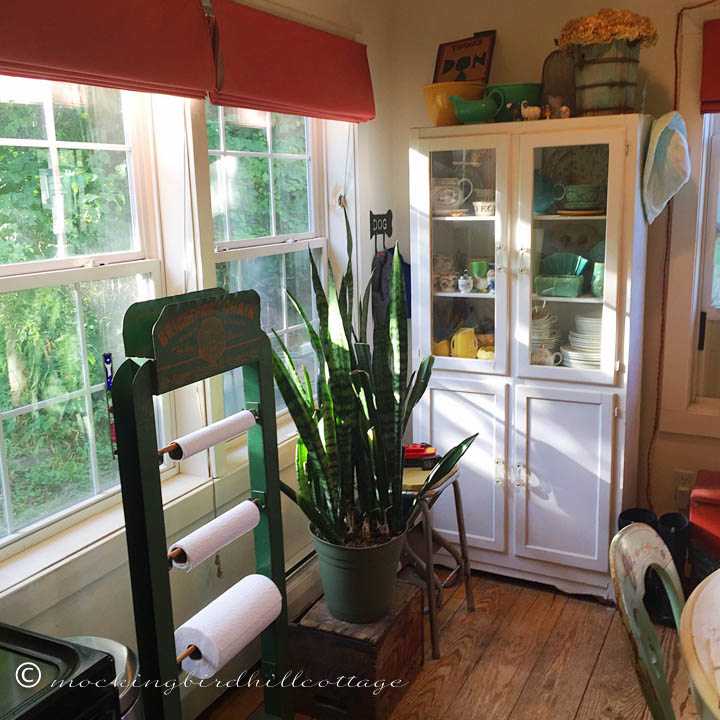 I was reading Country Home  the other day. Yes, I actually bought a magazine. I needed some pretty pictures in magazine form and, when I thumbed through the magazine at B & N, I felt it would be worth the cost. This particular issue was great.
Side note and confession: I cannot remember the last time I went on Pinterest. It just holds no appeal for me. There's just too much.  Too much busyness. And much of it I've seen before. I get traffic from Pinterest, mostly due to the photos of the dollhouse, but I almost never go there.
Back to Country Home.
One of the homes featured was that of Kristin Nicholas, who lives in Massachusetts and has long been on my radar as a textile and knitting pattern designer. I've seen photos of her home before and it's wildly colorful and artistic and charming. But this quote is what I especially loved:
"I've got my house the way I like it. I don't go with decorating trends. I fall in love and stay in love."
  Kristin Nicholas
That's exactly how I feel.
When I was young and had only one room to decorate, and at times it was shared with my two sisters, I often rearranged things because my tastes changed or I was bored. My canvas was limited. I couldn't do anything with the rest of the house, so my creativity was focused on my bedroom.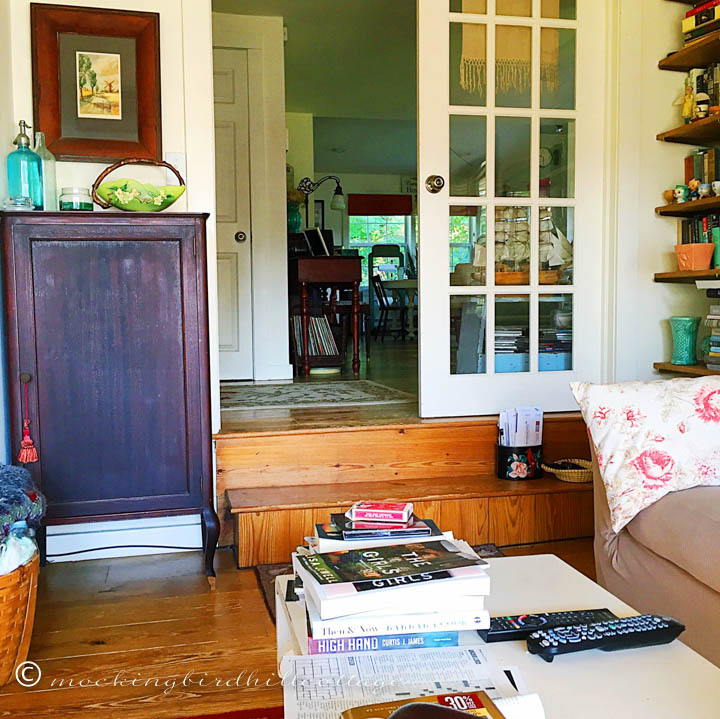 And certainly my tastes have changed over my adult years. But at this point in my life, I know who I am. I know what I'm drawn to, what makes my house feel like a home. I don't care about trends. If I love something, I love it because it speaks to me, not because it's trendy. In fact, I studiously avoid looking at the 'trendy' or reading blog posts about 'what's trending in home decor.'
Do not care.
And my canvas has expanded. I have many creative pursuits, not the least of which is my professional work, this blog, my other blog, my garden, my miniatures. You get the picture. This house is not my only outlet for creativity. Thank goodness.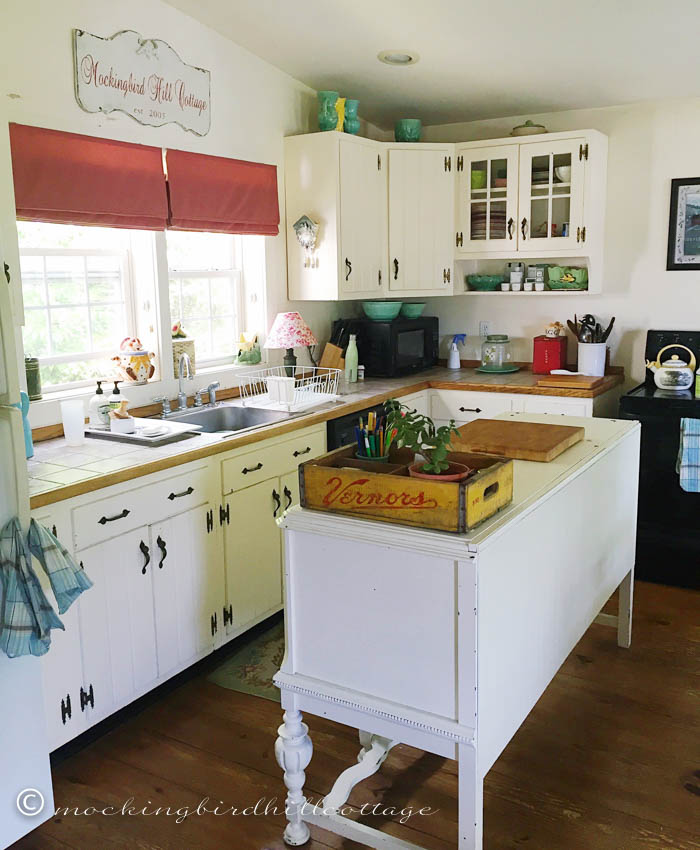 Granted, my style may not be your style. My style (I should say our  style) is funky and eclectic. Vintage and cheerfully cluttered. It is a mix of found pieces and recycled pieces, bright colors, as well as the sherbet colors of McCoy Pottery. The only furnishings I ever bought new were the loveseat in the living room – now 25 years old, the sofa in the den, now 21 years old, and the yellow chair in the living room, now 10 years old. Add to that the television, bed and desk in my office (because I didn't have a desk for the office.) That's it. Everything else has been found; sometimes on the street, sometimes in an antique shop, sometimes at auction. Or it has been passed down to me, like the piano and the chair in my bedroom.
Now that may not be everyone's style, in fact, it most assuredly is not  everyone's style, but it's mine. And it's been my style for years. I'm comfortable with it. I like the way this house looks. Last week, when my best friend and her husband visited, I was given the chance to see the house through Laural's eyes. She gasped when she came in the kitchen door and yelled, "I LOVE it!" She wanted to see everything. She got us. She got our style. It isn't her style, but that didn't matter. She loved it. (Laural, by the way, is the best cheerleader of a friend you could ever hope to have.)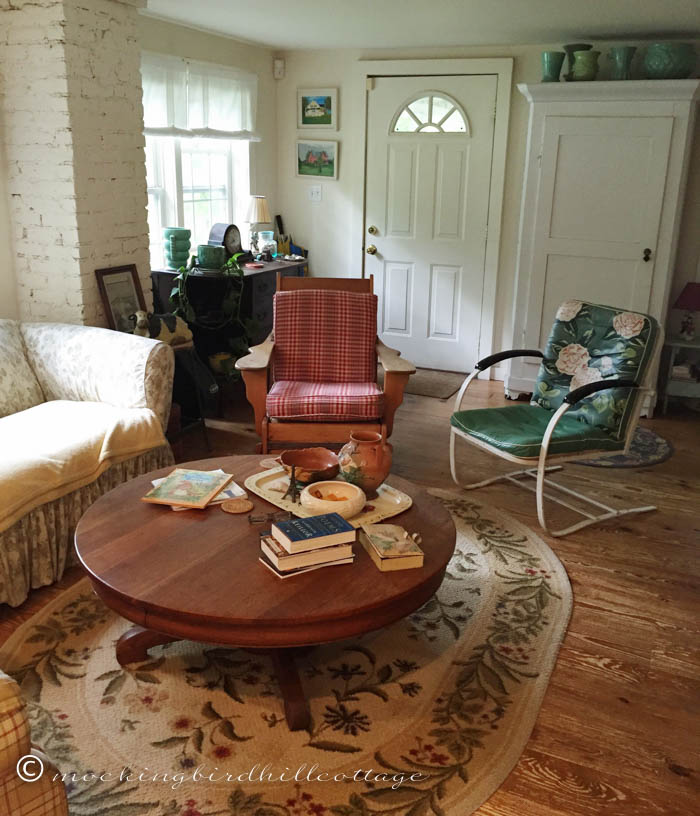 This doesn't mean that everything here remains static. You've only to look at the funky green chair we recently purchased to see that we add something here and there when we fall in love with it. But we have to fall in love with it. Otherwise, it doesn't get in the door.
I think there are two kinds of decorators: Those who change things up constantly because their home is their palette and that's the way they create, and those who slowly put together a home that speaks their name and is the result of a gathering of much loved objects. I totally understand the former. But I am the latter.
I want people to come in the door here and think, "Yes. This is Claudia and Don. This is comfortable and welcoming and funky and quirky and charming."  (At least, I hope  we're charming!) I got that last week from Laural and I got it the other day when I ran into a friend at Lowes. When we couldn't get home during the day in Scout's final months, she used to come by to let her out, and every time I see her, she says, "I love your house." In fact, she said it three times during that chat at Lowes. That makes me smile, because it clearly made a big impression on her and I'm proud of that.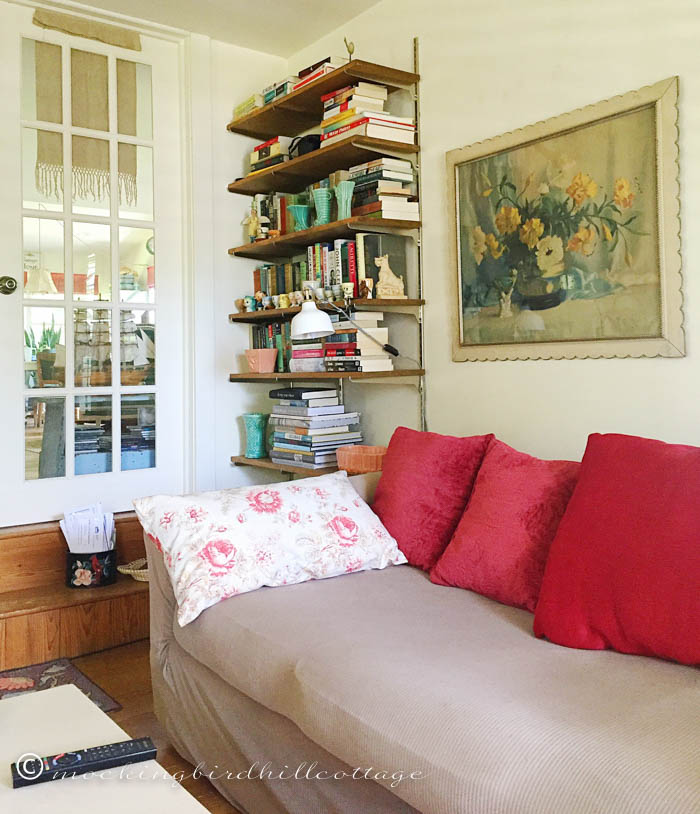 It's not fancy, but it is us. And we know who we are and what we like and it fits us. Yes, I'd like to replace the sofa and the loveseat some day. Maybe a new slipcover for my chair in the den. But that's about it. We, like Kristin Nicholas, fall in love and stay in love.
That is why we smile when we return home from wherever we've been, whether it's running an errand or having to be away for a couple of months due to our work. It's familiar. It's full of things we've collected over our 22 years together – things we love. It's full of paintings done by my dad. There's a piano that my grandmother, mother, uncle, brother, sisters and I played. It takes up too much room but I would never give it up. There's pottery everywhere. There are books in every corner.
No trends. Just well-loved.
How do you decorate? Are you someone who loves to change it up often? Or are you someone who avoids trends and goes with what you love? Or are you somewhere in the middle – a mixture of both?
(All photos were originally posted on Instagram.)
Happy Thursday.