Yesterday will now be called Nature Day.
Morning found us outside standing near the Funky Patio (dubbed Funky Patio in 2010 when we threw it together on a whim) watching an Eastern Swallowtail butterfly float, fly, hover and circle the maple tree. He landed on the poison ivy leaves, on the leaves of other non-flowering plants, obsessively circling and landing as if he was absolutely sure that these plants held nectar of some kind. I kept saying "No. That's not going to work. Go to the phlox." But still he circled. At times, his circle widened and he came very near us as we stood absolutely still. This went on for at least ten minutes. Magical.
Then I spied this on the section of picket fence that functions as a door on our front porch.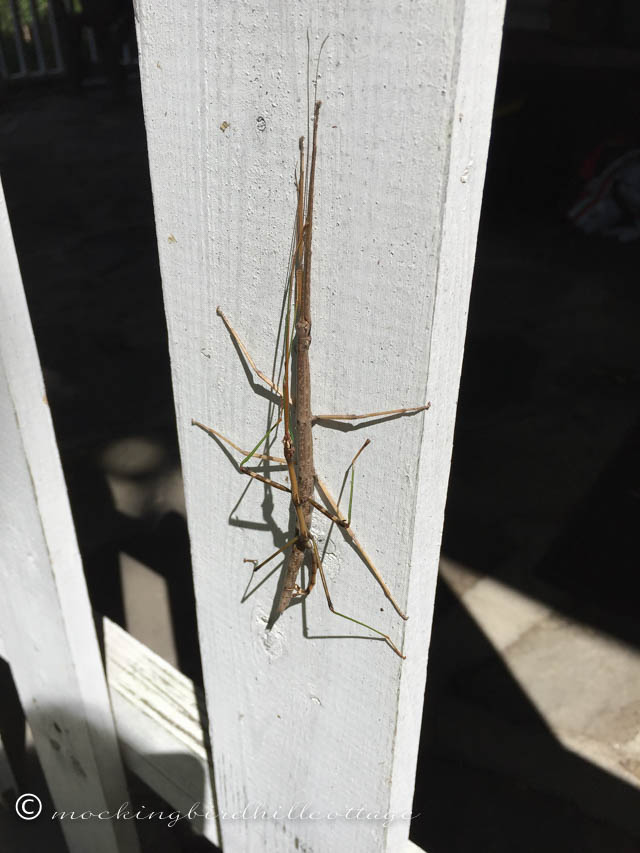 Two Stick Bugs, or Walking Sticks, one much smaller than the other, which led me to believe – in my naiveté – that one was the mom and the other was a baby. Off to Google I went, looking up Stick Bugs. Nope. Babies don't hang around moms. In fact, moms drop eggs hither and yon and don't stay with them.
No. My second instinct was the right one. They are mating. And, according to Wikipedia, this 'mating' can take quite a while. Days. If you were able to be on the porch looking downward on the bugs, you'd see that the little one is hooked around the big one near the bottom. In fact, if you look closely here, you can see it.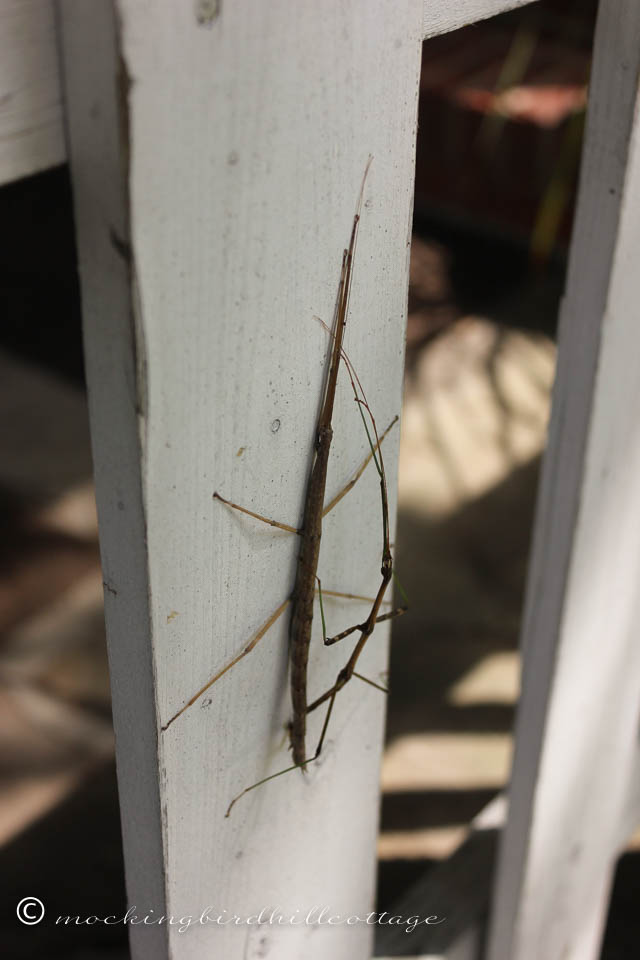 They were there last night. I haven't been outside yet this morning to see if they're still at it.
Then we took a mile and a half walk on the Rail Trail.
Then, I saw this beauty on the butterfly bush: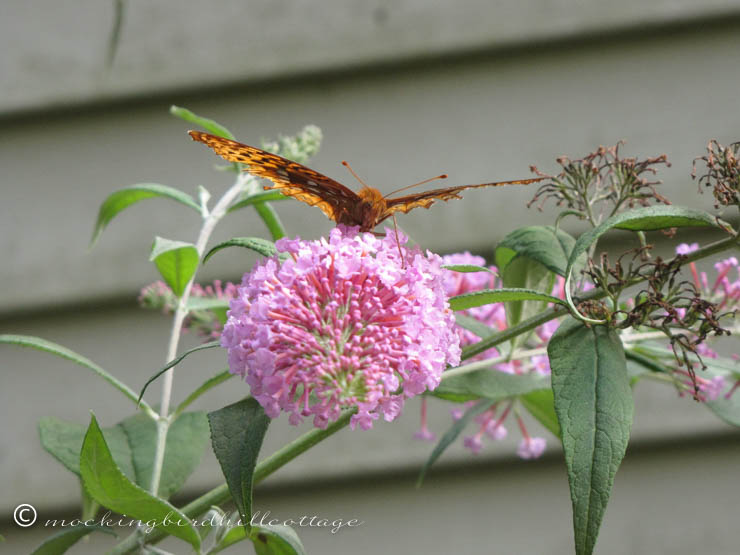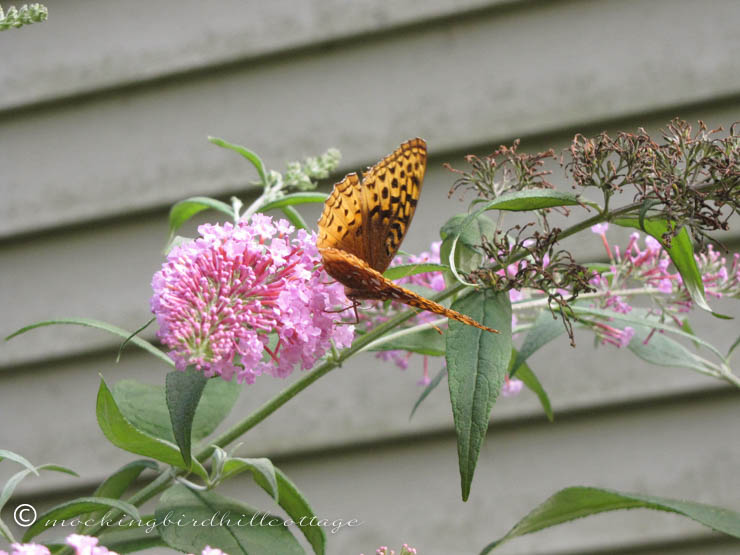 It's a Great Spangled Fritillary – which has to be my favorite butterfly name of all time.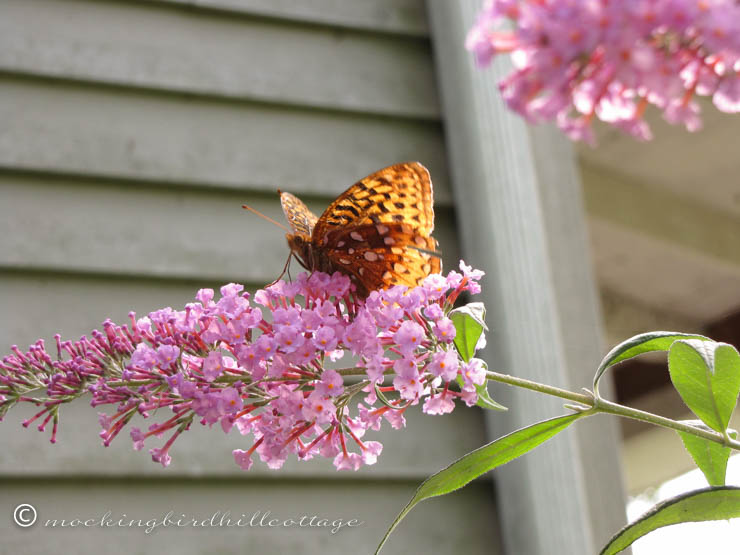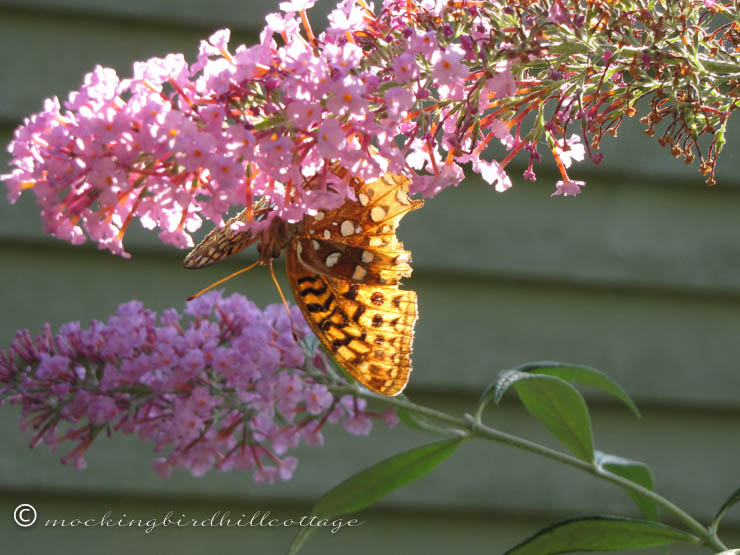 All in all, a lovely Nature Day.
Not one bird in the birdbath yesterday. I fear we've reached that time in the late summer when they begin to take off for other climes. I miss them. Henry? Who knows where he is? Bunnies? Not a one. But the mourning doves are still hanging around. Thank goodness.
Some of you saw the comment from my reader April Baldwin yesterday. I had mentioned the fire that destroyed the home of our dear friends earlier this week. Well, April – who lives with her daughter and son-in-law in Northern California – lost her home to a fire this week. A fire that was started by an arsonist. They also lost their four cats in the fire when rescuers couldn't get to them.
Words fail me at times like this. What can I say that is even remotely helpful or soothing or caring? My heart goes out to this friend who has lost everything. Sending prayers and love and a hope for healing to you and yours April. And thank you to those commenters who reached out to April on yesterday's post.
Happy Saturday.