Warning: political post ahead. Although I choose to think of it as a 'common decency' post.
Torrential rain falling at the moment. We're headed for a week of rain and thunderstorms, which may limit my ability to take pictures of my garden. Right now, I'm ensconced in my office/studio with all the lights on because it's so darned dark outside – at 10 am.
You get two photos before I move on to the main purpose of this post.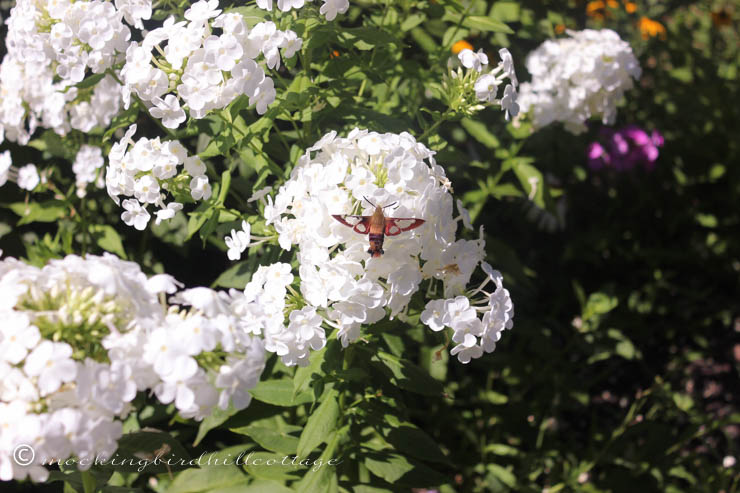 It was pure luck that I managed to get a shot of this Hummingbird Moth with his wings spread.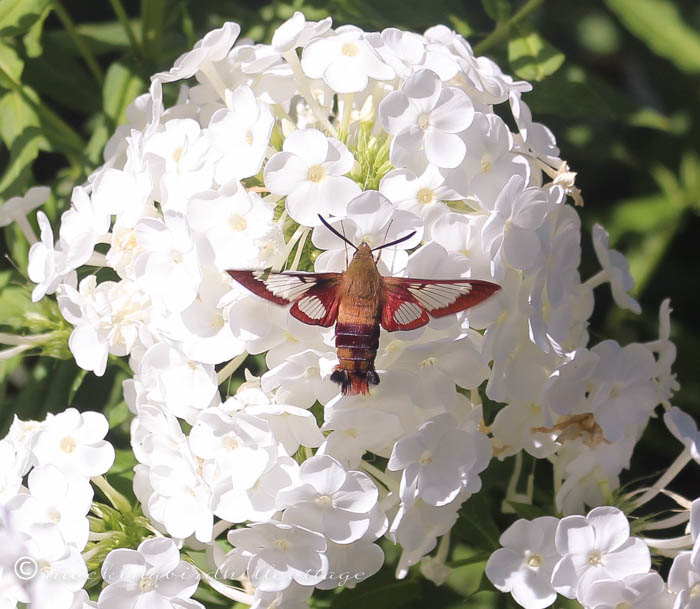 Pretty amazing.
Oh, my friends. I feel another post coming on. When I heard the words that came out of Trump's mouth yesterday, words that were irresponsible, reckless (what else is new?) and dangerous – words that incite violence, especially in those who routinely shout "Lock her up!" and, as of yesterday, "Kill her!" at rallies, I thought, "Surely this has to be the final straw. Surely those who hold office in the Republican Party will repudiate Trump once and for all."
So far? I'm not hearing it.
Moral compasses have been tossed out the window. Party is chosen over the good of the country. Party is chosen over basic decency.
Fear is chosen over love and hope.
Thomas Friedman, in today's New York Times (referring to inciting violence against an opponent): "And that, my friends, is how Israeli Prime Minister Yitzhak Rabin got assassinated."
We are in deep trouble:
When, at a rally, a kid shouts out that Clinton is a 'bitch' and his mother approves.
When kids now taunt Muslim kids routinely. When hatred and xenophobia and bigotry are promoted and lauded by a Presidential candidate.
When kids hear a candidate for President routinely denigrate women, Muslims, Mexicans, gold star parents, anyone who is 'other.'
When that candidate calls people who disagree with him names.
When a man/child with the social skills of a 5 year old bully is running for President and has a slew of followers who find in him validation for their own deep, dark, and repellent beliefs.
When white supremacists flock to that candidate because he affirms their disgusting agenda.
When a surrogate for the candidate says that his opponent should be put before a firing squad.
When the candidate talks about punching out someone who disagrees with him and putting him on a stretcher – at a rally, out loud, to the cheers of his audience.
When that candidate routinely floats conspiracy theories by saying, "A lot of people are saying…" "I'm hearing.." "I'm just saying…" It's dangerous. It's wrong. And it takes me back to the worst of high school gossip. And it echoes his deplorable 'birther' conspiracies in 2008.
When a candidate for the highest office in the land shows no knowledge of foreign policy, of the Constitution, of the system of checks and balances. When he clearly has no idea that he can't be King or Demagogue-in-Chief.
Listen. If someone supports this man, I have to assume that that person supports the crap spewing out of his mouth. Don't say 'Oh, he doesn't really mean it." He does. Don't say "I don't agree with everything he says, but…" because this is not  a normal election where one can disagree with certain policies floated by a candidate because the candidate is basically decent and good and honors the country and the office of President. This is not that kind of election.
Those who support him support xenophobia, bigotry, torture, bullying, discrimination, name-calling, misogyny, the inciting of violence, the reckless use of words, the kind of bully pulpit that Hitler used to come to power. A vote for him is a vote for all of that.
That vote will say a great deal about who that person is.
And who that person is is not someone I want to know. I don't hang around people like that. I can't respect them. It's as simple as that.
There, I've said it. Finally. I can't and won't be friends with someone who thinks that way because it's everything I was taught not to do, everything I was taught was wrong, everything I know in my heart is evil.
I can hope and pray that hearts and minds will change. I can and will do that.
But that will be from a distance.
I have never quoted from the Bible on this blog, but I will today. One of my favorite verses:
For God hath not given us a spirit of fear, but of power, and of love, and of a sound mind.

II Timothy 1:7
Those who manipulate our fears to gain power are demagogues. They are dangerous despots who use those fears and those people, never truly caring about them – only caring about power. Coming from fear never works in the end. Coming from love and common decency and hope does. Fear has no substance. Love does.
As always, if you don't like this sort of post, move on. This blog comes from my heart, each and every day of the week, 365 days a year. And my heart tells me I have to speak out. I'm not going to shut up.
Happy Wednesday.