• Thanks so much for all the wonderful comments you left on yesterday's post. As Don said that very first time he walked in the house, "It's a happy place." So many of the houses we saw had baggage of some sort, you could feel it when you walked in. This one didn't. Many years later, a cable repairman walked in the door, stopped, and said: "This is a happy home. I can feel it. I'm in a lot of houses and I see a lot, but this  is a happy place."
That's all we want.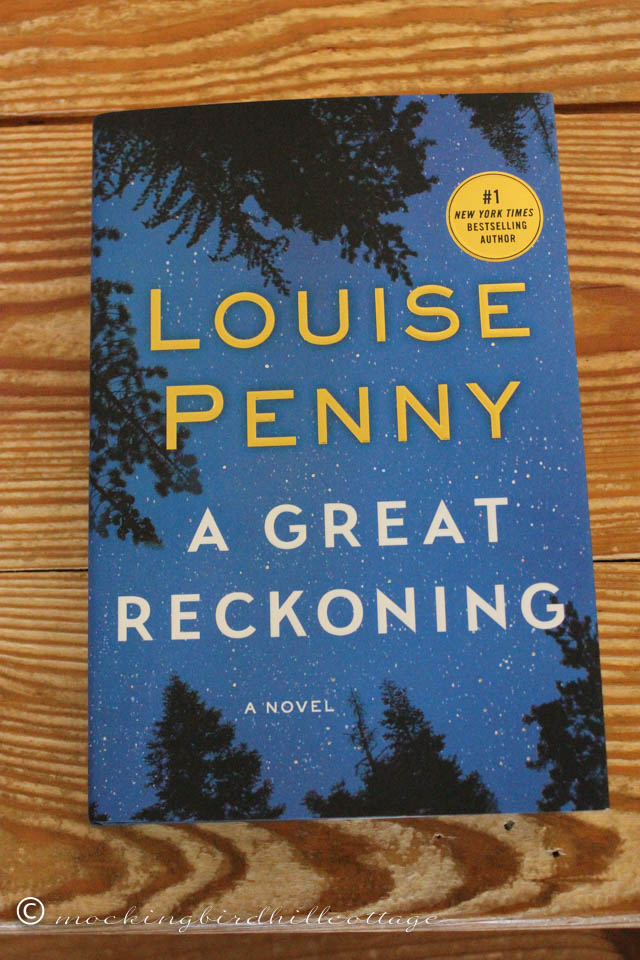 • Oh, yes. It was top priority yesterday. I was on my way to the bookstore in the morning. There it was, on display right near the front of the store. I looked through the copies, making sure to find one that was in pristine condition – after all, this one is special! – and then I grabbed it.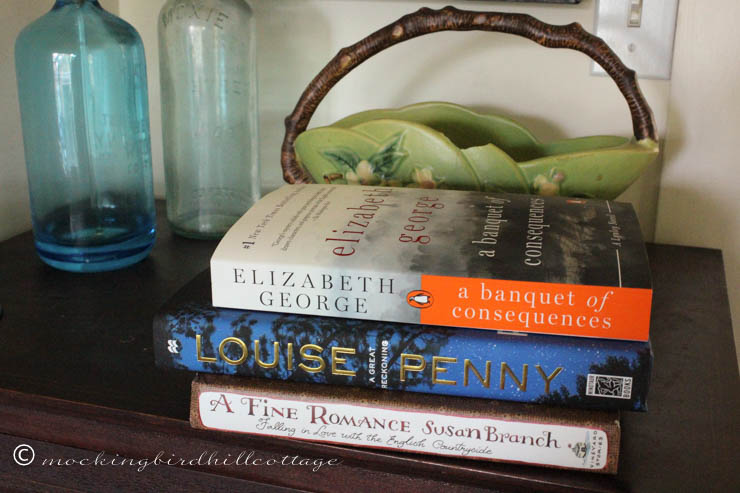 I also grabbed Elizabeth George's newest, just out in paperback. I'm behind on Ms. George's books, though I love them. They tend to be very long and I often find myself ready to grab one from my shelves, only to realize that I have too many review commitments to fit in first. Nevertheless, I keep accumulating them for my TBR pile.
The Susan Branch came in the mail yesterday – from Amazon. I've been meaning to read it since it first came out, but I never got around to buying a copy. Since this one is about her trip to England and her explorations of the English countryside, I think it's the perfect time to read it. We're planning a trip to England and Paris next year and, though I've been to England three times, there are so many wonderful places yet to explore. And Don has never been there.
I started it yesterday afternoon and I'm about 2/3 of the way through it. It reads just like her blog: chatty, friendly, charming, and informative, with beautiful illustrations throughout.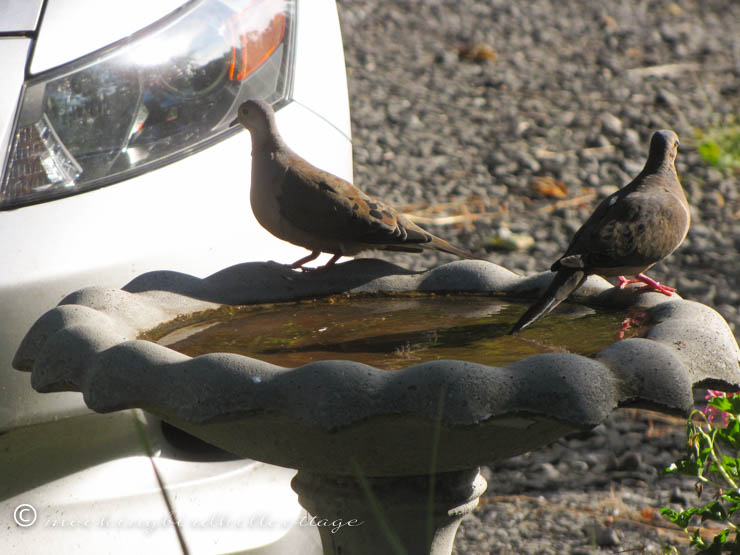 • Spotted late in the day at the birdbath – this lovely pair of mourning doves.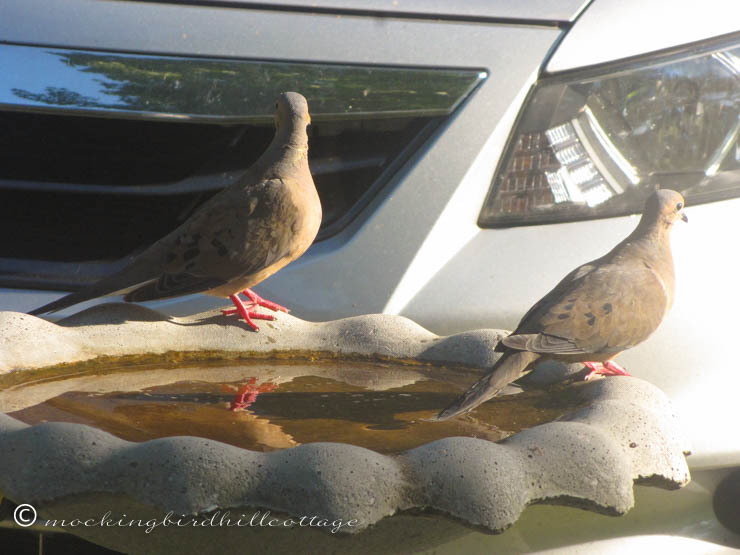 This would be a prettier picture if my car wasn't in the shot.
I saw Henry the other morning. I've seen an older bunny dining on the grass. And when I was mowing on Monday, the mower scared off a very tiny baby bunny. Twice. He was adorable.
• The great Gene Wilder will be missed. He was brilliant, wasn't he?  In 2001, when we first moved out East, Don discovered that Wilder was performing onstage at the Westport Country Playhouse (in CT) and managed to get tickets for a performance. Wilder started out as a stage actor, but after his success on film, was rarely seen onstage. So we knew this was an incredible opportunity. We got to see him onstage in a series of one-acts. He was absolutely wonderful, as you would expect.
I wrote a little thing on Facebook because I kept reading posts saying that he would be 'reunited with Gilda.' Certainly, her death was tragic and she was much too young, but these statements ignore the fact that he leaves behind his widow, Karen. They were married for 25 years and she was with him through his bout with cancer and the Alzheimer's disease that took him from us. Wilder's marriage to Gilda Radner was brief and somewhat troubled, as he writes in his autobiography. They didn't get along well, though they loved each other. I just kept thinking that if I were his widow, I wouldn't want to constantly be reading, "He's now reunited with Gilda."
• Speaking of my car, I spent at least three minutes yesterday trying to unlock it via the button on my key fob. I was in a parking lot. Frustrated, I kept hitting the button, but it wouldn't unlock. I finally looked up and saw that this particular silver car wasn't my car. My car was three spaces down. While this was going on, a woman emerged from her car just to my left. She kept looking at me. She must have thought "The poor thing is senile! She shouldn't be driving."
Oy.
Happy Wednesday.