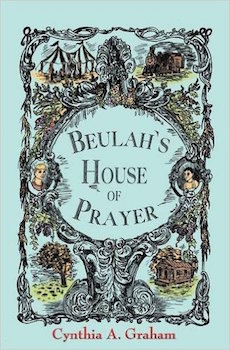 Today I am reviewing Beulah's House of Prayer by Cynthia A. Graham for TLC Book Tours. As always, I am provided with a copy of the book in exchange for my honest review.
About the book (from the publisher): In 1934, the tiny town of Barmy, Oklahoma is in need of a miracle. The cows are hungry, the rain won't fall, most of Main Street is boarded up. Young aspiring trapeze artist Sugar Watson is dumped unceremoniously into this bleak setting with little money and only one thing on her mind – escape. Beulah Clinton, a Holy Ghost preacher, has dedicated herself to helping the distressed in this ragged little wasteland, and Sugar soon finds herself thrown in with Marigold Lawford, the simple-minded widow of the richest man in town, and Homer Guppy, a boy trouble follows like dust after a wind.
Despite Sugar's immediate distaste for Barmy, Beulah's patience, Marigold's kindness, and Homer's unconditional love make her reconsider the meaning of home.
On Black Sunday, the worst dust storm in history brings with it a choice: Sugar must decide whether or not to return home, leaving the hospitality – and love – of Barmy's inhabitants. A stunning Depression-era literary novel with of touch of magical realism, Beulah's House of Prayer  captivates to the very end.
My review: I first became acquainted with the writing of Cynthia A. Graham when I read and reviewed Beneath Still Waters earlier this year. I was enchanted by her ability to create a rich world within a small town and its environs, every detail realized – so much so that I felt I was there. When the opportunity to review her newest novel arrived in my inbox, I jumped at the chance.
This novel does not disappoint; in fact, it confirms what I felt after reading Beneath Still Waters, Cynthia A. Graham is an excellent writer. Not only that, she understands human nature and writes with compassion and humor and great warmth.
In this Depression-era story, Barmy, a tiny town in the Oklahoma panhandle, becomes a character in itself; richly drawn, poorer than poor, dusty, destitute, yet full of interesting and wonderfully complex characters. Sugar, who ends up in Barmy after the sudden death of her father while traveling across the country, and Marigold, suddenly widowed, with no money to her name, are welcomed into the spare lodgings provided by Beulah, a preacher, who has also just found Barmy. Beulah, wise to the ways of the heart and an expert on human nature, reaches out to those in need, feeding them, counseling them, providing them shelter. Homer, who lives next door, is continually beaten by his alcoholic father. None of them – not Sugar, not Homer, not Marigold – know what it means to feel truly loved.
Each of the characters in this wonderful novel is beautifully written and Graham takes us along to watch their individual struggles as they make their way toward a sort of salvation.
Can these people who have been thrust together in a time of desperation and suffering somehow find hope? Will there be something better on the horizon?
I loved this novel. And yes, as the description says, there is a wonderful touch of magical realism within the pages. I finished it yesterday and I still can't get it out of mind. The town of Barmy, the dust bowl, and all the characters are still alive for me. That says something, doesn't it?
I recommend it very highly.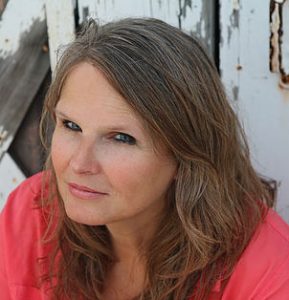 About the author: Cynthia A. Graham is the winner of several writing awards, including a Gold IPPY and a Midwest Book Award for Beneath Still Waters, and her short stories have appeared in both university and national literary publications. She attained a B.A. in English from the Pierre Laclede Honors College at the University of Missouri in St. Louis. Cynthia is a member of the Historical Novel Society, the St. Louis Writers' Guild, the Missouri Writers' Guild, and Sisters in Crime. She is the author of two works of historical mystery: Beneath Still Waters  and Behind Every Door. Beulah's House of Prayer  is her first foray into the land of magical realism.
Good news! One of you will be the lucky winner of a copy of Beulah's House of Prayer. Just leave a comment on this post and I will draw the winner's name on Wednesday evening. Good luck!
Happy Monday.