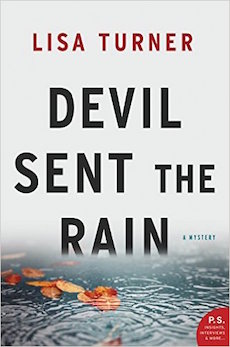 Today I am reviewing Devil Sent the Rain by Lisa Turner for TLC Book Tours. As always, I am provided with a copy of the book in exchange for my honest review.
About the book (from the publisher): Fresh from solving Memphis' most sensational murder case, Homicide detective Billy Able and his ambitious new partner Frankie Malone are called to a bizarre crime scene on the outskirts of town. A high society attorney has been murdered while dressed in a wedding gown. Billy is shocked to discover that he has a very personal connection to the victim. When the attorney's death exposes illegal practices at her family's prestigious law firm, the scandal is enough to rock the southern city's social world.
In a tale of the remnants of Old South aristocracy and entitlement, twisted by greed and vengeance, Billy must confront the secrets of his own past to have any chance at solving the murder of the girl he once knew. But, as he seeks the truth, he's drawn closer to an embittered killer bent on revenge – and eliminating the threat Billy poses.
My review: Gosh, I liked this novel! I was unfamiliar with Lisa Turner's work before I read Devil Sent the Rain. I'm now a fan. As there are two other books in this series of Memphis police procedurals, I will be making up for lost time.
Turner clearly understands and knows the South. Her descriptions of Memphis are evocative and paint a picture of life in that city, as well as life in other, more rural, areas of the South. Also ringing true is the portrait she paints of Southern 'aristocracy,' and the members of that tribe who cling onto a way of life that is fast dying.
Billy Able is a fascinating character – one with a past that is very much a part of this present-day mystery. I really want to read the other two books in the series to follow his journey prior to Devil Sent the Rain. All of the characters are written in great detail, with sharp and telling portraits of the key players. The plot is complicated and compelling. As with all good mysteries, I couldn't put it down as the story catapulted itself toward the denouement.
This is an excellent police procedural/mystery rooted in the deep south, with the past at war with present. From that starting point, everything spins out of control. I recommend it highly.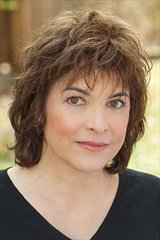 About the author: Born in Memphis, Lisa Turner is a southern mystery author who could the roots of Southern identity around her characters, then pushes them to the edge. She travels between her ancestral home in the Deep South and her writing haven on the wildly beautiful coast of Nova Scotia.
Published by Harper Collins.
Good news! One of you will win a copy of Devil Sent the Rain. Just leave a comment on this post and I will choose a winner on Sunday evening.
And stop by Just Let Me Finish This Page today, where I will be asking my favorite question: What are you reading?
Happy Friday.