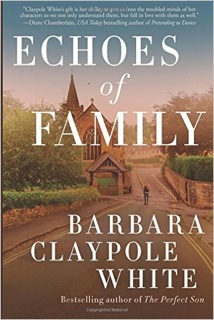 Today I am reviewing Echoes of Family by Barbara Claypole White for TLC Book Tours. As always, I am provided with a copy of the book in exchange for my honest review.
About the book (from the publisher): Marianne Stokes fled England at seventeen, spiraling into the manic depression that would become her shadow. She left behind secrets, memories, and tragedy: one teen dead, and her first love, Gabriel, badly injured. Three decades later, she's finally found peace in the North Carolina recording studio she runs with her husband, Darius, and her almost-daughter, Jade…until another fatality propels her back across the ocean to confront the long-buried past.
In her picturesque childhood village, the first person she meets is the last person she wants to see again: Gabriel. Now the village vicar, he takes her in without question, and ripples of what if  reverberate through their hearts. As Marianne's mind unravels, Jade and Darius track her down. Tempers clash when everyone tries to help, but only by finding the courage to face her illness can Marianne heal herself and her offbeat family.
My review: I asked to review this book because I reviewed a previous book written by the author, The Unfinished Garden, and enjoyed it very much. Claypole White writes about family relationships, as well as the effects of mental illness on those relationships.
In this novel, Claypole White once again creates a quirky cast of characters, who move back and forth between America and England. In Marianne, we meet someone who has been troubled by manic depression for many years. The accident which touches off her most recent episode sends her back to her birthplace in hopes of finding some sort of healing.
Claypole White writes about mental illness beautifully. She captures, in this case, the manic episodes, the despair, the depression, the fear that Marianne is feeling during the course of the story. She writes about it unsparingly, but with compassion. She also explores the effects of Marianne's illness on her family and friends; their coping mechanisms, their protective instincts, as well as their anger. Because, of course, we're all human, and we love and support and also lose patience.
It's a compelling story. I had a couple of problems with it, however. I never felt totally connected to the characters. They seemed a bit contrived; therefore, they often didn't ring true for me. Marianne rang the truest, perhaps because she was written in such powerful detail.
I also think the novel could have used some judicious editing. I often lost patience with long stretches of dialogue that could have been captured more succinctly and effectively.
Nevertheless, Claypole White tells a good story and the scenes that deal with Marianne's manic depression and its exhausting effects on her and those surrounding her are very powerful. Above all, it's a story about family and relationships and love and the ways in which those relationships are tested and, hopefully, survive.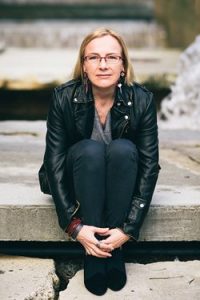 About the author: A Brit living in North Carolina, Barbara Claypole White writes hopeful family drama with a healthy dose of mental illness. Her debut novel, The Unfinished Garden, won the 2013 Golden Quill Contest for Best First Book, and The In-Between Hour  was chose by the Southern Independent Booksellers Alliance as a Winter 2014 Okra Pick. Her third novel, The Perfect Son, was a semifinalist in the 2015 Goodreads Choice Award for Best Fiction.
Good news! One of you will win a copy of Echoes of Family. Just leave a comment on this post and I will choose a winner on Wednesday evening. Good luck!
Happy Monday.