When I hear the "You get an extra hour!" kind of comment as the time change takes place, my response is usually to grumble, "I'll wake up when I usually wake up and it will be an hour earlier than I'd like it to be."
But lo and behold, this morning both Don and I slept in, so the clock on the cable box (we never change the others until later in the day) was indicating a time that corresponded to our normal wake-up hour. That almost never happens. We were absurdly happy about that.
The boxes of books destined for our local library were delivered yesterday. It's always a good feeling to donate books. Libraries are struggling and our particular library sells many of these books on a daily basis and, once a year, has a big book sale that provides much needed cash to keep it afloat. I never take a tax deduction, even when asked, as I was yesterday, if I want the paperwork for one. It's a donation from my heart and taking a deduction just doesn't gel with that for me. Free and clear, free and clear.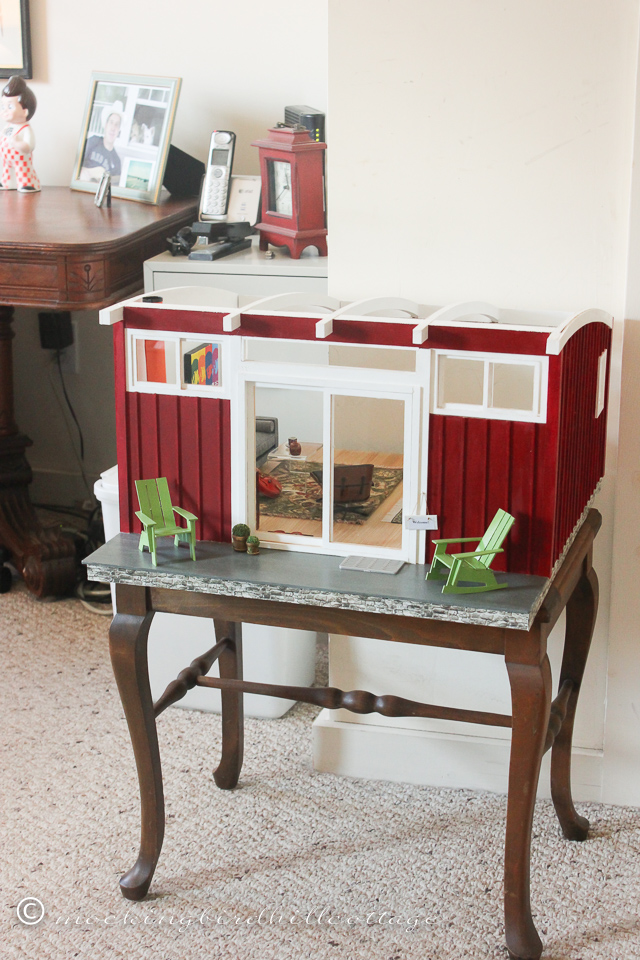 Don's Studio on its 'new' display table. In reality, it's a dressing table bench from the 20s-30s. I had been thinking we would get a taller table, but Don spotted this one and it made so much more sense in this space. He has such a good eye. I really like it.
Miniatures/Dollhouses are wonderful, but in our cottage there's only so much space in which to display them. This works. Huzzah!
Now Don's desk has some actual working space, should he decide to use it.
Next up: the dreaded craft closet in the office/studio/whateveryouwanttocallit. I need to be ruthless. Ruthless, I say! I want to get rid of all the stuff we no longer need and store the things I might need in our storage space. Hopefully, that will give us (well, really, me) more useful space to store essentials. I have yarn, tons of fat quarters that I almost never use, craft stuff that I no longer need, blah, blah, bah. Donations will go to our local Salvation Army.
The bookshelves on the left side of the sofa, post-book-purging. That open space on the second shelf from the top is where I keep my big girl camera, which I was using, of course, to take this picture. The red horse bit on top of the coffee-table-sized books on the bottom shelf was my grandfather's. He collected horse bits from all over the world. They were always on display in his basement. Eventually, he donated them to a local museum. But somehow – I can't remember the story now – they ended up back with my brother. They were sold after my brother died, but I grabbed this one for me because it had always been my favorite as a little girl. It was red and I loved red.
His collecting days were pre-eBay and he had a prolific correspondence going on with various people throughout the globe. I wish I had those letters!
I've been searching for a good place to display it and I think I've finally found it.
I miss my grandfather – Russ, aka Slim – the Canadian cowboy. He was a fascinating man and I really loved him.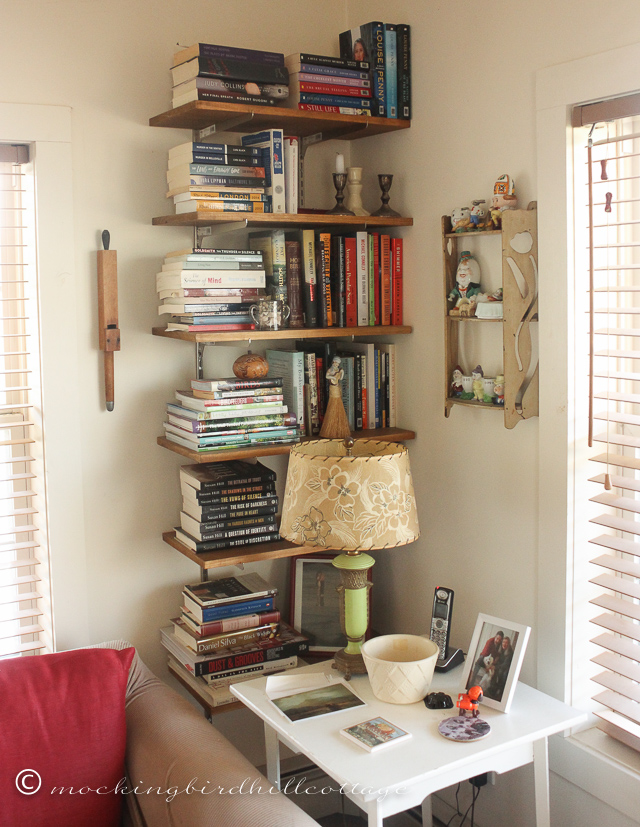 The shelves on the right.
Gosh, building these shelves (was it last year or the year before?) was the best idea! I can't tell you what it difference it makes in the den. Books add warmth and personality to a room. Sure, I like displaying bits of pottery and a few tchotchkes, but the reality is just books and only books would be decoration enough for me.
• VOTE. We don't have early voting in this state (I wish we did!) so we will be voting on Tuesday. Please don't abstain from voting. Every man/woman gets a vote; this is the great gift of our democracy. Elections aren't rigged, though to hear some people describe them, you'd think we lived in a Banana Republic. There are efforts out there to keep certain citizens from voting, whether it is purging the voter rolls, disenfranchising whole groups of people, using social media to say you can text your vote in (you can't), posting signs that say the voting location is some place other than where it actually is, the list goes on and on. We have to fight that misinformation. We have to vote.
It is your civic duty. It is a right that our forebears fought for. And until quite recently, it was right that was denied to African-Americans and women.
VOTE.
Happy Sunday.