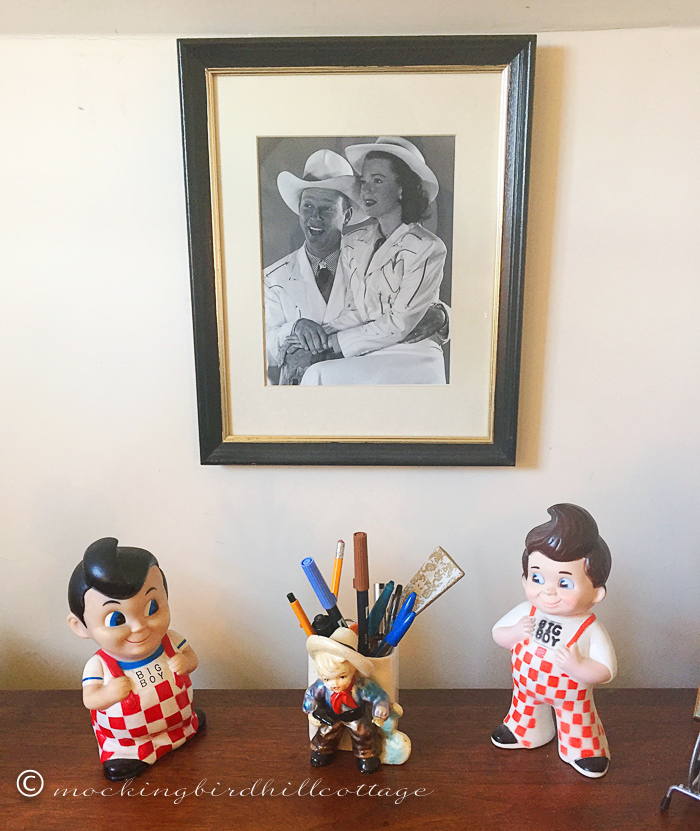 • One more Big Boy arrived last week. It's the one on the left. And another is arriving this week. Don is collecting them because he loves them and because they remind him of something very, very important that happened in his life, right outside the entrance to a Bob's Big Boy out in California. A pivotal moment for him and one to celebrate.
I have to say that these little guys make me smile.
The vintage cowboy in the center is also a recent find. Don saw it at an antique shop and he fell in love with it. It's now a pen/pencil holder.
And you've seen Roy and Dale before.
We have a curious combination of a modern-day restaurant chain and the Old West.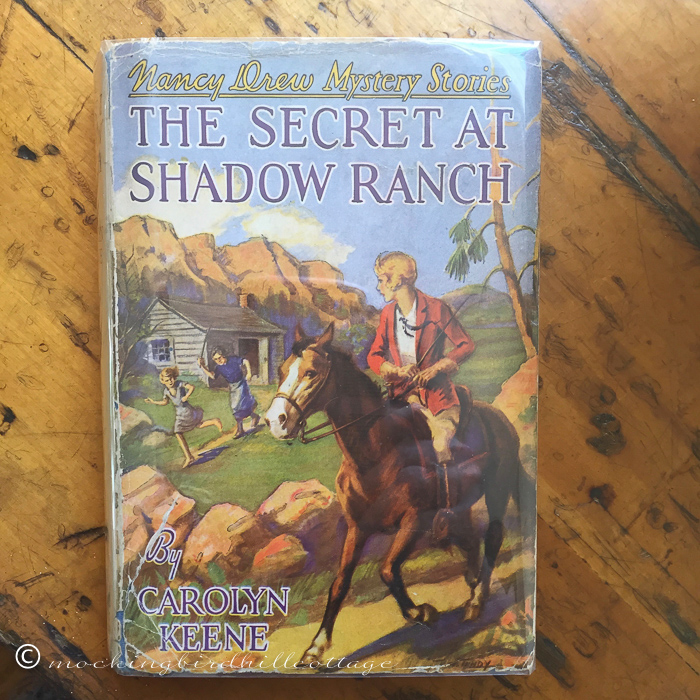 • Uh oh! This arrived in the mail yesterday. This is #5 in the series: The Secret at Shadow Ranch. The dust cover is quite worn but there's a clear cover over it which should protect it from further damage. Another period illustration by Russell H. Tandy.
Some of the books I receive come with a young girl's name hand written inside the cover. I love that. I can just see that girl writing her name, claiming the book as her own. I promise to take good care of the books. I do.
I drew the names of the winners of a vintage Nancy Drew mystery this morning. The first winner, who gets my extra copy of The Mystery at the Moss-Covered Mansion  is Debbie Price! The runner-up, who will received a package from Barbara containing The Mystery of the Brass Bound Trunk,  is Julie Shaw. Barbara, good news! Julie lives in Canada, so sending the book won't involve Customs!
I will send emails to both of you today because I need your mailing addresses.
• It's a very rainy day here. "We need it, we need it," I tell myself when I start to find the rain annoying. I just finished the new Michael Connelly –  The Wrong Side of Goodbye. I have come to expect excellence from Connelly and I wasn't disappointed. I recommend every book he has ever written. Truly.
I'm headed to the bookstore today to nab a copy of Flea Market Style, which is being published again and comes out today. I'm also going to get the new Lee Child, which came out last week.
• I will be changing the font for anything that might be termed 'political' but that is, to me, about human rights. So fair warning: if you simply don't want to read about that on any given day, just scroll past it. Okay?
• A note about what is happening out there. Hate crimes are increasing. I told you the other day that a close friend of mine, a well-known man who I work with frequently, has an immediate family member who was just subjected to a hate crime and a threat, as well.
Yesterday, I heard from a former student who is a well-known actress (I won't divulge her name). She has been subjected to attacks on Twitter, accusing her of trying to pass herself off as 'white' when she is Jewish. (She is Jewish and proudly so.) They've said "Nice try, Jew." They've called her "Kike."
And a man who is an avowed white supremacist, is anti-semitic, and who peddles conspiracy theories has been appointed to a staff position in the White House. 
Message received. 
But not tolerated. Not one bit.
Rest in Peace to the respected and excellent journalist, Gwen Ifill. We watched her every night on the PBS News Hour. She was what a good journalist should be in this land of pundit-filled cable news. She will be sorely missed.
Happy Tuesday.