I slept in this morning – thankfully – after being jolted awake during the night by the sound of snowplows on the street below my apartment. Gosh, they're loud! I guess it snowed a bit last night, though when I look out the window, the amount of snow seems minimal.
Tell me this isn't crazy – the temperature here tomorrow will reach 50° and Thursday? 55°. What the heck? I read about that gorgeous redwood with the tunnel toppling in the storms out in California. Oh, how sad. Such history and beauty – gone in a second.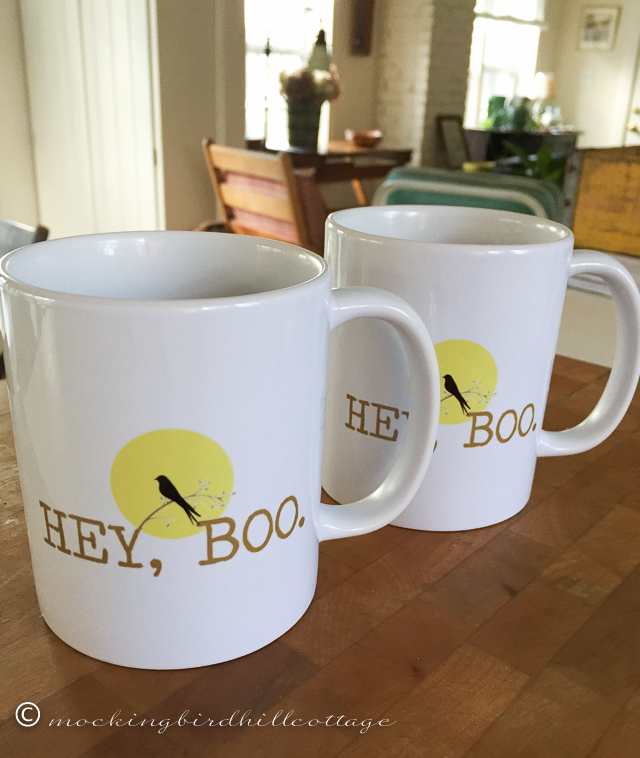 These came in the mail from our friends Lynne and Sean, who live in Toronto. I don't know where she finds them, but Lynnie always finds unique treasures. And could these be any more perfect for Mockingbird Hill Cottage? I'm thrilled with them! In fact, I had some hot chocolate in one of them on Sunday.
And they capture one of the most beautiful moments in that book. "Hey, Boo." That particular line of dialogue brings tears to my eyes every time. Thank you, Lynne and Sean. We love you.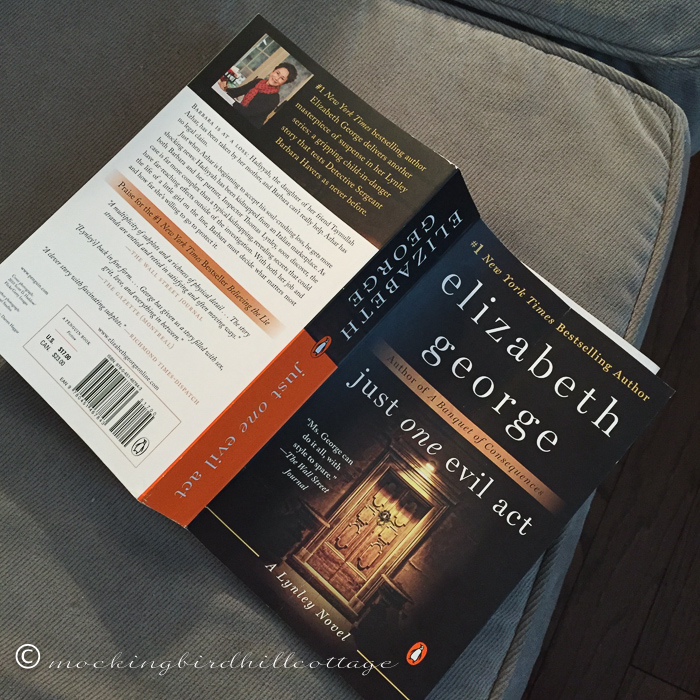 I've started another Elizabeth George – one I purchased before I came to Hartford in December. Just in case. You understand. I always have this particular conversation going on in my head:
"I'm enjoying this book by this author. But what if I finish it and I love it and I don't have any other novels on hand by this author? If I'm in the mood for more, I won't want to start a book by another  author…hmmmm…I'd better buy this book also written by the author. Just in case."
This particular Elizabeth George happens to be the book that follows Believing the Lie, so I clearly lucked into picking the right one.
Today, I'll wander over to the theater, where the initial tech rehearsal continues. Tech started on Sunday – it's a slow process – and will go on through today. And maybe part of tomorrow. By tomorrow night, we should be able to have a run-through of the show. And Thursday night is the first Preview for audiences. See how quickly it goes? Once we start Previews, I'll be sitting in the house every night, taking notes on what I can hear and not hear, what needs to be articulated more clearly, and any other Voice & Text issues that arise. Previews will go on through a week from Thursday and then we will open on Friday, January 20th (boy am I glad I have something joyous and happy to watch that  day, otherwise I might be slitting my wrists!) and I will return to the cottage the next day.
Today, I'll check in and see how the show looks with the set, costumes, lighting and sound.
Happy Tuesday.