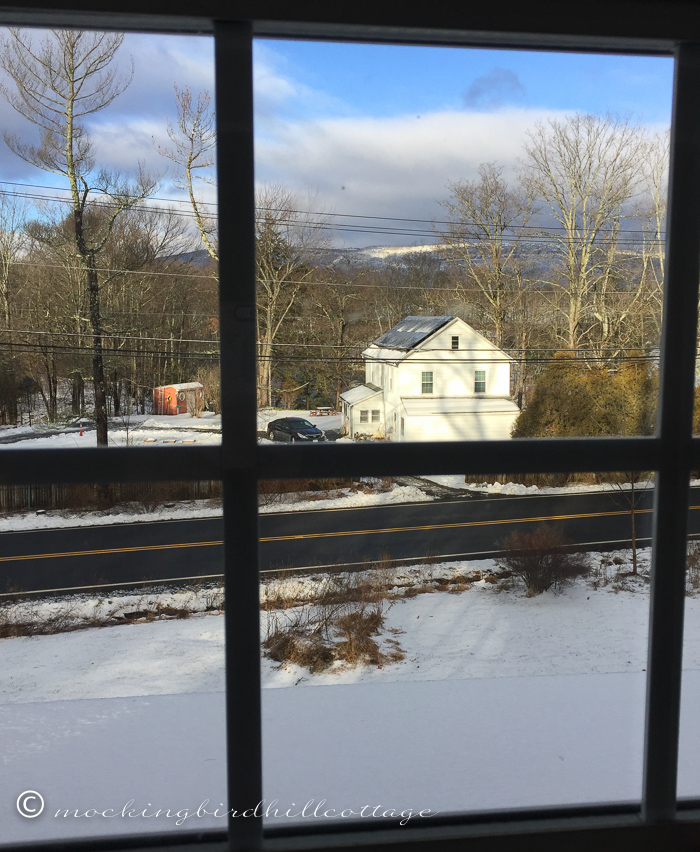 Yesterday's view of the mountains from my studio/office window.
Today? Very cloudy as of 8:30 a.m. I'm looking at that same view as I write this and I notice the rivers are back up to normal levels. They were alarming low for much of the summer and autumn, so this is good news.
Oh, Mary Tyler Moore. I was so saddened to hear of her death. Don and I, as you know, have been watching old episodes of The Dick Van Dyke Show, and Tuesday night Don said "I hope Mary Tyler Moore is doing okay," with a slightly worried tone to his voice. And then, the next day, this sad news.
She meant so much to me. I spent many Saturday evenings at my friend Jackie's house watching The Mary Tyler Moore Show. I loved that groundbreaking comedy about a single woman working in a newsroom. Surrounded by all sorts of interesting characters, Mary was a beacon of sanity and humor and embodied what I wanted to be: a single girl who had a full life working and dating and living  – and who wasn't bound by the assumption that one had to be married in order to have achieved something in life. And I did just that for many years. I tip my hat to Mary, with a grateful thank you.
How many of us wanted that apartment in the big house owned by Phyllis? It was charming. Beadboard, a lovely window on a raised level, a tiny and adorable kitchen, shag carpeting, a beamed cathedral ceiling. It was what every woman dreamed of – at least, everyone I knew at the time!
And on a side note, when I was a camp counselor during my college years, my friend Bev nicknamed me Rhoda because I reminded her of Rhoda as portrayed by Valerie Harper. For years and years, she called me Rhoda. I was honored.
Mary Tyler Moore was a wonderful actress and a marvelous comedienne. She was also an advocate for animals (another thing that I loved about her.) Don worked with her once, on a episode of The Naked Truth, a sitcom starring Tea Leoni. The episode was about a nudist camp! Don was sitting on the set and Mary got up, walked across the room, and introduced herself to him. I know that Don was more than a little in awe of her. She was everything you would expect her to be; gracious, kind, funny, professional, unassuming.
She will be missed. As we watched yet another episode of Dick Van Dyke last night, we kept saying, over and over, "Oh, Mary." Oh, Mary, we love you.
Today, I am tuning out the world and simply remembering Mary Tyler Moore.
Tomorrow: a guest post from Don.
Happy Thursday.