Late in the evening, the weather forecast changed to a blizzard warning. Needless to say, that wasn't welcome news.
When I got up around 7 a.m. this morning, I'd say there was already more than 6 inches of snow on the ground and, by now, there's at least 8. It's falling heavily and the winds are blowing and I can't see the house across the road.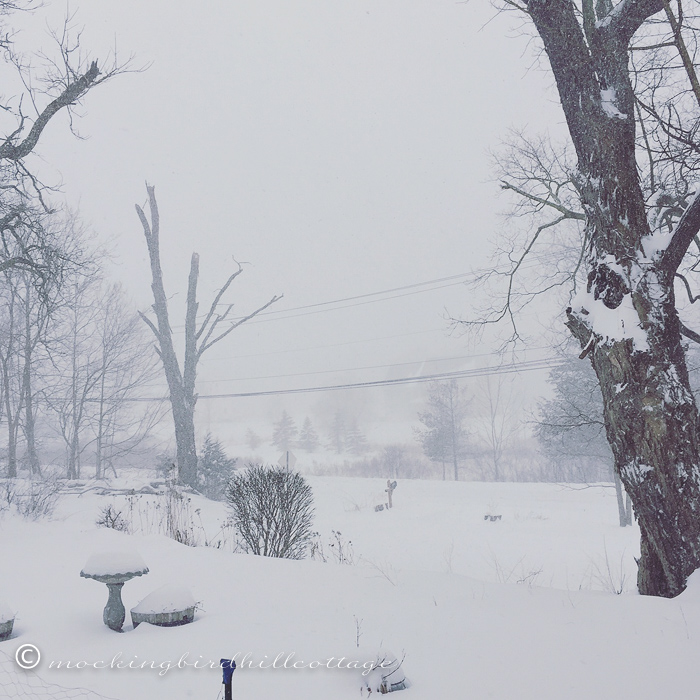 Digging out of this mess is going to take a whole day. A day that, frankly, Don could have used to run errands and prepare for his trip. The whole thing is a pain in the tush.
But, the good – so far: Our oil company came through and heating oil was delivered mid-afternoon yesterday. Since I had turned our heat way down in case we had to make a go of it for the next 48 hours, I was wearing a winter hat and a crocheted throw was enveloping my body as the truck pulled up in the driveway. What a relief to see them!
So far: we have power. That could change but I'm praying that it doesn't.
We're waiting it out. That's all we can do. Millions of people are being impacted by this storm, so I try to see the bigger picture.
My first thought upon waking this morning was that Don was leaving in a few days. For some reason, it's so much harder for me to deal with this time around. I'm not sure why, but it is. We're doing our best to stay positive, but I will admit to crying this morning.
Maybe because everything is in a state of flux; weather, the world, our country? Maybe, too, because this will be the first time I've not had the companionship of a dog when Don is away. I'm missing my girl. And my Riley. And my Winston. A separation was more bearable when I was blessed with their company.
Anyway. We'll get through it. We always do. It's always harder for the person left behind. We know this. We've done it countless times in our 23 years together. Don has had to cope with my absence a few times since Scoutie left us. It's my turn. Only fair.
I'm not sure what I'm going to do today. Read, of course. Maybe a little hand quilting. Eat a piece of the apple pie we bought yesterday in preparation for hunkering down in the cottage. Make biscuits for tonight's dinner. Watch Rachel Maddow (power, please stay on!).
Tomorrow? Snow blowing, shoveling (I can already see the snow drifts forming outside), shoveling some more, snow blowing again. That will be our day. Then we can run errands on Thursday. I want to make sure that Don gets all the help he needs in preparation for his trip.
Okay. Wish us luck!
Happy Tuesday.