On Friday, I was doing something or other near one of the boxwoods and I heard a frantic flapping of wings. I thought that there must have been a bird on the bush, startled by my sudden presence.
Yesterday, I was weeding and, at one point, ended up in the same area. Again, the frantic movement of a bird. Curious, I walked over to the boxwood, looked down, and saw this: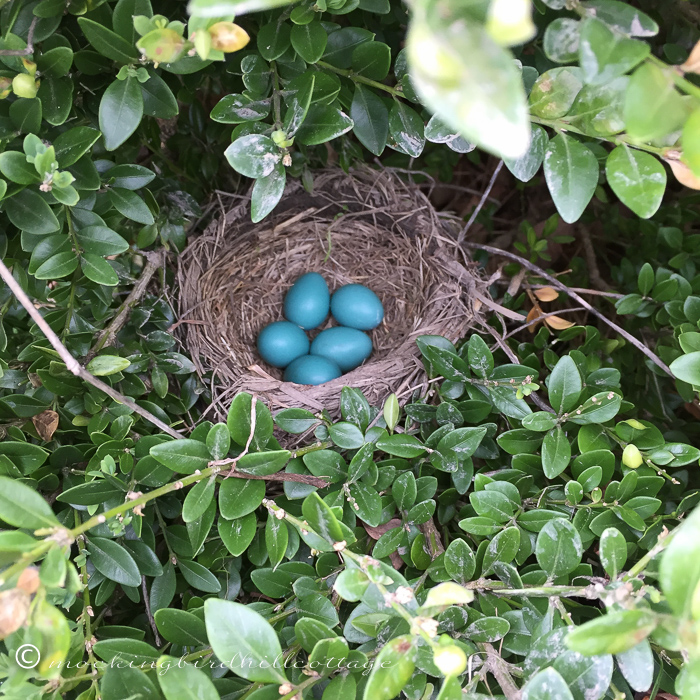 I gasped. Luckily, I had my iPhone in my back pocket, so I quickly took some pictures.
If that isn't one of the most beautiful sights one can see, I don't know what is. A miracle, tucked down inside a boxwood.
I was filled with wonder at this beauty, this perfectly made nest with five blue eggs.
After I tended to some other things, I carefully and quietly walked toward the boxwood (but stayed far away enough that I figured all would be well) and again, Mama flew off. Since I had been planning to mow the front yard, I decided I should get on it right away, starting with the area of grass right in front of the boxwoods that are at the front of the house. I had scared Mama enough and I wanted to mow while she was still watching from the neighboring maple tree so that she could relax for the rest of the day.
Since this is right in front of the porch, I will have to be very careful. Later in the day, I was sitting on the glider, not making a sound, when Mama started screeching at me. Oh boy. I got the message and went inside.
I don't want to get too involved with watching the eggs hatch. I did that years ago while working on a job in Wisconsin (the nest was right outside my door) and I was stressed the whole time. I worry too much.
I also put together one of the Adirondack chairs.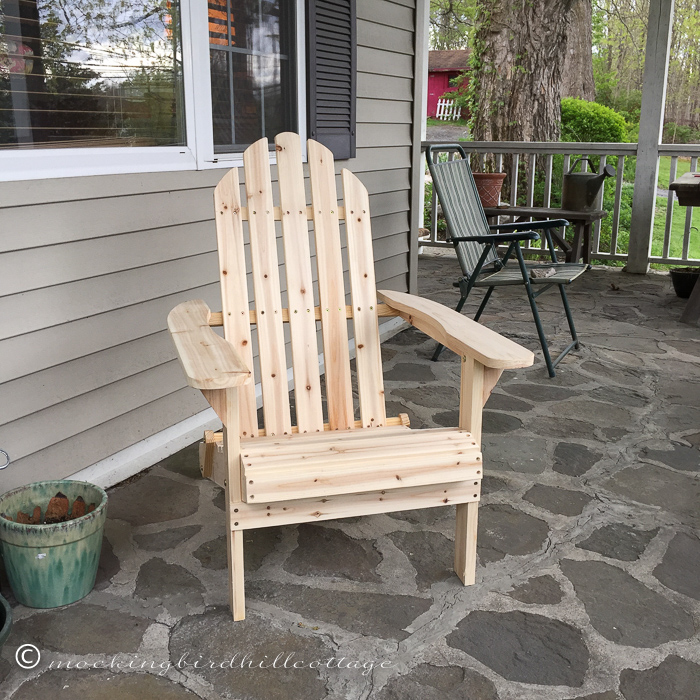 It took me a long time and it wasn't easy. It's really a two person job, and since there's just me, myself, and I, many curse words were uttered. Interestingly this didn't seem to bother the nesting robin (I put it together on the porch). By the time I finished, my hands were sore! Still are.
I imagine the second one will be less problematic.
I'm thinking I'll paint them as the natural wood is very light in color and I don't really want to go the stain route.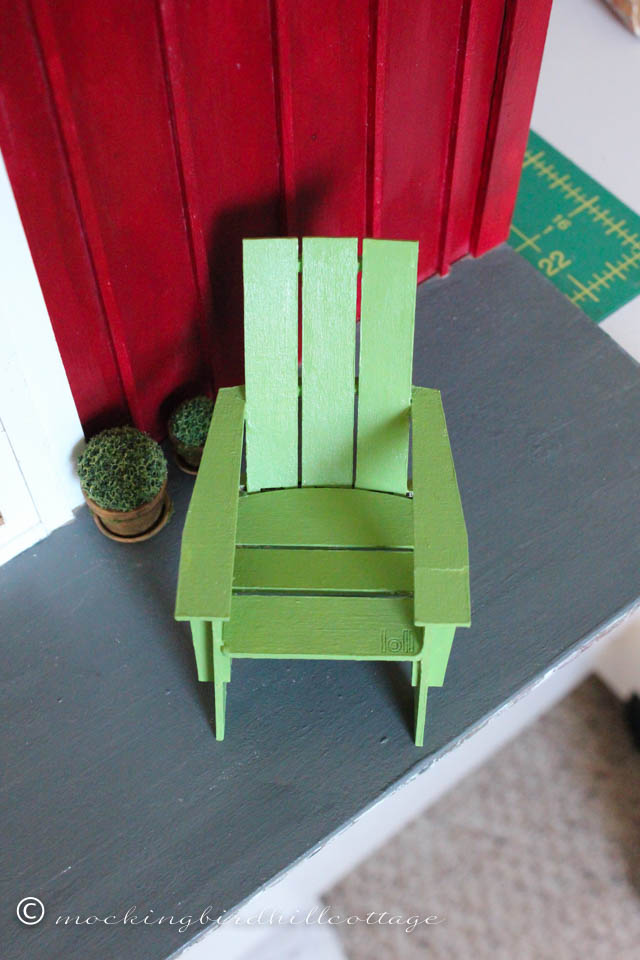 And I'm thinking that this color (used on the mini adirondacks in Don's studio) would be perfect. (Note that there just happen to be mini boxwoods in this photo.)
I asked Don whether we should go with white or this green and he enthusiastically went for the green. There you go.
A splash of color in the midst of all the weathered teak will be perfect.
Today, a trip to the store for some supplies. Tomorrow, I'll buy mulch and potting soil and I'll soak my morning glory seeds and get ready to plant them this week.
Happy Sunday.