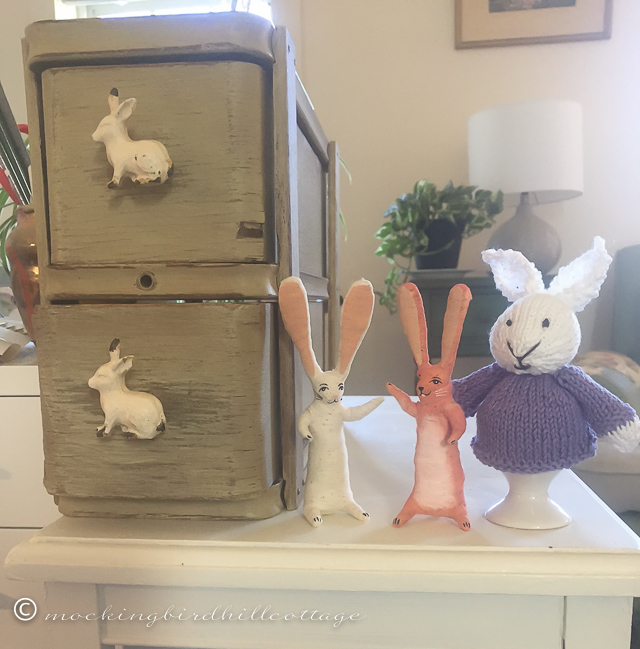 I'm shooting directly into the morning sun – last minute photo. It was so gray and rainy yesterday, not at all conducive to photography. I finished my book, started another, did some laundry, started another bunny egg cozy.
Talked to Don.
Anyway, it occurs to me that my latest creations/purchases have all been bunny-themed – the drawers with their bunny knobs, the spun cotton pair of bunnies, and Barnaby.
Even my sister's Easter card: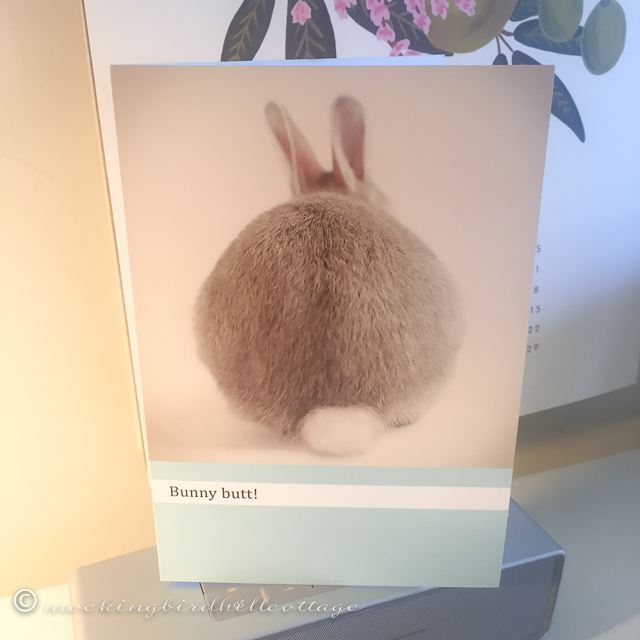 Perfect. I saw at least two bunnies this morning: one was leaping around at the back of the house and the other was near my car, nibbling on the grass. No more Henry sightings, at least as of this morning.
Cleaning is on the docket for today and some work outside. It's finally sunny again! What a difference a sunny day can make.
I took this with my long range lens yesterday. I've seen this bird (actually, a pair of them) only fleetingly and could never get a photo until now. I've cropped it so you can see the identifying marks. Does anyone know what kind of bird this is? The feathers on the back are such a beautiful, rich brown. I looked through my bird book and thought it might be a thrush, but I'm not at all sure of that.
I'll keep looking but if anyone can identify it, I'd be most appreciative!
I have to get going as I'm headed into Manhattan tomorrow. There's been so much rain that the grass is growing by leaps and bounds. Whether I'll tackle some of it today remains in question. If not, I'll take a stab at it on Tuesday when I return home.
Happy Birthday to William Shakespeare (and to my friend Joe!)
Happy Sunday.