After nearly throwing in the towel yesterday, I finished the egg cozy. There was a period where I thought I had done something wrong when I was knitting the head, but I knew I had followed the instructions exactly. I stuffed it with polyfill. Then I'd pull out some of the polyfill. Then I'd try and shape it. It was driving me nuts.
Finally, this morning, I stared at it again and thought: What the heck? See what happens.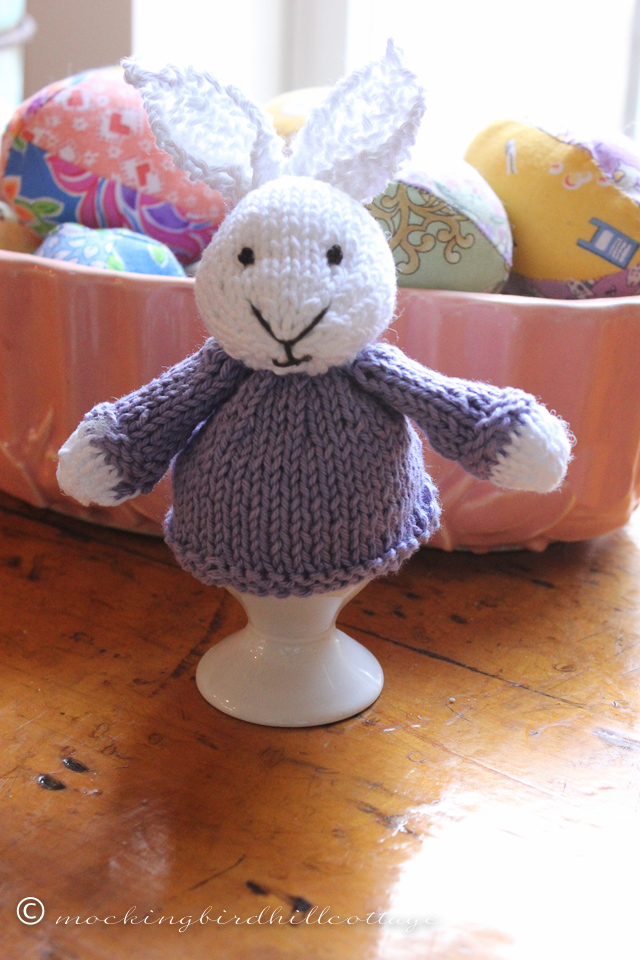 And here we are.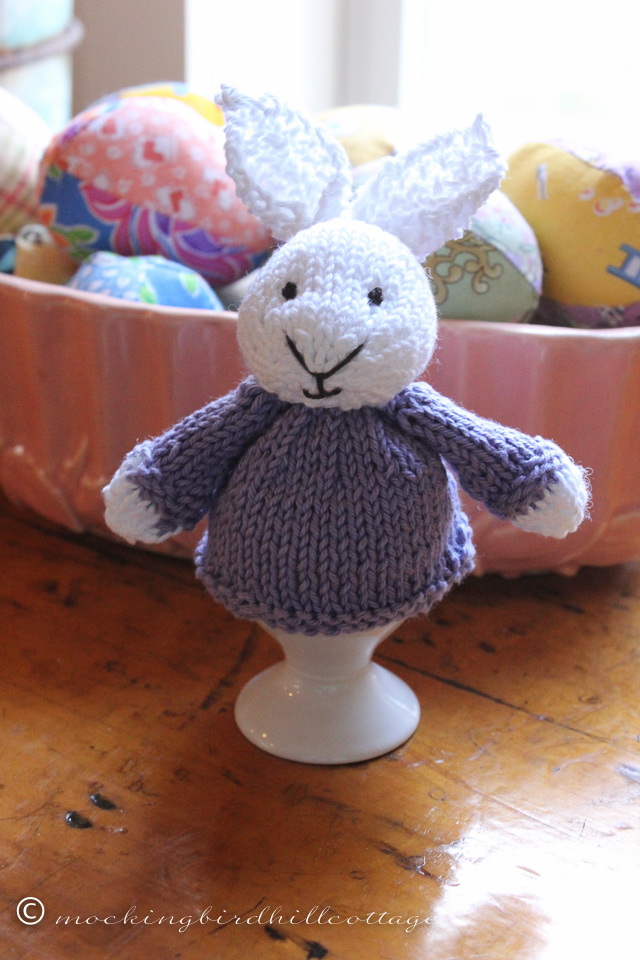 His eyes remind me of Monty the Cow's eyes. Sort of wide-eyed and innocent.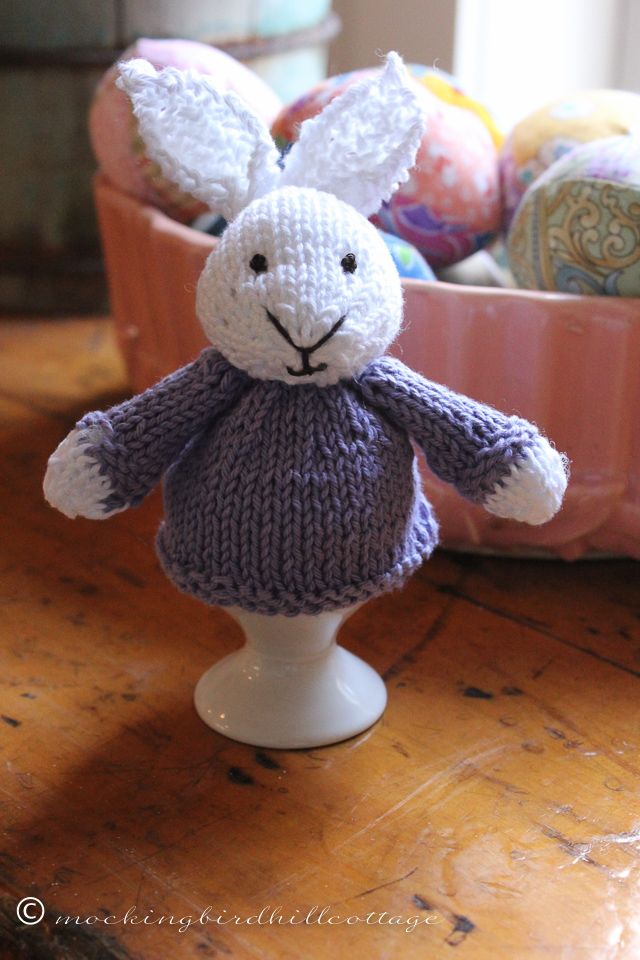 I really have no egg cups that are a solid color, at least none that would fit this cozy, so I turned one of the Prague egg cups around. That works.
The Brits talk about "wadding" – whether it's to stuff a little animal like this or a layer in a quilt. I used polyfill, which proved to be frustrating because it automatically fills the space and doesn't allow for a lot of shaping. I think I would like to try something different next time. British readers: what do you recommend?
As it was, I pulled some of the polyfill out this morning and did my best to shape the head like the one in the pattern. But it's different.
I choose to think of it as 'unique.'
When I finished it, I immediately had the thought: That's that. I've done it. No more.
But upon reflection, the second time would be easier, right? So I may try it again – this time with a striped sweater. Since I had done absolutely no knitting for at least 8 or 9 years, I thought I'd go with a solid color on my first try.
Name? Because you know I have to name everything. Suggestions are welcome. Also, I keep saying 'he' because that's my immediate reaction. But is he a 'he?'
I went shoe shopping yesterday. Don't ask. Very frustrating. I need very comfortable shoes and I need to try them out on site. That eliminates ordering on the internet. I need arch support. One foot is slightly larger than the other. And on and on. I do have some shoes on hand, but I wanted something a bit more elegant. I'll go out again – maybe tomorrow. But if I don't find something tomorrow, I will go with what I have.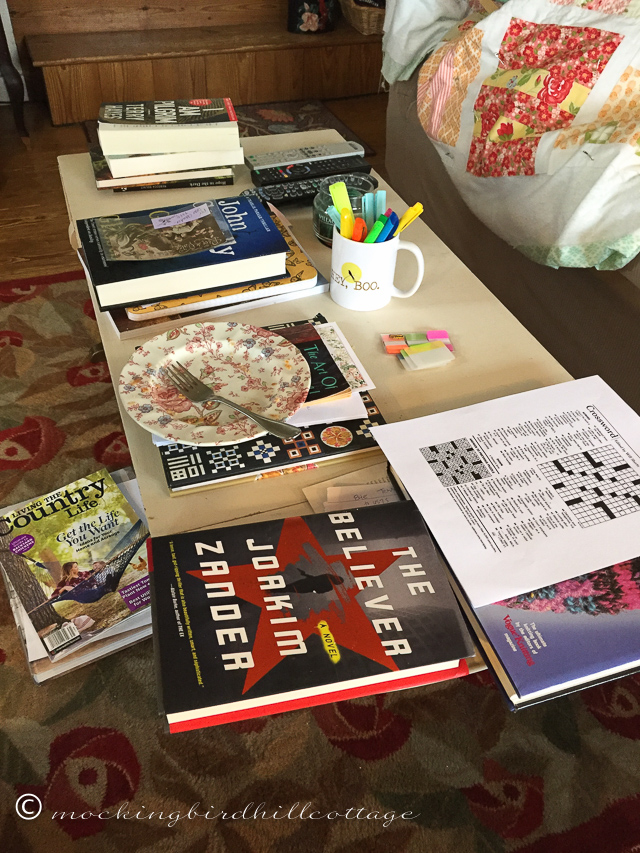 The state of the coffee table. This was taken just after I had finished a piece of apple pie. By the way, the magazine you see – Living the Country Life? Expensive, for one. And after I had read at least two articles that featured country folk who kill their livestock; in these cases, lambs and cows, I tossed it.
No can do.
The photography is beautiful and it's nicely done…but I can't go there.
Today? Maybe a bit more yard work. Maybe a bit more mowing. And recycling, because I didn't do it last week as I had promised.
Toss out any suggestions you have as to a name for the bunny.
Oh, just learned this bit of news: My friend, who is the Artistic Director of a regional theater on the West Coast and is of Asian descent just said that someone called the box office and asked if he was a  U.S. citizen. What have we become?
For the record he was born and raised in West Virginia.
Happy Wednesday.