Anne, a reader of this blog, wrote me to tell me that a shop not far from me had some Nancy Drew books that I might want to check out. She wasn't sure if the books were the ones I collect, but wanted to pass that information on to me. It's just about 15 minutes south of me in a neighboring town and I had no idea it existed.
What a lovely shop! I was amazed. It's not big, but the quality is wonderful. Very interesting displays and lots of wonderful vintage items, many of which I wanted! The Nancy Drews were not the editions I collect, but no matter! I discovered a new-to-me shop, so thank you Anne.
I fell in love with this children's version of a French bistro chair: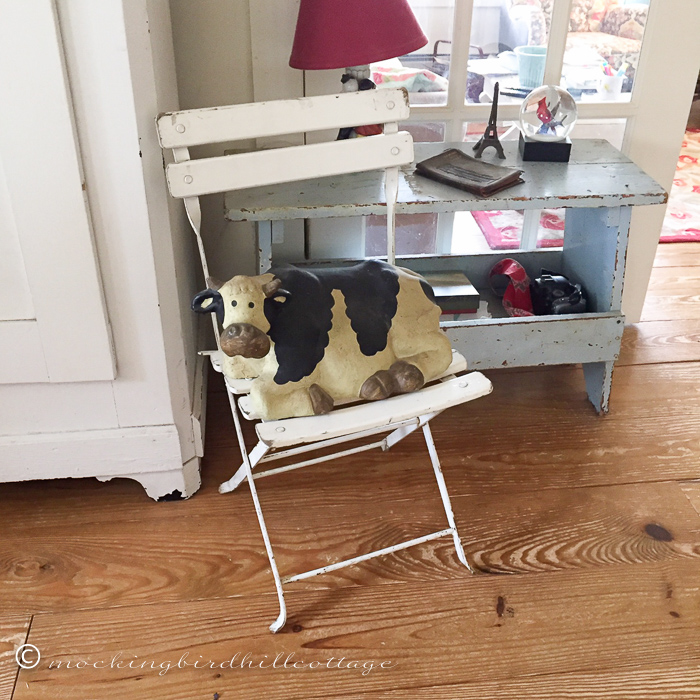 It was so lovely – and reasonably priced – that I couldn't resist. Apparently, neither could Monty! He promptly climbed up and settled in. That look on his face says it all: "Are you going to make me get down, Mom? You wouldn't do that."
No, I wouldn't, darling boy.
After the little jaunt in my car, I came home to the massive chore that is mowing. I didn't tackle the back forty, or the lilac side of the lawn, but I did do the main part of the front yard, as well as the corral. And frankly, I was pooped afterward.
But it's done and it won't be so out of control after the rain that is in the forecast for today and tomorrow. I woke up to it and it's fairly constant. I have yet to go out and rescue the New York Times, probably because I don't want to read the headline. Crowing and celebrating over taking away health insurance for millions doesn't sit right with yours truly. And that's all I'll say about that today. I'm doing my best to remain calm.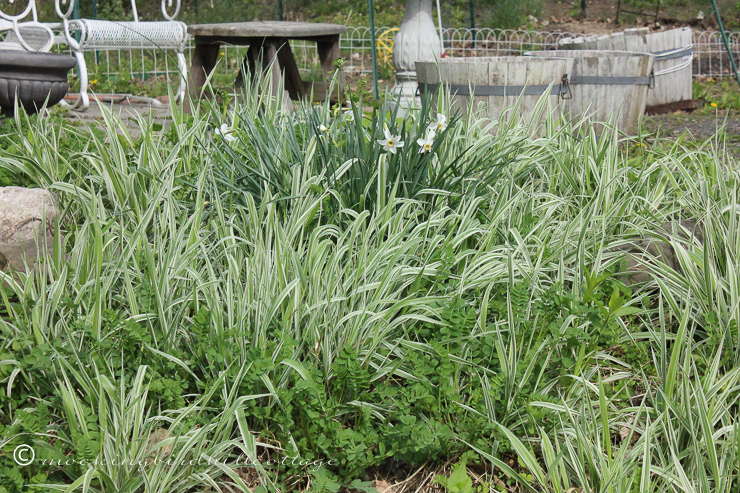 There are the daffodils in the garden, peeking out from the grasses. The barrel that is furthest away is falling apart, hence the rope holding it together. We put that rope there last year and this year it is increasingly clear to me that it's time to ditch that particular barrel. Another chore to tackle! I think I can recycle those wood slats – or is it staves? – somehow.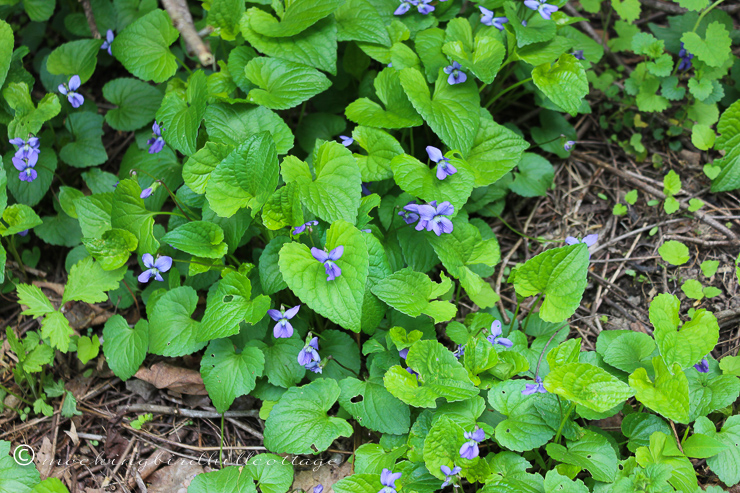 I love this time of year for the wild violets that appear everywhere on the property. My favorites are the larger ones that are tucked under the shade of the bushes. They're so beautiful! I was going to get a photo of a particularly lovely violet when my neighbor waylaid me. I'll try to get it this weekend.
If it ever stops raining.
Happy Friday.